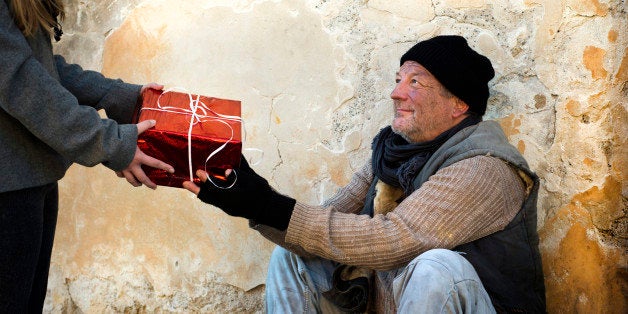 Recently I woke up to a particularly righteously indignant status update on my newsfeed from someone complaining about the homeless shelter she called who had the audacity to turn down her offer to come and serve dinner on Christmas Eve. With cap-locked emphasis she screamed about how they were "ruining family tradition" and "taking away a valuable annual lesson" from her young children.
I have a word of advice for this woman, and to anyone else who donates their time during the holidays. I know (or hope) that your heart is in a good place and that you are giving of your time and of yourselves for the right reasons. But while you might only think about going to your local homeless shelter or soup kitchen during Thanksgiving or on Christmas the people who are utilizing the programs offered by these organizations are in need well after your decorations are back in the attic and December 25th has come and gone.
The holidays are a meaningful time for everyone, even those who might not be as fortunate as you. The individuals who access vital services on Christmas or any other day are not life lessons or a way to make yourself feel good until next December. They aren't background for your red-aproned family self portrait or nameless, faceless caricatures you see in movies or on network TV. In the current state of our nation they are literally one paycheck away from being you or me or someone we know. They deserve to spend the holidays with people they know and faces they recognize- just like you and I do.
The spirit of giving shouldn't be seasonal, something to be wrapped up in newspaper with the glass ornaments and hide away until Black Friday rolls around again. If you truly want to teach your children something about charity and having a heart for volunteerism there are 364 other days of the year that organizations just like the one that turned you down struggle to stay open due to volunteer shortages. Meal programs that oftentimes have to stretch a few dinners worth of ingredients into dishes to feed hundreds. More importantly however there are people who are worthy of respect and genuine relationships. People who oftentimes have gifts to give to you far more valuable than anything you could ever offer them.
Related
Popular in the Community