It was a lovely spring day in Chicago. Last week it hit a balmy 60 degrees as the season began to move off of winter. Opening Day of the baseball season is just around the corner, less than a mere two weeks away on April 5. I look my morning constitutional, and some of it was even outdoors;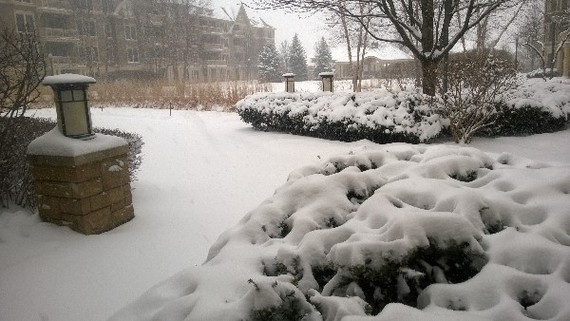 And the elves back at the homestead are all laughing.
Yes, this is Chicago on Monday morning, March 23. That's three days after the official beginning of Spring. It was 29 degrees when I set out on my early morning walk. By 10:30, the snow was coming down even harder. And yes, the first game of the baseball season will be at Wrigley Field is only 13 days away. I expect to hear Cubs announcer Pat Hughes call out that the runner sleds into second base for a double.
Where is Sen.James Inhofe (R-OK) when you really need him? Now's when you'd love to see him on the Senate floor with that snowball, ridiculing the concept of Climate Change...
To read more from Robert J. Elisberg about this or many other matters both large and tidbit small, see Elisberg IndustriesIt M.
REAL LIFE. REAL NEWS. REAL VOICES.
Help us tell more of the stories that matter from voices that too often remain unheard.