About the Florentine sculptor Donatello, Renaissance art critic Giorgio Vasari raved "...in the multitude of his works he combined together invention, design, practice, judgment, and every other quality that ever can or should be looked for in a divine genius."
Donatello's role in the birth of the Florentine Renaissance along with those of colleagues like Ghiberti and Brunelleschi is the focus of The Springtime of the Renaissance: Sculpture and the Arts in Florence 1400-1460 on view through August 18 at Palazzo Strozzi in Florence and the Louvre in Paris (September 26, 2013 to January 6, 2014).
In preparation for the show, co-organized by the Bargello and Louvre, some 20 works underwent extensive conservation in Italy and France, including "Saint Louis of Toulouse" considered a masterpiece of Donatello's early career.
"Saint Louis" was commissioned by the Guelph party as a tribute to the Provence-born son of Charles II of Anjou and Princess Mary of Hungary, who renounced his claim to rule Naples to become a Franciscan. Louis died at 23 and Donatello depicts him with delicate boyish features in bishop's regalia holding an elegant crosier in his left hand and giving a blessing with his right. Enamel, rock crystal and fleurs-de-lis decorate his mitre.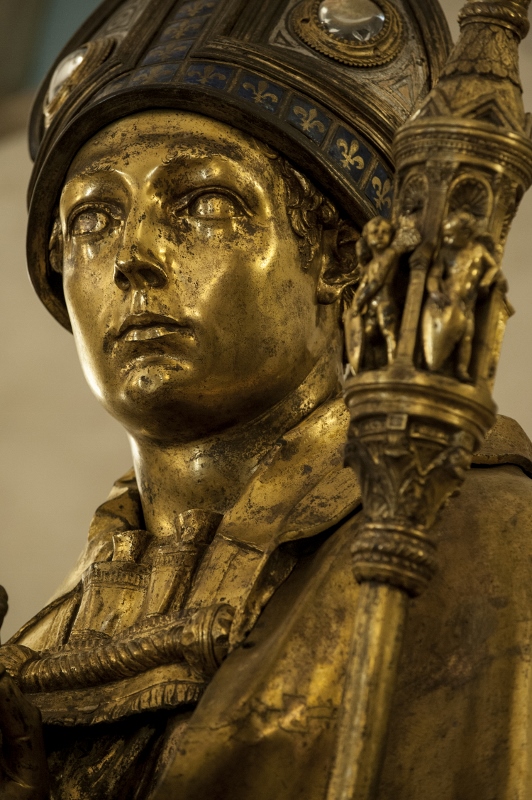 Donatello, detail, St. Louis of Toulouse, 1422-5, gilt bronze (statue); silver, gilt bronze, enamel and rock crystal (tiara), Florence, Museo dell'Opera di Santa Croce, ©O'Mara_ McBride
Donatello created the larger-than-life figure specifically for the eastern wall of the church of Orsanmichele where both the sun and a classically inspired marble and gold niche by Michelozzo added to its brilliance. But with the Guelph party out and the Medici in, veneration of Louis became politically incorrect and the statue was relocated to the Franciscan Santa Croce. There, without its correct perspective and stunning niche, the statue lost its impact. Even Donatello's fan Vasari didn't like it.
But thanks to a recent restoration project, the work is enjoying its own renaissance. Last year, in a workshop at Museo dell'Opera di Santa Croce, Ludovica Nicolai, the restorer who worked on Donatello's "David" four years ago, experimented with a surprising new technique. "I used a seaweed (called Agar Agar), in the gelatin form, to support the chemical solution for cleaning the gilded bronze surface," Nicolai explains. "The chemical water-based solution is commonly used to clean gilded bronze, but this is the first time that this alga has been used in conjunction with it."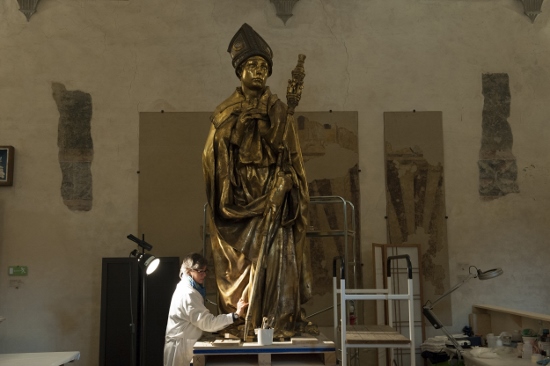 Restorer Ludovica Nicolai at work on Donatello's "Saint Louis of Toulouse," ©O'Mara_ McBride
For "David" commissioned in 1425 for Palazzo Medici, Nicolai used a medical grade laser to remove dirt and grime. In the process, she discovered traces of gold leaf, confirming that Donatello had applied the accents to highlight his subject's shoulder length hair and boots -- one of which rests on Goliath's severed head.
Unlike "David" which was exposed to the outdoors for a relatively short time, the much larger "Saint Louis" had darkened from centuries of exposure. "The ultimate goal is to stabilize the artwork condition and to improve its aesthetic appearance," says Nicolai. This is the challenge that each restorer faces every time and so it was for me with both the "Saint Louis" and the "David" -- two sculptures by Donatello so very different from one another."
Both restorations have led to new technical insights about the artist's process and strengthened his reputation for experimentation. Donatello would start with the lost wax technique and then apply changes to some of his bronzes. For example, the metal alloy in "David" is different from traditional Italian Renaissance alloys and its surface was intentionally finished with tools that left different marks, probably to reflect the light differently.
According to Nicolai, individual pieces of "Saint Louis" were reassembled after the gilding was completed with a gold-mercury amalgam. "A sculpture so big could not have been gilded in one piece," she explains. "A common feature of 'David' and 'Saint Louis' is the presence of many casting defects -- probably Donatello was not interested in technological perfection."
In addition to several Donatello bronzes, The Springtime of the Renaissance features examples of the versatile artist's work in other mediums -- including a gilded terracotta "Madonna and Child" from the Louvre and a marble predella of "Saint George and the Dragon from the Bargello," his first use of "flattened relief" -- or the rules of perspective.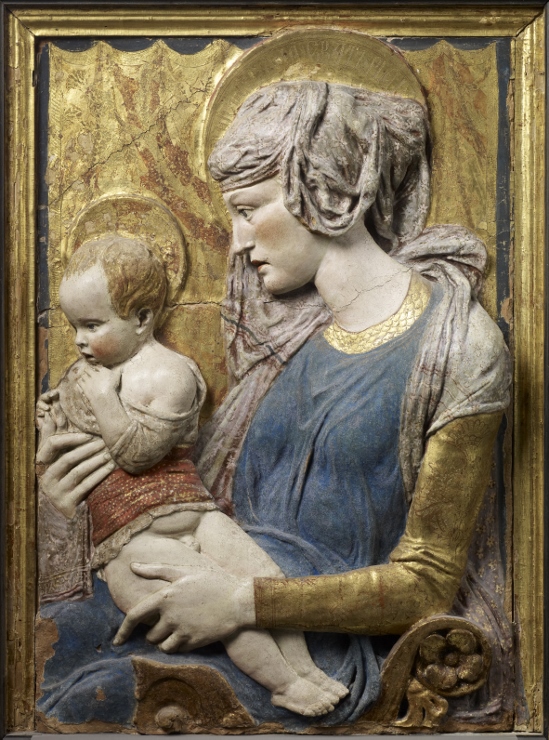 Donatello, Madonna and Child, c. 1445 painted and gilded terracotta Paris, Musée du Louvre, département des Sculptures, © 2012 Musée du Louvre/Thierry Ollivier
Outside of Italy, Donatello's works are extremely rare. Just two reside in the U.S. -- "Madonna of the Clouds" (ca. 1425-35) a marble relief at Boston's Museum of Fine Arts and the terracotta 'Borromeo Madonna" (ca. 1450) at the Kimbell Art Museum in Fort Worth, Texas.
For more information, visit here.
Calling all HuffPost superfans!
Sign up for membership to become a founding member and help shape HuffPost's next chapter