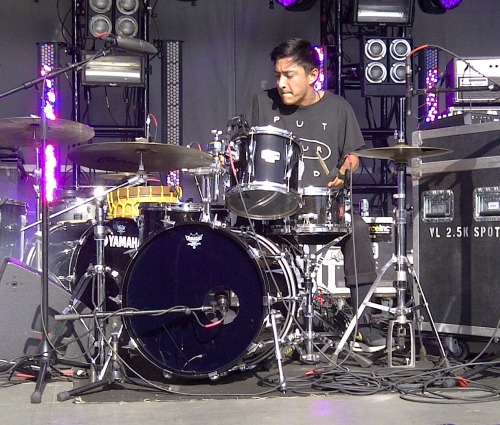 It was a beautiful day for a music festival, and the North American debut of St. Jerome's Laneway Festival at Meadow Book this past Saturday looked to be a great place to be. While the Michigan weather this past week made it hard to gauge if it would be hot or cold for the festival, the sun was out all day with the perfect temperature most of the day along the sloping green fields of the Meadow Brook grounds. With 25 bands hitting the five stages of the Laneway Festival to a crowd of early estimates of around 7,500 people, bands of all forms from across the globe had great performances without any major problems. Throughout the day, Laneway ran smoothly without any big delays to the schedule and the stages all sounded great for the most part. The crowd for Laneway seemed very respectful of each other's space and people genuinely seemed psyched to see one band or another throughout the day. It was your typical Meadow Book crowd if that means anything to you. It wasn't a "people watching" crowd in terms of seeing people strangely dress or anything; that didn't exist here.
The five stages of Laneway were set up beautiful throughout the grounds not to bleed into each other but those hills make for quite the workout half the time when maneuvering from act to act. The Movement Festival stage curated by Ghostly International was nicely offset from the rest acting as a bit of the chill zone with the ambient sounds of Heathered Pearls, Beacon, and Shigeto [pictured above], and then got a bit dark and moody later on with ADULT. and Matthew Dear. The local-bred Detroit Party Marching Band [pictured below] ran amuck throughout starting off as an intro for My Brightest Diamond's set then breaking out into a jam through the grounds whenever they felt like it.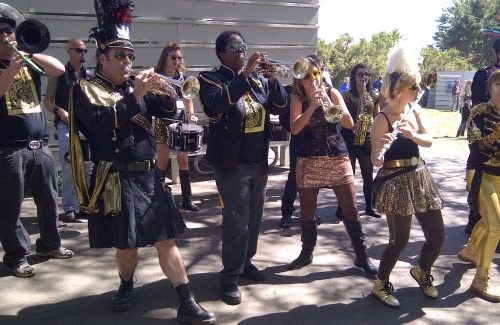 The best aspect about Laneway is that there were way too many good performances throughout the day to talk about it all. From the beginning of the day with HAERTS and their '80s style synth-fused music, to the soulful funk of Solange, and to the epic stage show from Sigur Ros in the end, the quality of music, even if you were unaware of any of these acts beforehand, was simply superb. Of all the bands that performed at the debut Laneway Detroit, the performances that stood out the most came from the hip-hop duo of El-P and Killer Mike known as Run The Jewels, the electro/beat heavy Chvrches, the soul-swelling chilled out Chet Faker, and the bouncing sounds of Flume. Everyone had their own favorites though, and that's the paramount thing about this the line up for Lanewa. Hopefully Detroit can see another Laneway Detroit in the area in the future.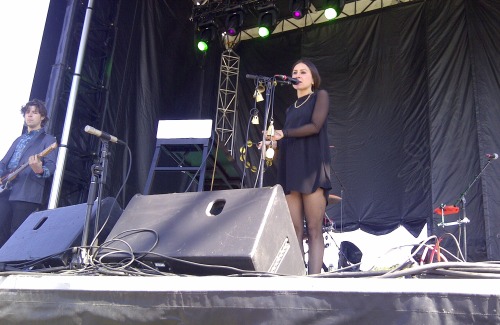 While at the festival, I was able to steal one of the bands away after their set, the New York-based five piece HAERTS [pictured above], and let them tell the world what the band is all about.
Being that you are a pretty new band, how did you get to the point already that you are playing festivals?
Nini Fabi: I think it's really that we started just recording a record. The project just really started in the studio I would say. Then there was just a point where you have to take it out and you have to play the songs. So we just started playing shows. We started in December. We did a few really small shows. Then, we started going on the road with bands, and I think kind of facilitated that. Right now, we are on the road with Washed Out. It was kind of a natural progression I think. We started in a tiny club called Cameo in Williamsburg. That was the first one.
How does living in a place like New York inspire you to make music?
Garret Ienner: What we do, we have our studio with lots of other artists in the building. What we have is really a strong sense of community. The space we share with St. Lucia, we share it with an engineer named Andy Baldwin that we work with. The Dap Kings are also in that space. They bring in a ton of people. Bruno Mars you'll see in the hallway there. For me, there is a great sense of community and we know so many people. We see them everyday.
Do you share ideas with these other artists?
Garrett: It happen naturally I think. It not like we sit around and bang our heads together.
Nini: We don't set up jam session (laughs).
Garrett: It happens naturally through conversation. We make friends.
Nini: And also, they are all really inspiring people and they all do this because they love it. Not because they have to do it or some contrived reason. I think for all of us it's also that New York is a great city to get all sorts of other things. Be influenced by the people that live there, the art that's going on there. I think Detroit is much like it as well. It's not an easy city where it's easy for everyone, but I think that's exactly what's the appeal too. It's pretty real.
How would describe the music HAERTS does?
Nini: I think its hard to put a label on yourself. I can only say what other people have said. They've called it kinda like an '80s-inspired synth-pop. Something like that. I think for us really can't tell what the exact style is. What we are trying to do is have really good songs, and then arrange and produce them in a way that's fitting for the songs. In our case, just the music we have made so far with "Wings" and "All the Days", and the EP coming out this month, it's just kind of gone into that synth area because that gave us a lot of colors to draw with.