[Disclosure: TechCrunch and the Huffington Post are both owned by AOL.]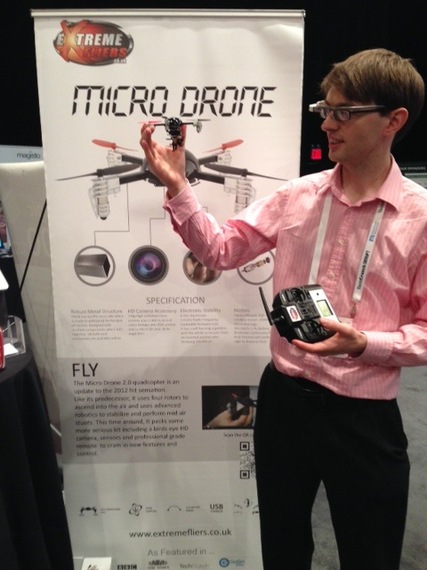 (Pictured: Vernon Kerswell, Managing Director, Extreme Fliers)
Over the past few days, TechCrunch Disrupt NY has come and, sadly, gone from the bustling streets of Midtown Manhattan. Boasting an impressive lineup of tech industry royalty including Yahoo CEO Marissa Mayer, Union Square Ventures co-founder Fred Wilson, and recently appointed Y Combinator president Sam Altman, there was no lack of industry firepower on the Hammerstein Ballroom's stage. In true tech fashion, however, the real stars of the show were the novel, innovative, and delightfully chippy startups looking to break through as the next big thing.
Below is my personal list of standouts to keep your eyes on:
Roadie
Founded by Hassane Slaibi and incubated in the HAXLR8R hardware accelerator program, Roadie is a guitar tuner that does all the work for you. Simply put the head of the device around a tuning peg, hit the corresponding string, and Roadie automatically turns the peg to the appropriate position. The device increases tuning speed, accuracy, and offers a number of cool features like custom tunings and "Instrument Doctor," which detects string quality and lets you know when it's time to throw on a fresh set. More of a ukulele person? They've got you covered. It works on any stringed instrument with a guitar head.
Mink
Mink aims to turn the cosmetics industry upside down. And, they just might do it. Founded by Grace Choi, a cheerfully irreverent Harvard Business School grad with a background in hardware, this developmental stage venture allows cosmetics users to 3D print their own makeup in colors they personally select from photos and videos. As such, color options are expanded exponentially for users, who were previously at the mercy of retail outlet aisles. Cost per unit is also reduced to a fraction of chain and boutique prices. If Grace and her team are able to deliver, there could be a lot of cosmetics execs pulling their hair out in the near future.
Heatworks
Heatworks, the TechCrunch Cup runner up, makes a cool new water heater. If you don't believe that water heaters can be cool, check out their site. Using graphite electrodes to heat water to the desired temperature immediately and at the point of use, this product reduces energy consumption, water waste (ever stand around for two minutes waiting for the shower to warm up?), and increases temperature consistency. Founder Jerry Callahan claims this is the world's first fully electronic water heater. He also got a heck of an endorsement on the demo stage when Fred Wilson declared in the middle of Q&A that he was e-mailing his wife to buy one.
SCiO
The gents over at Consumer Physics developed a hand-held molecular sensor. The badassery of this piece of hardware knows no bounds. Whether you want to check out the nutritional content of your food, or you spilled your grandpa's medication and need to figure out which pill is which, all you have to do is point the sensor at the object and a simple analysis will pop up for you to read. It pretty much gives you the ability to figure out the chemical composition of anything in front of you. Have two brands of ibuprofen in your hand? SCiO is sensitive enough to tell you the difference. Those interested can still hop aboard their Kickstarter campaign, which has exceeded its goal of $200k by over five fold, and still has well over a month to run.
Extreme Fliers
Because no hardware list would be complete without a micro-drone that can be equipped with an Oculus Rift camera (pictured).
AirSig
Tackling the challenge of security verification, AirSig enables you to use a signature, or other personal gesture, to authenticate that you are you. Instead of entering in a passcode or moving your fingers across the screen in a pattern, you just wave your smartphone in the desired motion, kind of like a wand, and your phone is unlocked. Whereas pin numbers can be relatively easily observed by would-be nefarious actors nearby, AirSig claims that their gesture-based login is far more personalized, making it tougher to replicate (like your written signature). Even if others know what gesture you're making, it will be difficult for them to unlock your phone.
Coffee
LinkedIn meets tinder. 'Nuff said. Ok, I'll say a bit more. This app enables you to meet other professionals. You simply swipe right on their profiles (you want to connect), or left (you don't think there's a match). When two people both want to connect, they're linked up and able to chat about whatever professional things professional people chat about. TC Disrupt was the third time I've run into the founders of this NYC-based startup, so I'll weigh in on them as founders too. They impress me. These guys have the blend of tactical business skills and engineering talent that is so critical to early stage tech ventures. We'll see what they can do with it.
Boomerang Commerce
I wasn't originally sold on this one, but the team of former Amazon engineers made a strong case to sway me. Using real time data aggregation and analytics, they help businesses figure out the optimal price to charge for their goods. This dynamic pricing can occur across millions of products simultaneously; and all a product needs to get feedback is a statistically significant data set to work with.
Honorable Mentions:
Vurb - Improving the web-surfing experience.
Buzzstarter - Content marketing platform.
Fetch - A personal buying assistant (an actual person).
Who made your list? Let me know in the comments below!
Calling all HuffPost superfans!
Sign up for membership to become a founding member and help shape HuffPost's next chapter