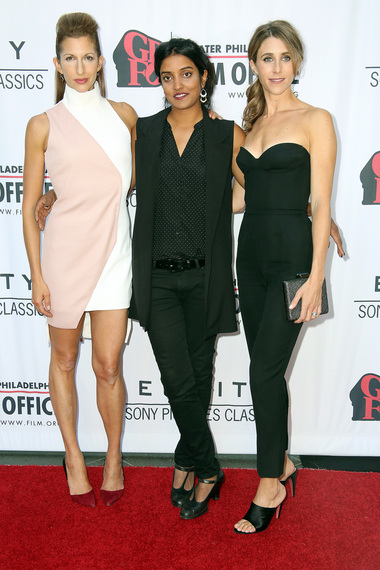 The slogan for the movie, "Equity", which was a Sundance favorite, is a variation of the Gordon Gekko mantra-"Money is Good". The film, directed by Meera Menon, is against type by having 3 female protagonists despite being set in male-dominated Wall Street. Heck, despite being 2016, it is still rare to have 3 starring female roles in a film.
There is no need to worry because the women behave just as badly as the male bankers on Wall Street have for decades. The always fabulous Anna Gunn stars as the hard-bitten senior investment banker, Naomi Bishop. As in "Breaking Bad," Gunn turns in a compelling performance of a complicated woman, who the audience envies, hates, and pities, but never loves, during the movie. Alysia Reiner, who is best known for her role as Natalie "Fig" Figuerora in the Netflix dramedy "Orange is the New Black," plays an obsessed assistant US Attorney who will not stop until she gets her quarry. Sarah Megan Thomas plays an an up-and-coming banker that betrays her female boss to get what she wants. The delicious James Purefoy shines as the stockbroker who is willing to do whatever it takes to survive in a doggy, doggy world.
Reiner explained that her character is an assistant US Attorney who is trying to bring down bankers for insider trading at the Philadelphia premiere of the film. The actress, who hopes that the film demystifies money for the females in the audience, suggested a hashtag for the movie-#don'tletmoneybeadirtyword. It's a line spoken by two different characters in the movie. She said, "Everyone is fascinated by money. Perhaps, it is because truly we are more secretive about money than we are about sex. The women I know are much more ready to talk about their sex lives than they are to talk about money. The biggest journey that I have had in this film is personally looking at how I feel about money, how I feel about my own worth. I don't have an answer for you about that now. That's still a journey that I am on. It's made me question those things, look at what success means to me, and what money means to me. It's what I hope audience experience as well."
Reiner, who also wrote and produced the film with Sarah Megan Thomas, gave us a peak into her creative process. She said, "For me, what was really exciting about this film was I created this character. This was Sarah and my idea. We together created a treatment of what we wanted the film to be. It was the first time I got to create a character. I made her the good guy in the white hat as different from my character on "Orange is the New Black" as I possibly could. I was also able to say how much diversity can I bring to the table? I am going to make myself married to a woman, married to an African-American woman so that I can create a role for an African-American woman and create as much diversity and opportunity as I can."
Her co-star Thomas enjoyed playing a woman who thinks she can have it all but finds out that life is not that easy. She said, "It's important that we own it. As women, we can ask for that raise. It's not a bad thing. We don't have to be ashamed. As opposed to being I need to be valued for the work that I do and this is what I think it's worth."
Come for the female empowerment, stay for the realistic scenes of insider trading. The film opens nationwide August 12.
Photo courtesy of Scott Weiner.
REAL LIFE. REAL NEWS. REAL VOICES.
Help us tell more of the stories that matter from voices that too often remain unheard.