Beams of light cut across a black concave ceiling with cheers and applause echoing throughout the room. Senses shake as the bass sounds of gunfire and grenade explosions resonate. Hundreds are fixated on a large screen broadcasting eight players -- two teams of four -- who are seated underneath the screen. Online, tens of thousands are tuned in to watch the pinnacle of competitive Call of Duty (CoD).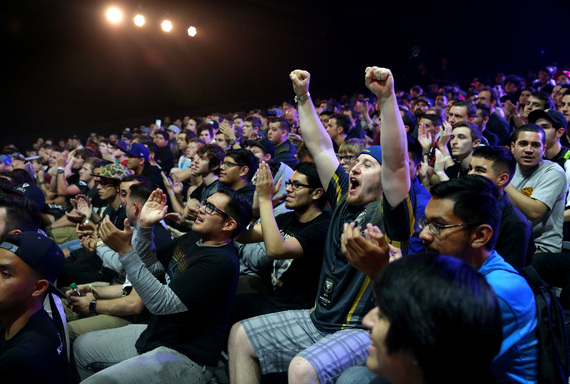 via Getty Images

This is CoD Champs 2015, the first public/ticketed event in competitive Call of Duty Champs history. 32 teams from around the globe fought hard to qualify for this coveted, three-day event where they duke it out in CoD: Advanced Warfare (AW) for $1,000,000 in prizes and to be crowned as the best CoD team in the world.
Elliott Zimmer, an OpTic Gaming fan from South Dakota, flew out to support his team in the championship. He's been following CoD eSports for over 3 ½ years and I wanted to know what he found most exciting about competitive CoD. Elliott says, "A lot of people think it's all about the kills, but it's really about team communication, good map positioning, and getting control."
Elliott first became interested in the competitive CoD scene as he sought to improve his skill and play with better gamers. Overtime he learned these nuances, explaining how a lot the appeal comes down to smart plays rather than flashy ones.
Just as NFL teams go on win streaks and reign over their divisions, professional CoD teams set high expectations for their fans. The most revered team of this years' CoD champs was OpTic Gaming, who started off guns ablaze with two concrete wins, but met misfortune when facing top contender Denial eSports. The loss against Denial pushed them into a loser's bracket where they had only one chance left to climb back to the finals. They fell short, much to the dismay of thousands of hardcore fans, and landed themselves in seventh place.
As a result, Denial eSports rose to the spotlight and clinched a spot in the grand finals. Team Revenge and FaZe Red faced off with many fans hoping to see FaZe challenge Denial. We saw yet another upset with Team Revenge trumping FaZe Red in some very close, nail-biter matches.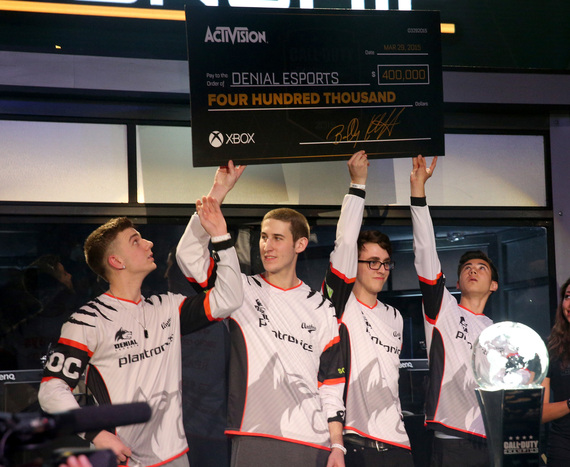 via Getty Images

The event culminated with Denial eSports trumping Team Revenge. Denial secured first place and took home $400,000 and Team Revenge, in second place, took home $200,000, with smaller prize pools awarded down to the eighth place. Out of the top eight teams taking home prize money, only one was a non-American team; PLT Mindfreak from Australia, who placed sixth and received a lot of praise from the CoD community for their impressive performance. CoD is primarily an American-dominated eSport and PLT Mindfreak became one of the many dark horses of this event.
With many upsets riddled throughout CoD Champs 2015, social media became a hotbed of interaction for fans and players. From highlight videos and entertaining smack talk to match predictions and trades, the competitive CoD community made their emotions loud and clear. It's a great time to be an eSports fan, especially considering the competitive video gaming industry is still in its infancy stages.
For the same entertaining reasons we go to watch a football or baseball game, people go out to watch their favorite eSports team. Each video game has its own community, culture, professional teams, online properties, sponsors and even celebrities. For example, the professional CoD scene pales in comparison to professional League of Legends. A regular season game of LoL nets anywhere from 150,000 to over 300,000 live viewers, with the LoL World Championship netting an average of 1.1 million concurrent viewers, while the 2015 CoD Champs had an average of 60,000-80,000 concurrent viewers. However, competitive CoD is growing with support and the championship confirmed this.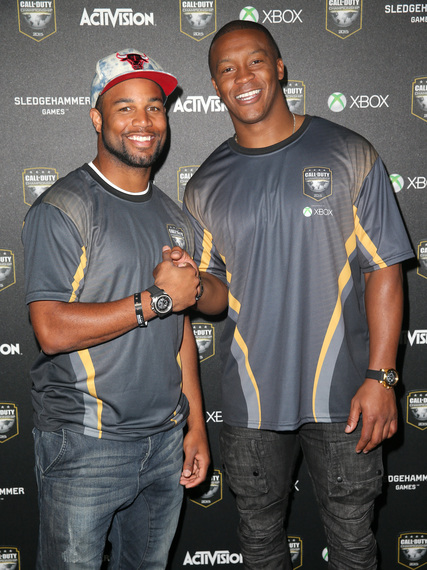 via Getty Images

On the final day of CoD Champs 2015, Denver Broncos wide receiver Demaryius Thomas teamed up with a mix of professional players, celebrities and amateurs who were fortunate to win a raffle for this opportunity, and went head to head against Detroit Lions wide receiver Golden Tate and his team of pros and amateurs. The purpose of this series was to raise money for the CoD Endowment Fund which has raised money for helping veterans secure promising careers since its inception in 2009. Demaryius's team won and had $100,000 donated to the fund in their name.
I had the chance to chat with Demaryius about the event and asked if he noticed any similarities between the work ethic and skills you need to be a professional gamer versus a football player. Demaryius said, "Of course the physical element is different, but there are definitely similarities. It takes time; you need great team communication, you need time to develop your skills, and you really need the determination to win as much as possible."
We talked about how many kids and teenagers grow up idolizing their favorite football players, but now some might be looking up to their favorite professional gamers. These gamers are young, ranging from 18-23 years old, many retiring before 25. I asked what advice he had for a pro gamer who is new to the whole fame and fortune thing. Demaryius said, "More people are watching you than you think. They're going to have a lot of people taking notice of the things you say and do. The main thing is to be humble and continue being humble. Always be thankful for the opportunity."
At this point you may be wondering what constitutes "celebrity" status within each professional video game community. For almost every game it comes down to about four platforms. These include a streaming service such as Twitch.tv or MLG.tv, a YouTube channel, a Twitter, and a Facebook page. Content is streamlined through these channels, often originating from gameplay that is streamed and converted into highlights or recaps for a YouTube channel. Fans can stay in a professional players circle by following their Twitter and Facebook for updates and notifications.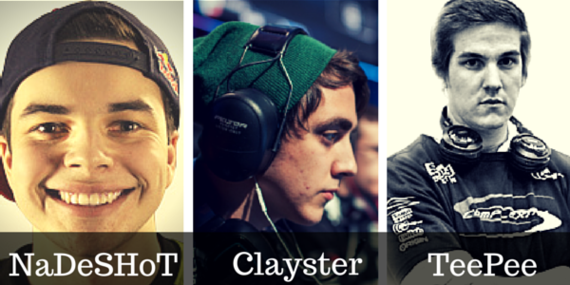 images from cod.esportspedia
For CoD, some of the big names new-to-the-scene people will stumble across include Matthew "NaDeSHoT" Haag of OpTic Gaming, Clay "Clayster" Eubanks of Denial eSports (MVP of CoD Champs 2015), and Tyler "TeePee" Polchow of OpTic Nation. The more entrenched you become, the more faces, teams, rivalries and history you discover. Fans often tune in to watch top players live stream. But behind the scenes, it's not just playing video games. Tyler "TeePee" Polchow explained to me it's a lot more complicated than just picking up a controller and recording gameplay:
What a lot of people don't realize is how much we do with social media and putting out content for the people that follow us. It's more about creating consistent content to keep the audience engaged and growing -- most pro players have around 100,000-250,000 followers. We'll make YouTube videos, live stream our games, interact with viewers, and play games with our subscribers. The rest of the time we're practicing and preparing for tournaments.
Tyler also confirms the pro CoD scene is rapidly growing and brings up an interesting point about the responsibilities that come with having an on-camera personality:
It's up to us as players to set the tone for our followers and new viewers. We have to make an effort to avoid the stereotypical gamer many people have a negative connotation of. When you have a lot of loyal followers you have some pull over them and if they see you swearing a lot and things like that it's not going to transition over well. At the end of the day we all need to be good role models.
I was curious what people in the scene would say to convert someone who is completely new to professional video gaming in general. Tyler says, "If you're into video games and sports there's an instinctual competitive spirit where you want to beat your opponents. I think tapping into that and helping people discover all the mental intricacies that go into being a good video game player would really help them accept and appreciate top level gaming."
After speaking with Tyler, one thing became noticeably clear: being a professional gamer is a delicate balancing act. Being in the top skill bracket is merely a pre-requisite to earn the title "professional gamer." To be a successful professional gamer, you need to be a creative and strategic digital content producer. It often seems these mental intricacies Tyler mentions are the boundaries -- and controversies -- that bottleneck people from getting into any eSports scene. Combing through online forums I discovered another large boundary can simply come down to internet connection speed. While tournaments differ in a LAN format, greenhorn players must first ascend the ranks of online competitive play. The difference between life and death in CoD can very well be the difference in connection speeds. The average connection speed in the United States is only 11.5mbs, while the country with the fastest average broadband speed, South Korea, has 25.3mbs. As an North America-dominated game, connection speed happens to be a common point of debate when it comes to ranked play.
Fortunately, with growing support from external organizations and influencers such as NFL and NBA players, the global eSports community remains on the rise. CoD has annual attention garnered through competitive play and tournaments on MLG/GameBattles, with pro players helping spread awareness through live streaming, YouTube videos, and fan engagement. The eSports side has found its way to the X Games, ESPN, FOX Sports, and many more mainstream publications, venues, and outlets. As arguably one of the largest entertainment properties of all time, CoD has an equally massive market for eSports to spread into. As Greg Reisdorf, Lead Multiplayer Designer for Sledgehammer Games points out, "The only foreseeable obstacle is time."
Calling all HuffPost superfans!
Sign up for membership to become a founding member and help shape HuffPost's next chapter