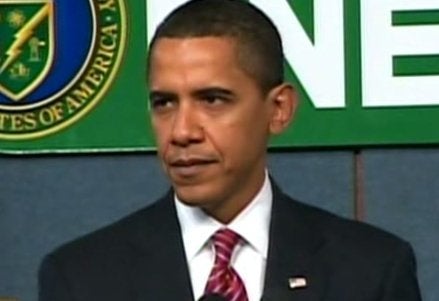 OBAMA AND THE GREEN ECONOMY
Jack Hidary Interviews Holly Kaufman, CEO of Environment & Enterprise Strategies
Hidary: You and other green tech colleagues spoke this past week at the "State of Green Business Forum" in San Francisco.
What are your thoughts on Obama's actions to date on the environmental front?
Kaufman: In only two short weeks, the President has already been following through on his campaign promises to make a whopping dent in our climate change and energy problems. He asked EPA to consider letting California and other states require higher miles-to-the-gallon car standards. He asked them to roll out new fuel economy, energy efficiency and renewables standards. He's proposed more "R&D" for carbon capture and storage and other budding technologies we'll need down the road. Not bad for ten days' work.

Hidary: What do Obama's environmental appointments reveal about what to expect?
Kaufman: He's sending strong signals by virtue of his star-studded cast of appointees.
At the White House, Carol Browner, the former Clinton EPA chief, will head what is likely to be an empowered climate and energy council. Nancy Sutley, Mayor Villaraigosa's former energy and environment diva, chairs the President's Council on Environmental Quality. And though many "enviros" might not see National Security Advisor Jim Jones as a "greenie," the fact that Obama is connecting climate change, energy, economic and national security issues by appointing people who also appreciate their inter-relatedness is a good sign. We're also likely to see him appoint someone at the NSC with tremendous climate change and foreign policy experience.
At the State Department, the first three special envoys that Hillary named were George Mitchell for the Mideast, Richard Holbrooke for Afghanistan and Pakistan, and Todd Stern for climate change. Stern led the United Nations' climate treaty negotiations in the Clinton White House. He can work as a peer with Jones. The very creation of Stern's post and his appointment to it point to how seriously we'll engage on climate change in the international arena.
So bridging environmental, economic and security concerns is definitely an Obama theme. And we're seeing his "team of rivals" trademark, too. At EPA, Lisa Jackson's made some interesting first appointments. David McIntosh, who comes from Lieberman's shop where he was a key crafter of the Lieberman-Warner climate bill, will be working with the Hill on U.S. climate legislation.
The woman who will manage carbon dioxide regulation, Lisa Heizerling, helped win the Supreme Court case saying that the EPA really does have authority to regulate greenhouse gases. More to the point, she's not keen on cost-benefit analysis as the sole way that we should be deciding what our policies should be. Meanwhile, her new colleague at EPA's Office of Information and Regulatory affairs, Cass Sunstein, is a cost-benefit guru.

Hidary: What other Obama hallmarks do we see expressed in his environmental appointments?
Kaufman: It will be interesting to see if Obama's mantra about encouraging diverging points of view and being able to ante up the optimal solution for the greatest good out of the mix will work. Regardless, he has ushered in a refreshing reliance on science, and a commitment to letting scientific fact, and even scientific hunch, see the light of day.
With John Holdren at the White House Office of Science & Technology Policy, and Jane Lubchenco at the Commerce Department's National Oceanic and Atmospheric Administration, the American public will actually get to hear what two of the world's most respected scientists, not to mention our Nobel Laureate physicist now energizing the Department of Energy, have to say. Obama's commitment to transparency is evident in the environmental arena - no more black "Sharpie's" lining out important news.

Hidary: What do you think Obama's attention to environment will mean for the economy?
Kaufman: He's not just hoping that his focus on "green" will help the economy, he's counting on it. He put Joe Biden in charge of a Green Jobs Task Force, and he's got a "Greening of Government" plan brewing to save money and create jobs. As we know, Congress is going to start on a new cap and trade proposal soon to cut greenhouse gas emissions. Obama is going to push hard for it to pass this year -- not only because the science and the international community both demand it, but because the administration is already looking at how to use the money.
I think we are going to hear him say that one reason we should be tackling the climate change problem ASAP even during the economic crisis is because the government can make money selling pollution permits. What's really good about this is it means that the economic titans in the cabinet will be as committed to reducing greenhouse gas pollutants as the environmental ones.
Hidary: What are some unique attributes the Obama administration will bring to their intention to integrate environmental and economic interests?
Kaufman: We're seeing some in the stimulus package. One is to initiate the transition from a primarily carbon-based economy. Another, as Jeff Anderson said, is the fact that "this administration is ends-driven and technology agnostic." Though there's a real push towards amping up energy efficiency and deploying renewable energy sources, there is still funding for coal - primarily to help find ways to reduce its carbon pollution, and for the nuclear industry.
Hidary: What implications do you think that goal-oriented, technology-agnostic approach might have?
Kaufman: We're likely to see green business advocacy groups like Environmental Entrepreneurs and New Voice of Business have a greater voice, and see new green trade associations and networks emerge - groups that support developing the green economy generally rather than industry-specific lobbyists. Indeed, as Sanjay Wagle said, "Job creation trumps lobbying." If a business person can tell his member of Congress that he's created 50 green jobs in her district, the continued success of that industry will matter to her a lot.

Hidary: What did the audience members ask most about?
Kaufman: Someone asked if any of us had any concerns about Obama's environmental policies. No. We may not agree completely with everything that's been proposed or that may come down the pike. (I personally would not subsidize the nuclear industry except for continued research. It doesn't make sense that some people still say that solar isn't a viable technology when it's nuclear that may have promise but isn't ready to be deployed.) But the administration is on the right track. It's the rest of us I'm worried about!
Obama already knows that he can't please everyone - he's been really consistent about saying that we all have to give something up for the greater good. It's the electorate - us - who have to help the administration's goals of transformational environmental and economic improvement become reality. We have to keep our eye on that as the big picture. We've got to choose our battles carefully, not pick things apart if we aren't 100% pleased. We have to get used to success. It's up to us.
_________________________________
The panelists were:
Joel Makower (moderator) is the chairman and co-founder of Greener World Media and Executive Editor of Greenbiz.com. (www.greenbiz.com.)
Jeff Anderson is a co-founder of the campaign constituency group, CleanTech & Green Business for Obama. (www.cleantechforobama.com.)
Sanjay Wagle is a principal at Vantage Point Venture Partners. (www.vpvp.com -- swagle@vpvp.com.)
Holly Kaufman is CEO of Environment & Enterprise Strategies. (www.EnvironmentStrategies.com - holly@EnvironmentStrategies.com.)
Related
Popular in the Community