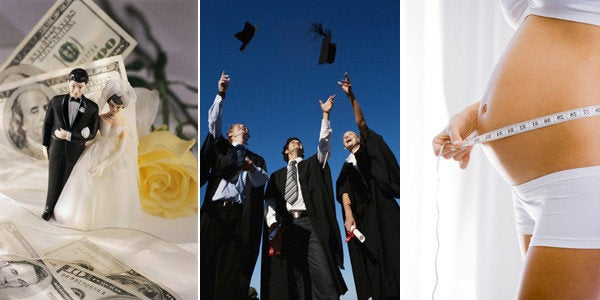 Want to stay married? Better make sure you have a college degree, earn over $50,000 a year, and don't have divorced parents.
Indeed, even though the national divorce rate is close to 50 percent, the numbers are much lower for the sector of the U.S. population who meets these and other qualifications. According to the recent "State of Our Unions" report, a joint study on the health of marriage in America by the National Marriage Project at the University of Virginia and New York's Center for Marriage and Families at the Institute for American Values that was released yesterday, the chance of divorce varies based on specific personal and social circumstances. Because many of these circumstances are a reality for only the most privileged segment of the population, the study further propels claims that the 'marriage gap' is growing.
Among the factors that contribute to marriage success: making $50,000 or more annually--as opposed to under $25,000. Those who do experience a 30 percent drop in the risk of divorce. People with college degrees enjoy another 25 percent decrease. Coming from an intact home decreases the risk by 14 percent. Other factors that affect marital success for the better: waiting to have kids until after tying the knot, and having a religious affiliation of some kind.
W. Brad Wilcox, the editor of the study and director of the National Marriage Project, says the findings don't necessarily furnish the recipe for a good marriage, though they can act as preventative measures. Part of the reason this is so is that those who are likely to succeed in marriage are also more likely to get married in the first place. "People who have the economic opportunities, decent jobs, social skills, to succeed in married life are more likely to get married," Wilcox said. "We're telling people what the average pattern is."
Stacy J. Rogers, a professor of sociology at Penn State, and a co-author on the book Alone Together: How Marriage in America is Changing, has a slightly different take on the findings. "If you're more educated, if you're in your first marriage, and have no children from previous relationships, if you have a good economic situation--you don't have as many external stressors," she said.
But she has a different solution for keeping marriages healthy, and suggests that perhaps successful marriages aren't the product of a group of pre-set factors, but in fact of the couples' individual attitudes about the institution itself. "We put a lot of emphasis on the marriage to make us happy, and fulfill our lives. We're victims of unrealistic expectations."
Related