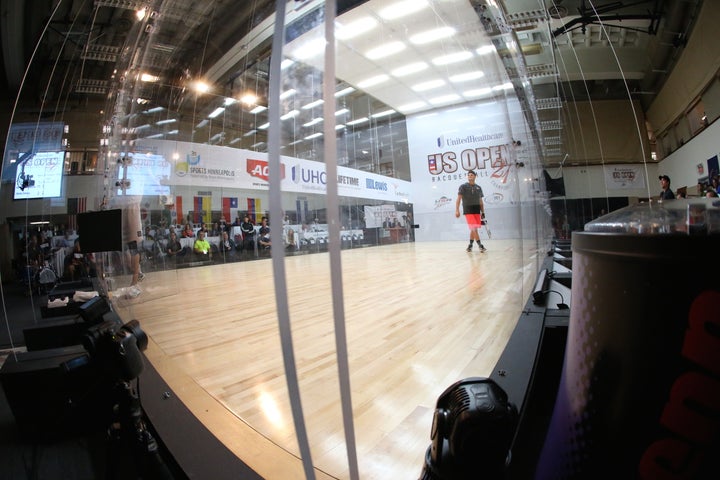 Sometimes it would be the best part of my day. Relative to the normal responsibilities of being an adult. Sometimes clearing my head to focus on pummelling a super bouncy ball against six walls for an hour and a half with an equally motivated partner could be the best thing about a day, or at least a highlight.
"Holy cow," I think to myself, jogging up the stairs from my gym's racquetball courts, "five work-related texts are just now coming through. Reception is weak courtside!" I jokingly lament to Nate in the office. "You guys have got to get wifi in the gym."
"We'll have it at the new, bigger, better gym facility we're building," he tells me, "we just won't have any racquetball courts…"
I'm halfway out of the turn style before this clicks…what? No courts?? Why?
Over the next couple of days I stop every administrator I find at the gym. My queries are met with disingenuous smiles and shrugging.
"It's also a question of functional space too Alyson. Racquetball isn't what it once was. Those courts take up a lot of space." One manager explains.
"I see," I continue, trying to understand, "so does that mean you guys are eliminating the gymnasium as well?"
"Oh, [condescending chuckle] no way." The same manager tells me.
Space? Three racquetball court can fit into one gym. One of us was struggling with basic concepts of structural engineering (which usually would be me, but not today).
With an internal eye roll, I leave, determined to locate and patronise another nearby fitness club with unlimited access to state-of-the art racquetball courts and workout facilities. How hard could that be?
I confidently call around gyms near my West Los Angeles home, where I hear:
"Well, we have squash courts."
"I think there are a couple of courts here. It's pay as you go for court time."
"No, no courts but if you sign up now you'll get a month of free Zumba classes…"
And the worst indignance of all…
"You'd have to pay the UCLA alumnae fee plus membership dues to become a member here and use the courts freely."
…I'm a USC graduate…this was sacrilege!
Evidently this was going to be a lot more difficult than I thought.
Number #1 IRT ranked racquetball pro, Kane Waselenchuk, tells me, "You know what I saw the other day on ESPN? Drone racing…"
I was halfway through a healthy dose of shock and indignation before I remembered I don't watch ESPN…and couldn't be sure if I really knew what drone racing was.
"People are racing drones on TV," he continues, "but still there's no real coverage on the sport of racquetball."
Fitness clubs repurposing their racquetball courts, trouble finding new ones and the sport of racquetball not being covered on a sports channel prepared to cover drone racing. Oh-Kay.
Time for candour. I reached out to all over the racquetball community of organisers and put the question forward:
Is the sport of racquetball dying?
"Racquetball is fine." Jason Mannino, president of the International Racquetball Tour (IRT) tells me with little hesitation.
"Dying? Not really," Coach and racquetball hall of famer Debbie Tisinger-Moore explains, "What's dying are the racquetball clubs, owners and managers who don't give a flying leap about the sport. When an owner or manager sees a court they see an empty room. When a racquetball player sees a court they see 'fast, furious, fun'. Currently racquetball is The Fate of the Furious. No pun intended."
Dr. Cho Wangki a respected Korean physician and president of the Asian Racquetball Federation further asserts, "People who feel it is dying are club members who cannot yet see all the work that is being done globally to promote the sport."
My racquetball partner Sean concludes, "I don't know Al. It was very popular during my dad's time but I don't know too many people of our generation playing it."
I believe further investigation is warranted here.
Now, let's see…the dismissive gym manager did speak to me as though I should know that racquetball's time had passed. Has it passed? Did it have a peak? When was that?
Debbie Tisinger-Moore: In the late seventies and early eighties it was almost like clubs couldn't be built fast enough. There were clubs with nothing but racquetball courts and everyone court was full. It was unreal.
Luke St. Onge and Gary Mazaroff, International Racquetball Federation's secretary general and international rules commissioner respectively, join the conversation.
Luke St. Onge: Court clubs were being built across the street from each other…it was insanity. Also at one time the NFL used racquetball as training. I believe the Broncos had four courts. In the eighties the Steelers had courts. The lateral moves of racquetball were perfect for [NFL players].
Gary Mazoroff: Racquetball was a fad [back then].
Luke St. Onge: Marketed and aimed at adults. Also, there was a lot of disposable income back then. You didn't need to learn racquetball to have fun playing.
Adrian Webb, Racquetball Canada Tournament Director/Chair is brought into my investigation.
Adrian Webb: Even if you start off slow [not knowing much about the game], you still get a good work out."
Luke St. Onge: With tennis, you have to learn how to play it [before it's fun]. Therefore, tennis has been marketed to young people, which allowed it to grow. I remember attending a racquetball expo in New York City in 1978. There were over 200 exhibitors. In 1979 the same expo had only 15 exhibitors. There was an inflation of the figures about how many people were actually playing…figures that were never there to begin with. It was an illusion, plus I think the greed factor was also involved.
So what went wrong during the glory days?
Gary Mazoroff: The economy at the time was a huge factor.
Luke St. Onge: I was there when it all happened. The recession hit and sporting goods manufacturers surveys suggested that as much as 45% of players walked away. Between 1982 to 1983, the pro shops dried up.
Doug Ganim, event director of the Racquetball U.S. Open also owns a consulting firm. One of the firm's biggest clients is Head/Penn: a leading manufacturer of racquetball gear and balls.
Doug Ganim: There was a slow drain from the eighties to about six years ago. It went from about 15 million to about 3 million players.
Luke St. Onge: The sport offered no [institutional] incentives to keep those people playing and no initiatives to promote to kids.
Gary Mazoroff: Racquetball associations could have done better about providing teaching. Programming is huge. Most people need a facilitator. Think yoga. These things would have increased participation.
What is the state of the sport domestically (Canada and the U.S.)? What are the obstacles now in regaining its popularity?
Luke St. Onge: We will never see a huge growth unless and until we have a huge junior component.
Gary Mazoroff: Universities and Colleges should be recruiting; that's part of how I got going in the sport.
Mark Griffin, Lewis Drug CEO and founder of the Lewis Drug Pro/Am tournament in Sioux Falls, South Dakota contributes.
Mark Griffin: The sport is not dying. It is stable. One of the obstacles is the cost of real estate.
Jason Maninno: The square footage of the courts. From a business perspective, building them is hard to justify. Also, organisers could have promoted the benefits of playing a bit more.
Adrian Webb: I think the main reason that the sport isn't growing is because there are not enough courts. We definitely need to get more juniors involved. Racquetball Canada is not promoting the game as much.
Jason Maninno: There were abrupt court closures in Canada, more so than in the States.
Dr. Cho Wangki: It is growing. Initially I was a player, then I realised the benefits of the game to my mind. Racquetball requires quick-thinking. It is the best sport and the best way to relieve stress.
Which Asian nations have active player/programmes?
Dr. Cho Wangki: Mongolia, India, Korea, Japan, Pakistan, China, Thailand, Taiwan and Samoa.
What are the goals of the organisation?
Dr. Cho Wangki: Not many people know the benefits of racquetball. By [us] hosting a lot of tournaments and getting governments to build courts, we increase racquetball's presence and its benefits. Tournaments bring people of different nations together. I have made lifelong friendships with people from all over. I'd like more people to experience that.
What is the state of Asian racquetball?
Dr. Cho Wangki: We are encouraged. Those who play it, love it. We are also able to promote it to parents of young people as another means of potentially obtaining scholarships to university, particularly in Korea.
Dr. Cho Wangki: Presently, we rely on private sponsorship, but there is sometimes a limit to that commitment. We are seeking governmental sponsorship and promotion. My focus as president is in building relationships in the private and public sectors for the best sport there is.
Doug Ganim: Overall, we've seen ball sales increase 1% to 2% per year. These numbers have given us insight into the viability of racquetball. We're encouraged by what we see worldwide in nations like Korea, Mexico and Bolivia. Less so in nations like Canada and Japan.
Finding a local gym with a racquetball courts; am I asking the impossible?
Doug Ganim: [Health clubs] like Lifetime Fitness and LA Fitness have built 2,000 courts over the past fifteen years. In order to compete with what I call some of the fitness factories, LA Fitness had to add amenities. Gyms and courts separate LA Fitness from fitness factories.
Jason Maninno: Pretty smart on their part. Whatever LA Fitness you go to you can get the same amenities, including racquetball.
This is encouraging then…
Doug Ganim: Racquetball is a differentiating fitness component. On the other hand, many of the old court clubs went out of business, so we've not gained those 2,000 courts. I would call it a net wash. Still to be viewed as a positive though: lost 1,500 [courts], gained 2,000. Racquetball is stabilised, which is comforting. It is still dependent on us [the racquetball community] to promote it.
Wait a minute. I just realised. There's LA Fitness in Canada as well. I can play there when I'm home in Toronto!
Doug Ganim: I think the LA Fitness in Canada opted to build squash courts instead of racquetball courts.
(Frustration forehead slap!)
Events like the U.S. Open and other tier one tournaments, are they providing the needed promotion of the sport? More to the point what do these events do?
Doug Ganim: [The U.S. Open] is a grand slam event. It melds entertainment and racquetball beyond the amateur experience. We present the pros in a theatre like setting, which resembles other professional sports. Players come from all over the world to participate.
Major sponsors must be clamouring to advertise at a gland slam event.
Doug Ganim: There is major competition out there for marketing dollars. Sponsors are deluged with opportunities to reach a significant amount of eyeballs. We [racquetball] are only about 3.5 to 4 million.
Adrian Webb: We must also take into account that a lot CEO's for instance, play golf, hence the interest and sponsorship those companies offer golf. Making racquetball more accessible, like tennis will increase sponsorship opportunities.
So where is the Canadian Open, or the British Open, or Mexican Open?
Jason Mannino: We're in negotiations with Canada and Mexico for another tier one event. We're also working on Columbia, Japan and Poland. We're looking at any place with courts and it's looking good.
Doug Ganim: Paola Longoria, the #1 ranked IRT female player has formed her own promotions company in Mexico and does run grand slam events, mainly for women.
Very cool…and beyond that?
Mark Griffin: Cost is a challenge. Hosting tournaments is not always a profit source. It's a labour of love, but it's good for the community. We all love the sport; that's how we managed to get the pros and amateurs out to South Dakota in January. I really believe racquetball creates fitness because it's a speed sport. We must push harder for visibility.
Doug Ganim: The goal was always to have more grand slam events. For now, I'm choosing to chase getting the U.S. Open where I want it to be. Other promoters need to emerge and create the multiplier effect. The U.S. Open is duplicate-able.
Jason Mannino: Tournament participation is growing. Since the late nineties the database of players has gone from 600 to 35,000.
The Olympics, shouldn't racquetball be there?
Luke St. Onge: The IRF [International Racquetball Federation] is a recognised member of the Olympic Committee.
Yunhui Cobb, vice-president of the International Racquetball Federation's women's programme and secretary general of the Asian Racquetball Federation joins the conversation.
Yunhui Cobb: Having racquetball in the Olympics is not just a dream. We believe it will happen and will continue to work towards that goal.
Jason Mannino: We should focus on educating everyone about racquetball's benefits. I read that it helps fight Alzheimer's disease, as well as glaucoma. Beyond [those type of benefits], it's a great work out and just fun.
Dr. Cho Wangki: The most dynamic sport. You'll never get a better work out.
Mark Griffin: I love it. I play regularly. I'll continue to do what I can to promote the sport.
Luke St. Onge: I think more so than other sports, racquetball is extremely aggressive on the court, but very social afterwards. I've been in this sport for over three and a half decades…there's nothing like it.
Debbie Tisinger-Moore: The first time I played, I was hooked. People who love the sport will always find a way to play.
Adrian Webb: I think we should promote it as an extreme sport. Racquetball is athleticism. If you've ever watched a pro game, it is something to see.
Jason Mannino: I think people get nervous and can become negative. I hear it all the time, but I'm just not worried about it. Much of our growth has centred around digital media. We've increased our reach on every digital platform. We're streaming all tier one events live over Facebook. Over a million people viewed the IRT Coast to Coast tournament in California last May, many for the first time. We have the IRT network where you can watch games and archival matches. Every pro event is an opportunity to invigorate our base. There are 60 pro stop events, thousands of leagues, thousands of shootouts…five hundred sanctioned events. You can get good instruction all over. You're coached by Debbie [Tisinger-Moore] right Alyson? How's your game?
Great actually. Debbie's the best. As a matter of fact, if there were a church of racquetball, she'd probably be the pope…actually knowing her, she'd coach the pope.
Okay so we have people that are loyal to the sport, so?
Luke St. Onge: Loyalty? No that's not it. Loyalty is reactionary. We've got people who believe in [racquetball]. Turnover in r-ball used to be 40% to 50%, now it's less than 10%. They play and support it because they love it. Their goals are about their physical and mental well-being.
Fair, but…WHY AREN'T WE AS BIG AS TENNIS!? (I'm not sure why I'm yelling).
Jason Mannino: You know what? I wonder how many people are actually playing tennis. I don't know but I'd like to see those numbers. Yes, tennis is successful. It has been popular all around the world. Racquetball didn't [initially] have a global explosion, it was just kind of here [in the U.S. and Canada]. We grew too fast and settled into a comfortable spot. It was a bubble that had to break. That was then. It's a totally different day. I think if people look at things objectively they will see that there is nothing to be concerned about.
Jason Mannino: Let me just say this: I've never dragged anyone on the racquetball court who didn't become addicted.
My racquetball partner Sean: Alyson, you know and I know that r-ball is awesome…that's why we're here this morning at 6am. Now, if you're done having your intellectual debate, can we get on the court?
I wonder why Sean's so anxious to play? Probably because he smoked me last Friday two games to one…
The evolution of racquetball has clearly not been a straight line. Its meteoric rise, recession fuelled free fall and stabilisation has been as dynamic as the game itself.
Circumstances have evidently shifted, but not the fun or value of racquetball. The nature of circumstance therefore suggests that Sean's going to lose today, but he'll have fun doing it.
Support HuffPost
The Stakes Have Never Been Higher
Related
Popular in the Community