A Vision for the Future: Voices From Our Yoga Service Community
In my Huffington Post blog series "Yoga: How We Serve," a number of yoga teachers on the front lines of outreach to underserved and unserved populations have offered valuable answers to the question, "What are some of your ideas about, or hopes for, the future of "service yoga" in America?"
Here are some of the insights that are helping to shape the ongoing growth of yoga service:
"My hope is that yoga will be more readily received by unique communities such as Native Americans, and more recognized by health care organizations as a complementary healing modality to modern medicine." -- Christy Burnette, founder and Executive Director of Conscious Community Yoga Association, Inc.
"I would like to see more science, more data, and more randomized controlled studies. In my opinion we owe it to our clients/students and to our future funders (taxpayers and private citizens) to prove what works, and to recognize what doesn't. We need to enter into the empirical domain, as difficult and as challenging as that is for yoga teachers like me!" -- David Emerson, co-author of Overcoming Trauma Through Yoga: Reclaiming Your Body
"The wounds of our veterans permeate all realms: physical, psychological, and spiritual...their needs are immediate. Our imperative is to assist these brave men and women with re-integration into the very culture they have fought hard to protect. Training for war is intensive. Training to return to their home lives is crucial." -- Ena Burrud, certified yoga therapist working with veterans in Colorado and Wyoming
"It is my hope that we will see a far greater awareness and participation by the yoga community in service programs. This might include a required 'trauma and service' module in the 200-hour training requirements and a consciousness of a service obligation by every studio and teacher. The establishment of the Yoga Service Council and the yearly Yoga Service Conference is a great way to expand yoga service nationally and spread the word on opportunities and systems for yoga service." -- Bob Altman, Co-Founder of Centering Youth in Atlanta
"I see yoga being a staple in police and fire academies. I then see recruits expecting to see it on the schedule. Once they are on the job, it would be wonderful to continue to have classes offered to them on a weekly basis, or as seminars and continuing education opportunities. This could also happen at local gyms or studios. I'd like to see yoga as an important piece of the puzzle when it comes to training and caring for our 'domestic soldiers.'" -- Olivia Kvitne, program director of Yoga for First Responders and Assistant Editor of LA Yoga Magazine
Others expressed hope that yogis will share this gift with special populations all around the world, and provide specialized yoga classes for people who find themselves at a homeless shelter, for people recovering from addiction, and for autistic children.
How Yoga Service Organizations Are Turning Vision Into Reality
How are we doing as a community to respond to these hopes? What new partnerships and entities, profit and non-profit, are stepping up to respond to the challenges?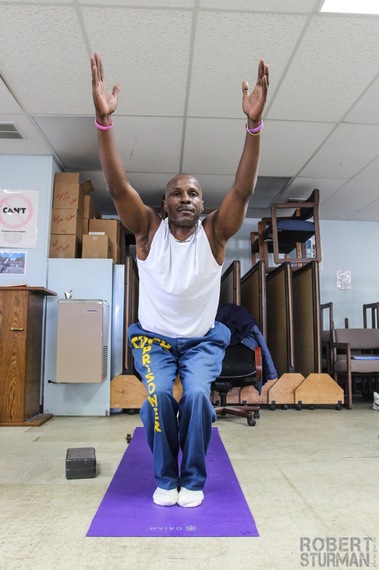 The Prison Yoga Project, which started at San Quentin State Prison through the work of James Fox, is a shining example of a well-studied program by the National Council on Crime and Delinquency (NCCD), which showed this is a cost-effective means to help with addiction recovery and impulse control. The NCCD study found that a little mindfulness training through yoga can redirect attention, increase emotional self-control and anger management. Over 800 yoga teachers are now teaching yoga and meditation in over 75 prisons around the world.
In February, the Yoga Service Council and the Omega Institute will issue the first in a series of research reports on "Transforming Education Through Yoga." This series was produced with research, input, and onsite collaboration from 23 leaders in the field of yoga and education.
In October, the Yoga Service Council and the Omega Institute will host leaders in trauma-sensitive yoga for veterans to produce a second report in the series, "Yoga for Veterans." Key researchers, including Sat Bhir Khalsa and Bessel van Der Kolk, have committed to participating. The objective of this Service Week for Veterans is to co-create common goals for our community, share insight, and produce resources that will serve veterans, VA hospital facilities, and yoga service providers, producing a peer- reviewed report of best practices.
In introducing yoga to first responders: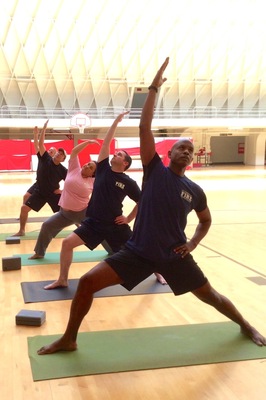 In February, the first-ever Trauma-Sensitive Yoga and Resiliency Training to Benefit First Responders and Emergency Personnel will occur at the Sedona Yoga Festival - the first offering of a new Give Back Yoga program called Yoga for First Responders. Our police, firefighters, emergency medical personnel, and their families face behavioral health issues similar to those of combat soldiers, such as depression, PTS, anxiety, addictions, and suicides. The Sedona Yoga Festival/Give Back Yoga training aims to share skills and tools to help bring therapeutic yoga to at least 4,000 first responders nationwide.
In reaching diverse populations:
In May, social workers and yoga teachers will come together for a weekend at Omega Institute for the 4th Annual Yoga Service Conference to discuss how the yoga service movement can expand its work to support broader commitments to social justice. This includes addressing the "school-to-prison pipeline," which channels thousands of low-income youth (particularly men of color) directly from failing schools into the criminal justice system. We will have compelling and direct conversations between social justice and contemplative practice in organizations -- join me there!
In bringing yoga to Native Americans:
This year, Give Back Yoga is partnering with Conscious Community Yoga and the Sedona Yoga Festival to provide a DVD yoga resource for Native Americans, led by a Native American yoga teacher. The class will be structured for those new to yoga, and with potential health challenges kept in mind. Of primary concern are complications from diabetes, obesity, detox for drug and alcohol addictions.
In partnership with the corporate sector: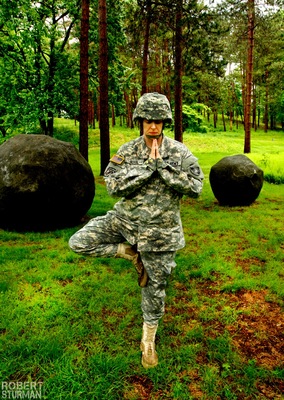 To reach our veterans with mindfulness practices, Gaiam and Give Back Yoga will commit to serve 100,000 veterans through mobile meditation apps.
Yoga Journal Live, Give Back Yoga and Warriors For Healing -- a new foundation devoted to raising funds and awareness for bringing therapeutic yoga to veterans -- will host a special event on Sunday June 28, 2015 on the Windsor Lawn of the Hotel Del Coronado in San Diego, CA. By bringing together hundreds of yogis to show solidarity for this cause, the event will draw greater awareness to the therapeutic benefits of yoga for veterans facing PTS, and will offer veterans who are seeking healing a pathway toward new meaning and empowerment in life.
YogaGlo will support the Eat Breathe Thrive™ Facilitator Training course, providing facilitators with the knowledge, skills, and mentorship necessary to lead a yoga-based program for people struggling with disordered eating and negative body image. Nearly 80% of adult women feel dissatisfied with their bodies, and three out of four report struggling with disordered eating. The rates of body dissatisfaction among men have increased from 15% to 43% over the past three decades, and eating disorders have the highest mortality rate of any mental illness.
New Growth for Yoga Service in 2015
As we partner with our program directors, our Advisory Board Members and influential yoga teachers to bring this powerful practice to the world, one person at a time, we are fostering new growth in several new areas.
This year, Give Back Yoga is partnering with the Farashe Yoga Center in Ramallah, 7 Centers Yoga Arts and American yoga pioneer Rama Vernon on a new global initiative to expand and harness the power of yoga in the West Bank and Gaza, supporting Palestinians' exploration and use of yoga in everyday life.
In May, lead teachers from these organizations will travel with Rama Vernon to the West Bank and work in partnership with Farashe Yoga Center to train up to twenty teachers. Following the training, these new teachers will introduce yoga to area residents through work in urban refugee camps, schools, hospitals, and other venues.

Yoga is largely unknown among Palestinians. But over the past two years, more Palestinians -- women in particular -- have embraced the discipline as a way of coping with their daily stresses of the prolonged conflict, including commuting through military checkpoints, unstable employment, restrictions on movement and access, and political unrest.
This initiative to foster yoga as a practice of peace in the West Bank will continue to grow in 2016, as Give Back Yoga and our partners host the first international yoga conference in the West Bank. Led by world-renowned yoga teachers, Palestine-based yoga teachers and practitioners will have access to hands-on workshops that will enable them to develop effective yoga programming for their students. Following the conference, there will be a one-week service opportunity for newly trained teachers to apply these principles in their lives and in the community.
Based on continuing growth trends, we anticipate a growing demand from prison wardens who want more trained yoga teachers working in more prisons; and want specific programs for incarcerated veterans, for the staff and officers, and increased support for restorative justice programs.
Influencing climate change:
This year, leading yoga teachers, environmental and sustainable development experts, and atmospheric scientists will be discussing "Yoga, Personal Transformation and Global Sustainability." What does yoga have to do with global sustainability? What are we all doing to reduce your individual carbon footprint? We need to raise our consciousness of how the yoga movement can meet the climate crisis, and work to help solve what is far and away the greatest challenge of our time. There's more and more interest in this educational process, beginning with the recent article, "Yoga, Personal Transformation, and Global Sustainability."
Join the Yoga Service Movement
There's a lot of work ahead of us. But eventually, we're confident that we'll see tens of thousands of yoga teachers and yoga therapists leaving their studios and sharing down-to-earth yoga tools with un-served and underserved communities.
Here's to a bold, transformative, and prosperous New Year to you all!
Images: Courtesy of Robert Sturman, Yoga For First Responders & Niroga Institute.
Calling all HuffPost superfans!
Sign up for membership to become a founding member and help shape HuffPost's next chapter