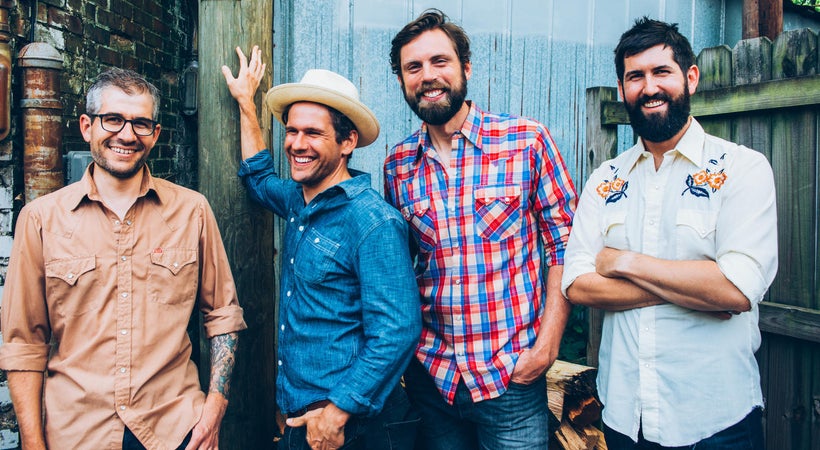 That's because this four-piece Virginia-based string band is releasing its newest album, "Wild As We Came Here," at the 30th anniversary of the Americana festival set for April 27-April 30, 2017, on the campus of Wilkes Community College in Wilkesboro, North Carolina, honoring the late, great Doc Watson, and his son Merle. The album will be officially released on May 5.
"It's great to release a record in the springtime, and the fans at MerleFest have been so good to us," says Trent Wagler, who plays guitar and banjo in the band and writes most of its material. "There is no place better to release a brand-new album."
The album, which was created while the band holed up in a remote Maine studio for a week and half, was made with producer Sam Kassirer (Lake Street Dive, Josh Ritter, Elephant Revival).
"We were in our own world and we always had a plan (for previous albums)," Wagler explained. "I think in looking at this new record, we were really ready to open ourselves up to see what someone else could push us to do."
Here's a sample of that new sound on the band's newest video, "Scrape Me Off the Ceiling," which was released on March 22 on the Folk Alley blog:
The band — Wagler, Eric Brubaker, Brian Dickel and Jay Lapp — branded themselves as The Steel Wheels in 2010. The band has added percussion as a staple to its new sound and is now touring with drummer, Kevin Garcia, formerly of The Duhks.
"We have a lot more percussion on the record and we are touring with a drummer on stage," Wagler explained. "We have recorded with a drummer before and it felt like a natural outgrowth. It doesn't feel like we went outside of where we were."
The addition of drums doesn't mean members of The Steel Wheels are thumbing their noses at their bluegrass roots. In fact, they have they wrestled with adding percussion for years, Wagler says. "You are hopeful it will add energy but you worry you might be watering (the sound) down so we have been very slow and careful not to do that. What I really respected about Sam's production was it wasn't this idea of taking The Steel Wheels and cut and pasted a drummer on top. Instead we went inside the new songs and see what makes this song sound best. We're being very intentional."
Wagler added, "We've never called ourselves a bluegrass band. We set out to write songs that make people feel. Our main instruments are traditionally acoustic. This growth has been a natural evolution. We see it as coming into our own."
The band is no stranger to North Carolina. "When we started touring outside of our area, we found a home in Western North Carolina," Wagler said in a recent phone interview. He credits the folks at WNCW, which annually broadcasts MerleFest's Watson Stage performances live, for introducing the band to the festival organizers.
According to organizers, an estimated 75,000 participants will gather at this year's 30th homecoming of musicians and music lovers to celebrate the world renowned MerleFest.
With more than 100 artists performing on 13 stages spread across campus, MerleFest attendees can expect late-night jam sessions, band competitions, special guest performances, impromptu dance parties and one-time-only musical collaborations that are all a part of the fabric of MerleFest – and a testament to the enduring vision of Doc Watson and the Watson family.
Calling all HuffPost superfans!
Sign up for membership to become a founding member and help shape HuffPost's next chapter
This post was published on the now-closed HuffPost Contributor platform. Contributors control their own work and posted freely to our site. If you need to flag this entry as abusive,
send us an email
.