The Stepkids are one of the most eclectic bands in music today with a self described sound of '"a fusion of punk and jazz, West African and 1960s folk, neo and classic soul, classic funk and 20th century classical." The band also perform one of the most unique live shows and are not to be missed at this year's SXSW. Radiohead's Thom Yorke recently gave mention to them as being musical delight on his playlist.
Dan Edinberg of The Stepkids answers our questions:
You guys have equal creative roles in your music, how do you manage that? Was that a decision you made as a group or something that happened naturally?
Dan Edinberg: It was a decision we made as a group. All three of us are solo artists as well, and we already were sharing our songs with each other and group-critiquing them, so it was a natural outgrowth. It peaked during one evening where we decided that the traditional 'rock god' mentality of being in a band wasn't for us; we look up to groups like Kraftwerk or Pink Floyd where the group aesthetic is the draw, not seeing some good-looking person on a stage. Plus, we are all first and foremost trained as jazz musicians. Jazz is a social music where every piece of the group gets to speak, so it is a very natural thing for us to write songs together from the ground up. When did you form?
Dan Edinberg: Jeff and I have been close friends since we were teenagers. We met on a jazz gig in New Haven CT in the summer of 1998 - we were both playing around the area heavily and once we played together it was an instant connection. We recorded a jazz LP that summer and kept in touch through the years hoping to one day do a serious project together. Tim and Jeff met in the early 2000s. Tim had his own studio in Bridgeport, CT, and Jeff started going there to record his solo stuff. One day in 2009 I dropped by, and before we knew the three of us had recorded a song together.
How did you come up with the stage concept for your live shows?
Dan Edinberg: This is the result of a collaboration between us and the visual artist Jesse Mann. After we finished recording our first album we knew that we wanted the live show to go beyond just seeing us on stage in our plain clothes. We wanted the visuals to be as expansive as the sound. When I brought Jesse to the studio one day, after a lot of brainstorming we decided that using projections would be an amazing inexpensive way to have a lot of control over the light in a small space, i.e. a stage. But we also knew that many bands have done projections before... mostly they are done separately from the band, i.e. there is a projection screen that is projected on, and the band does its own visual thing. So we came up with an idea that perhaps the band could be the canvas itself! We paint our instruments white, drape white sheets all over the stage, and wear all white, so we ourselves can be projected on. This gives Jesse the utmost control over the stage lighting through the set. He designs a unique set of visuals for every song, and improvises with us as well.
You've been featured in everything from Pitchfork to having Thom Yorke give mention to you as being on his playlist, have you been taken aback by your fast success?
Dan Edinberg: Well its funny, it doesn't feel as fast for us as it does probably for the rest of the world because we finished our album back in March of 2010! So we've been waiting two years to get to this point.. but don't get me wrong, it feels incredible to know that someone like Thom Yorke who we admire greatly has even listened to our stuff at all.
What are your touring plans?
Dan Edinberg: In addition to SXSW we're going to be hitting the road opening up for Mayer Hawthorne this spring. We'll be playing everywhere in North America except the West Coast, but we'll be back there this summer hopefully. We're fortunate to have gone to Japan, Australia, and Europe last year as well. What bands are most influential to The Stepkids?
Dan Edinberg: Kraftwerk and Pink Floyd are our two biggies. Both created an enigma that transcends each individual band member. When you see either live, they do more than just play their songs; they create an environment. We also have to give Radiohead and Portishead a big shoutout; we referenced both heavily when mixing our first album. Both bands do an amazing job of combining acoustic instruments with electronics, which is a direction in which our new music is moving. What's currently on your iPod playlist?
Dan Edinberg: Here are a few albums from past and present that we're digging at the moment:Shabazz Palaces - Black UpOneohtrix Point Never - ReplicaCarl Craig - LandcruisingCybotron - ClearJanet Jackson - Rhythm NationMr. Fingers - AmnesiaDrexciya - The QuestBread - On The WatersNeil Young - Live at Massey HallDam Mantle - First WaveMichael Jackson - Dangerous
You were previously in a band called Zox, how has this experience been different?
Dan Edinberg: Touring with The Stepkids feels a lot busier day-to-day than touring with Zox because of our effort to make the show as much a visual experience as an auditory one. From lugging around a huge white movie-screen-size tarp to setting up a projector to dealing with different venue's policies on stage-lighting, it's a lot of work. But at the end of the day, I am more satisfied with our show than I've been of anything I've ever done. You get what you put in!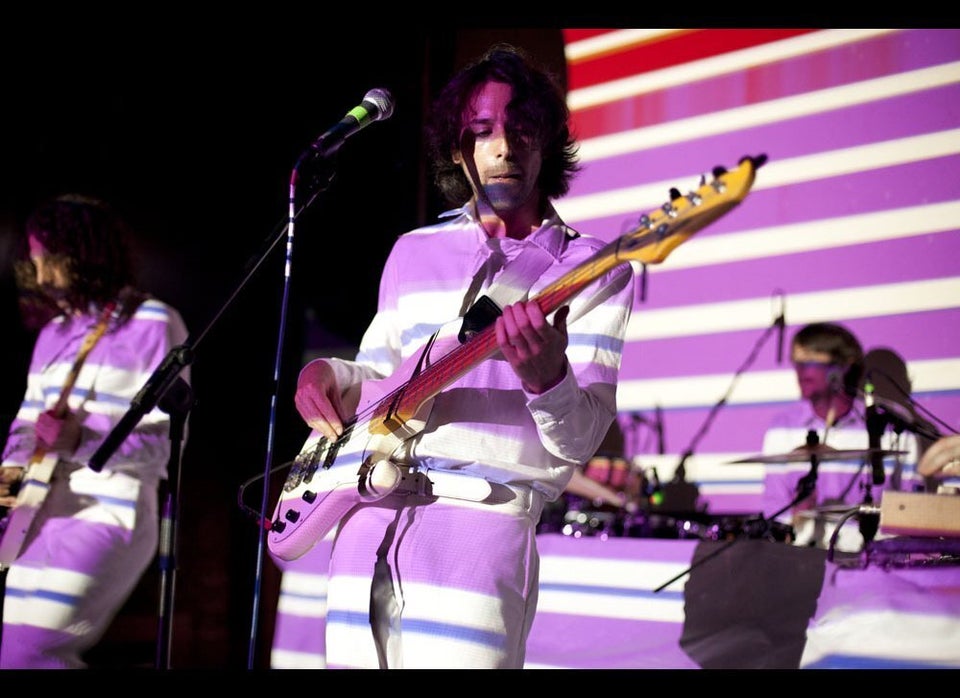 The Stepkids
Tuesday 3/13Pandora/DMX Showcase @ Clive Bar - Set time 3:30pmStones Throw Official Showcase @ Elysium - Set time TBD
Wednesday 3/14 Deli Mag Unofficial Showcase @ Gypsy Lounge - Set time 9pm
Thursday 3/15 Brooklyn Bodega/The Couch Sessions Showcase @ Gypsy Lounge - Set time TBD
Friday 3/16 Cashmere Agency/Stampede Management Showcase @ Kiss & Fly - Set time TBD
Support HuffPost
The Stakes Have Never Been Higher
Related
Popular in the Community