We have an 8' banner hanging on our portico that says "Black Lives Matter." It's up on the portico, because the one we hung last week on the fence was stolen.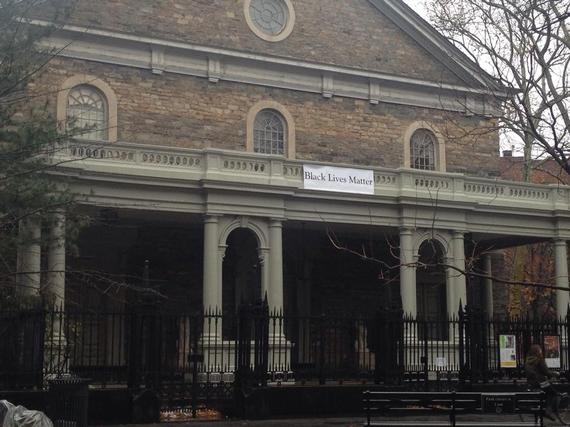 We hung a 25' foot banner Tuesday, November 25 around Noon on our fence facing 10th St and 2nd Ave. We posted pictures on Twitter and Facebook. It was our small act of solidarity with Ferguson and the family of Michael Brown.
We made it that morning. An older parishioner held the white fabric taut while two young adults drew, painted and attached grommets.
It said - "Black Lives Matter" - in black letters that were a foot wide and two feet high. We spilled black paint around the "c" and then covered up our mistake with white paint; so if you see our banner somewhere, let us know. We don't know where it is because it was stolen that night, sometime between 1:30 a.m. and 7 a.m.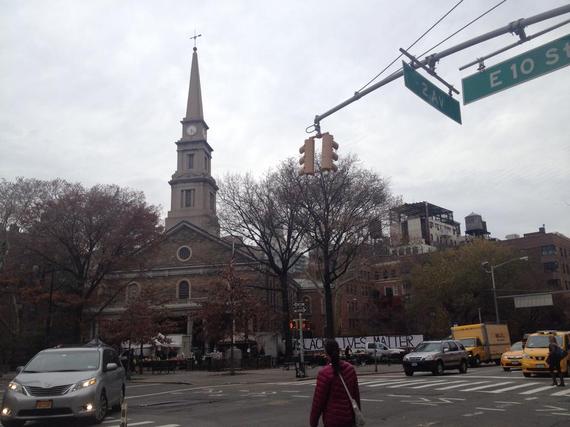 We do things like this at St. Mark's, and usually people come to talk and laugh with us and take pictures. This time no passerby said a word or offered to help.
The next Sunday when I told the congregation the banner has been stolen, many suspected the police or retired police in our neighborhood. A few optimists thought it would have been taken by protesters eager to use it for a march. It was 25' long and 3' wide attached with too many grommets and zip ties. It would have been hard to remove and move.
In 1999, I was a student at Union Theological Seminary in New York City when Amadou Diallo was shot 41 times by the NYPD. The officers were acquitted. We marched, got arrested, and hung a banner then as well. The banner was over the front entrance of Union Theological Seminary, and it read, "Union Seminary Abhors Police Brutality." Abhor is a good seminary word.
I was called in to talk with seminary administrators, who were furious about the banner. I don't know who hung the sign, but in retrospect I'm still proud that they thought I had something to do with it. I couldn't figure out what the problem was, so I proceeded in the conversation naively, "We do after all abhor brutality of all kinds," I argued. Finally one administrator exploded and said, "We are all now unsafe. The police will not protect us, if you don't take down that sign." I was shocked to find that the seminary staff was not in easy solidarity with those vulnerable to police violence in our neighborhood. The seminary is in West Harlem. It had not occurred to me that we would not all consider it our duty to stand in solidarity with anyone victimized in this way.
I'm not shocked anymore, but I still believe our faith calls us to be bear witness to injustice, and the cost is a vulnerability to state sanctioned violence that many of us bear all of the time. This is solidarity.
At St. Mark's we put up another sign Wednesday after the decision not to indict Daniel Pantaleo, the police officer who murdered Eric Garner, was announced.
We did it because our building faces 10th St. and 2nd Ave. at an angle. You can see us. We have hundreds of feet of iron and stone facing the street, and looking at this grand historic structure you would have no clue what the people inside it believe: the congregation, the artists, and the community groups that claim St. Mark's as their home, like many New Yorkers, are deeply saddened and some shocked that there is no indictment. It is important to declare that we are mourning, and we are organizing.
We believe quite simply that Black Lives Matter. We say Black, not All, because the sacredness of all life isn't on the line right now in the United States of America. Some of us are extremely vulnerable to the police, and if we are found dead, we will be criminalized in retrospect, not mourned. It is not an aberration, or about a rogue cop. It is the nature of the racist system we arm and fund as Americans.
So, as one small part of the struggle to end this generation's lynching of Black people, I am asking all of you that have buildings to let the world know what the people in those buildings believe or aspire to believe. Let our communities know that our law abiding, non-violent response does not mean that we agree that Black people should be killed with impunity in our communities.
In Luke when the Pharisees tell Jesus to shut his disciples up as they cry out that God's justice has been revealed to them, he replies -- "if they keep quiet, the stones will cry out." Let the Stones Cry Out.