I've had occasion to mention previously in this space one of the more quirky aspects of my background -- the deep exposure I had in my teens, quite by accident, to music history in the making by virtue of hanging around Los Angeles's famed Sunset Strip in the 1980s toward the tail end of an era there the likes we will never see again. Imagine my surprise and delight to realize, decades later, that two old friends from back in the day are still flying the flag and in fact are wrapping up years of painstaking work on a cinematic history lesson of the '70s and '80s that is positively awesome -- and positively overdue.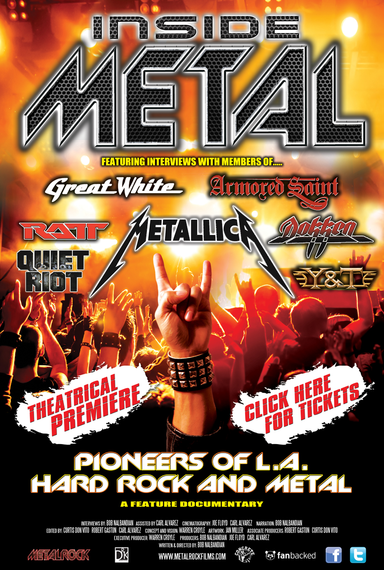 CJ: Bob! This is so great and you guys are the perfect people to be doing it. How did the whole thing come about?
BN: I was approached by co-producer Joe Floyd, who told me that he and his business partner Warren Croyle were planning to do a documentary on the Los Angeles metal scene and asked if I wanted to be involved. He said they were actually looking for someone to direct the documentary, and I jumped at the offer.
CJ: There have been quite a few film, TV, what have you productions about this particular subject matter, how is yours different?
BN: I was very aware of all the different documentaries and VH1 specials about the '80s LA music scene and my goal was to do something totally original and make a film that was like nothing like anything that had been done in the past. I wanted to make this documentary about the music, not about the fashion or the antics of the scene, and I wanted to focus back to the early '70s when the LA hard rock scene originally blossomed and both Joe and Warren agreed with the idea.
CJ: Let's get Carl involved in this. Carl! My childhood friend and metal mentor! Part of the documentary takes place in the middle to later '70s on the Los Angeles club scene and I'm guessing that video, film and audio of the happenings can be hard to come by. How did you deal with that? Was it a problem?
CA: We were lucky enough to have a great network of people who were there and are still part of the Los Angeles hard rock music community. We put the word out very early on, about material we needed to tell the story properly. We received photos, rare music and video from that time period. Many of the bands themselves came forward with never before seen material they had in their vaults. Another great contributor was Alan Wood who supplied us with much of the footage, photos and fliers as well.
CJ: Most people are aware of Van Halen, Motley Crue, and even early Quiet Riot with guitar great Randy Rhoads on the Los Angeles music scene. How did you want to work in the lesser known bands of this era who were playing and debauching alongside those guys back in the day? The scene was huge...
BN: We approached this as how it was on the scene at the time, when all these bands were unsigned (or newly signed) "local" bands. And in the mid-late '70s bands like Van Halen were contemporaries with other hard rock bands on the scene at the time, like the Randy Rhoads-era Quiet Riot, Yesterday And Today (later becoming Y&T), Smile, Legs Diamond, A La Carte, Wolfgang, Snow and others. So we treated all bands/artists as equals, so to speak.
CJ: When Van Halen 'made it' in the '70s, who do you believe was the next LA scene band destined for stardom, that perhaps didn't make it and what were some of the factors in that?
BN: Well, truthfully this was before my time, as I was too young to catch VH at the clubs. But from what I gather from many of the other artists that we interviewed, the band Wolfgang (featuring Steve Plunkett) were equally as popular as VH in the clubs. Quiet Riot and VH were going neck and neck at the time. Legs Diamond and Yesterday and Today actually had major released albums out prior to VH and VH used to open up shows for those bands. I personally really loved the band SNOW (that featured guitarist Carlos Cavazo before he gained worldwide fame and fortune with Quiet Riot) and I thought they would become the next VH. Growing up in Orange County, I also really loved A La Carte and thought they had a really unique sound to the LA scene at the time.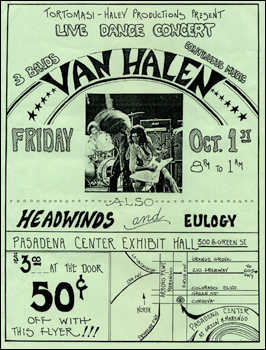 CA: After Van Halen's signing and release of their monumental 1st album on Warner Bros. Records, the New Wave and Punk Rock scene hit its popularity stride in the city with bands like Oingo Boingo (aka Knights of the Oingo Boingo), the Go-Go's, X, Fear, The Plimsouls and so many more which overshadowed the Los Angeles Hard Rock music scene in a big way. In the movie, we go into detail about that whole era evolved as well.
CJ: You did a masterful job of presenting many of the upcoming local bands in Los Angeles, but also the bands who were signed that had major label record deals who were part of the scene. Talk a bit about that.

CA: It was important to not only cover the bands who people knew about and were aware of but also the bands who were integral part of Los Angeles music scene who were perhaps natives or transplants to the City of Angels. Bands like Angel, Detective, Legs Diamond and even Yesterday and Today who all had major label record deals, they all played the local venues and concert halls in the Los Angeles area. Rock radio and booked concert tours across the country were some of the methods used to create awareness and support for these bands who had built devoted followings in regional areas throughout the U.S. Keep in mind of the time, this was all before MTV and the internet, when rock radio and live concerts were king.
CJ: Lots of great interviews going on in the parts of the film that I have seen. From icons like Jack Russell of Great White, to Stephen Pearcy of Ratt giving chapter and verse about the early days of the Los Angeles Hard Rock scene. How long did it take to assemble the interviews and turn it into a concise story?

CA: It may seem seamless how the actual story flows, but we went through many revisions and edits just to get it right. We were very lucky to secure each of the artist interviews, because we knew it really must be told from their perspective of how things were on the Los Angeles music scene. With every interview with each artist we did, most if not all were very candid in telling their story. All in all though from start to finish, it took two years time.
CJ: The film is three hours broken into two parts of 90 minutes, but the time flies. You take us way back into a time capsule of the 1970s Los Angeles hard rock scene. There will be additional volumes coming, correct?
BN: Yes, this is the first of three LA METAL titles. INSIDE METAL will be an ongoing documentary series and the first three titles are an LA Metal trilogy, this first title "The Pioneers of LA Hard Rock & Metal" focusing on the early years of the LA hard rock scene, from 1975 to roughly 1981. The second title will continue where the first left off, and will be titled "The LA Metal Scene Explodes" and will be roughly from 1982-1986. The third title will be "The Rise of LA Thrash Metal." All three titles will be two DVD sets.
CJ: Share with our readers some of your personal stories of the early stages of the Los Angeles hard rock scene.
BN: I never quite made it to the Starwood. I was a little too young at the time. Being from Huntington Beach as soon as I turned 16 I was hitting the OC clubs like The Woodstock, Radio City and Golden Bear. I saw a lot of great shows at that time - Snow, A La Carte, Dante Fox, Smile, August Redmoon, and some of the early shows of Motley Crue and Ratt. I was lucky to catch the very first show of Metallica at Radio City as well as their second show, opening up for Saxon at the Whisky in March 1982 and so many other great shows during that time.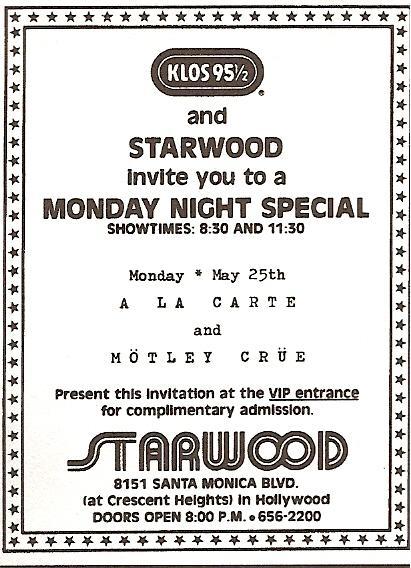 CJ: The tone of the work, while definitely entertaining, seems to me to be a bit more on the serious side -- quite different from other movies that sensationalize the groupies, debauchery, drinking, drugs and so forth. Did you mean to stay away from that subject matter?
CA; This was something that has been glorified and told before. It may have been the easy way to tell the story in that fashion, to romanticize this aspect and run with it. This was not our intention. We knew the story would be more fascinating in telling the whole truth, not just the decadent parts which most people know about already.
CJ: Talk about the release. How can people see it?
BN: We're doing limited theaters across the U.S. and select dates in Europe throughout November. You can go to MetalRockFilms.com to check out the listing of the theaters the movie will be playing. We plan to have it out on DVD the first of the new year as well as several digital media such as Netflix, Amazon, iTunes, Hulu etc.
CJ: Can you tell us a little about Don Dokken's contribution in the movie? He was great.
BN: Yes, Don was great. Our producer Joe Floyd has known Don for several years and he got Don involved. We filmed at Don's house in Hollywood Hills and he told fantastic stories for over an hour! It was really difficult to edit his scenes since he had so many great stories!
CJ: You're giving fans the opportunity to be involved with the project, correct?
CA: You bet. We're running a crowdfunding campaign through FanBacked.com which goes directly towards the marketing of getting the movie into the theaters. There's plenty of cool pledge items that come with everyone's contribution. Our crowdfunding campaign ends November 11th, so act now. Our Facebook and Twitter pages are where you can get the latest updates on theater locations, upcoming DVD release dates and more. Our social media has been and continues to be an important tool to get the word out there.
CJ: Going forward, what do we expect to see from you guys in the future? It sure seems like you are having a good time with this.
BN: Apart from the three Inside LA Metal titles I previously mentioned, we plan to take this series to other metropolis cities like Inside New York Metal, Inside SF Metal and hopefully go worldwide with this and do an Inside New Wave of British Metal.
CJ: Sounds good! OK, last question. How do you see the local LA music scene now and how does it differ from what is presented in the movie?
BN: There really is no scene in LA anymore. It started to lose its appeal since the early-mid '90s and kept going downhill from there. Although there continues to be a lot of fantastic metal bands coming out of LA recently, unfortunately there is no longer a vital live music club scene in the city for unsigned local talent.
Photos / flyers courtesy of Carl Alvarez
Popular in the Community