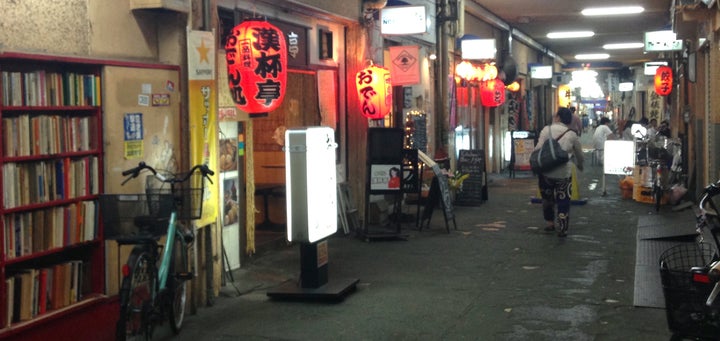 Tokyo native Hiromi Kawakami is one of Japan's best-known novelists, as well as a poet, literary critic, and essayist. Some of her work has been translated into English, including the novels Strange Weather in Tokyo—originally The Briefcase—and Manazuru (both Counterpoint), and a collection of stories, Record of a Night Too Brief (Pushkin Press). The latest addition is The Nakano Thrift Shop (Europa Editions), a novel whose setting is inspired by the thrift shops in Kawakami's traditional Tokyo neighborhood. Wonderfully translated by Allison Markin Powell, it offers fascinating insight into Japanese culture, telling the story of the relationships between Hitomi, a young woman who works at the shop as a cashier; Takeo, the reticent co-worker she's attracted to; Mr. Nakano, the eccentric owner; and Masayo, Mr. Nakano's sister, who helps Hitomi understand more about love.
As with Kawakami's other work, I was drawn in by her exploration of the balance between our ordinary outside lives and complex inner lives. In a thought-provoking parallel, the novel is also a meditation on the stories connected to everyday objects.
I interviewed Kawakami about the inspiration for The Nakano Thrift Shop and how the novel reflects her views on objects, relationships, and Japanese society today.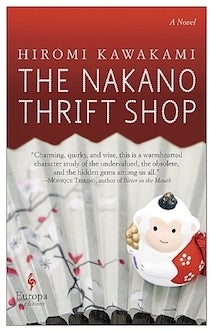 How did the idea for The Nakano Thrift Shop come to you?
I happened to encounter some thrift shop owners, as well as Japanese and Western antique dealers, and heard them talking about various episodes related to their shops. This was so interesting that I decided to write about the stories that surround old things.
Why did you choose a thrift shop in an old-style Tokyo neighborhood as the setting?
Near where I live, in the neighborhoods of Nishi-Ogikubo and Kichijoji, there are thrift stores that have always stirred my imagination.
Are thrift shops popular in Japan?
Yes. We have a culture of not letting things go to waste.
The objects at the Nakano Thrift Shop look ordinary but have stories and secrets attached to them. How does this relate to the book's themes?
One theme is that unremarkable, everyday objects can in fact possess profound stories. I wanted to write about the way that not only people but things can have their own stories.
How do you feel about objects?
Actually, I'm not very attached to objects. I'd hardly ever given any thought to the idea of seeking out the story or beauty behind objects, which is why I was so fascinated by the tales I heard from these people who deal with antiques and secondhand goods.
One of them said, "Sometimes, when the owner of an object dies or is no longer around, the object itself seems to fade or lose its sparkle. But then once the next person who owns it comes to love the object, it takes on a new and different appearance."
However, rather than things, what ends up being important to me now is people, and memories, and the landscape around me. Though it's possible these could all be considered things as well.
You've said you're obsessed with the relationships between people, and the connections between people and places. How do you explore this in The Nakano Thrift Shop?
The people who work at the Nakano shop are all terrible at forming relationships. I had a lot of fun writing about relationships between people who have no skills in building them. As for place, I wanted to capture the atmosphere of the area along the Chuo railway line where I live. It's easygoing, but there's an alienation that exists even though people still maintain intimate relationships like in a village of the past—there are people who live there but don't fit in, with other people or with the place.
The protagonist, Hitomi, is suffering from unrequited attraction to Takeo. How does this relate to what romantic relationships are like for young Japanese women today?
Nowadays, as before, love probably doesn't ever go the way we want it to. And love is quite often unrequited.
Do you think that The Nakano Thrift Shop can be seen as a mystery?
Maybe if you want to call it an animism mystery (I just made up this genre—ha ha!).
Is it a portrait of contemporary Japanese society?
In a way, yes. Perhaps it's a microcosm of Japanese society, featuring characters who aren't part of the mainstream.
How do you balance your creative work and personal life?
Even when I'm not writing novels, I'm thinking about them. That's not to say I don't have a life—I cook and clean and weed the garden and shop at the greengrocer or the butcher. I stand and chat with the neighborhood ladies. All of that is connected to creativity. And if I didn't have time to myself, I don't think I'd be capable of being creative.
What is your writing space like?
Three of the four walls are lined with books, with a long desk along the lower half of one. The fourth wall has a big window. Outside is a small garden, where lots of birds fly by. My body gets stiff if I sit at the desk for too long, so once every hour or so I get up and, just for a moment, do a strange little dance.
What are you reading now?
The newspaper. Novels published this year, and older novels. Magazines that come to the house. Research for my novels. Emails from friends. Letters from friends. Newspaper advertisements. Lost dog posters on telephone poles. Graffiti kids have scribbled on the ground. That is to say, I'm always reading whatever I can get my hands on, and whatever is right in front of me.
Translated by Allison Markin Powell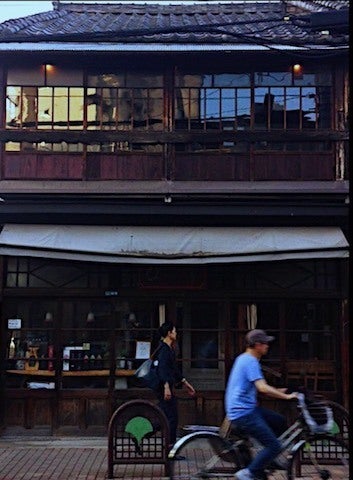 Related
Popular in the Community