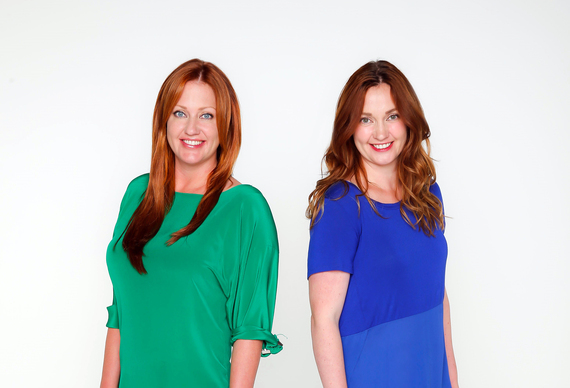 SleepBelt creators Hayley Mullins and Ashley Wade. Photo courtesy SleepBelt.
Sisters can not only be best friends; they can also be business partners. Just ask the Kardashians and the Olsen twins.
One such team of "sister-preneurs" is Hayley Mullins and Ashley Wade, who started the Toronto-based SleepBelt, Inc.
The idea of the SleepBelt (a hands-free baby holder) came out of a real-life need after Mullins had her first baby.
"I'd find myself holding her for what felt like twenty-four hours a day. When she was two weeks old, I took my hands off of her while she was asleep. She was startled and fell off of me," she said. "Obviously, as a first time parent, I was devastated and couldn't let it happen again."
Mullins went on to try a baby wrap, carrier, sling and even a babywearing shirt, but none of them worked right. Eventually she had the idea for the SleepBelt, which uses four-way stretch fabric to support the baby, causing no strain on the wearer or on the baby.
The product is useful for "kangaroo parenting," which is described by the March of Dimes as a method of closely holding babies to your chest, sometimes with skin-to-skin contact.
The SleepBelt has gone on to become a successful product, having been recommended by the La Leche League International and finding its market with hospitals, doulas and health professionals. Commercial success aside, the sisters have found that working together is rewarding on a personal level.
"We always knew we wanted to do something together," said Mullins. "We grew up with entrepreneurial parents, so we always wanted to start something. Inventing and launching a product that is recommended by experts and used in hospitals is beyond our wildest dreams."
The sisters have also found that there are advantages of going into business with family.
"We know each other's strengths and weaknesses. There are no surprises when you partner with someone you've known your whole life," said Wade.
"We know each other well, and we've always gotten along," added Mullins.
Calling all HuffPost superfans!
Sign up for membership to become a founding member and help shape HuffPost's next chapter