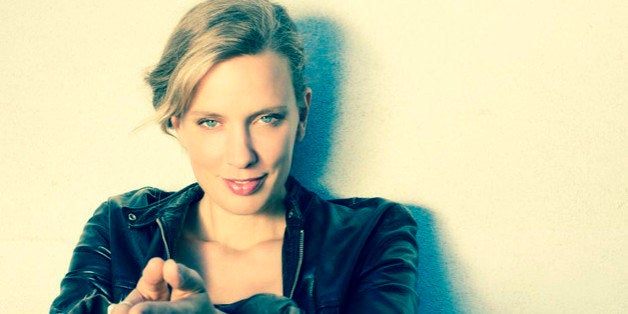 As a composer and singer, I write about what I see, hear, touch, and feel. I also write about what I feel is not being said or shown. This goes for everything from the political to the sensual. As an educator, I've worked with youth and adults from conflict zones in the United Stated and abroad, using music to facilitate non-violent communication and self-expression workshops. These experiences shape the sound of my voice and tone of my songs. They inform my worldview and, have shown me evidence of the power of possibility and beauty of our shared humanity.
Lately I've been feeling that the suffering erupting so loudly worldwide is fueled by a basic misunderstanding that we are far from one another. And I don't mean geographically, but culturally and emotionally. If we can't see ourselves in each other then we are in effect far from ourselves.
Two years ago I embarked on a journey that would blow my heart and mind wide open, and I kept what became a song journal of it. In 2014, I had the opportunity to go to Rwanda, East Africa to work and perform with some amazing people from there. I continued on to Japan (Hiroshima) and other countries, as well as Pine Ridge Reservation in the Black Hills. Songs for this newest recording-in-the-making, which I call Thousand Miles, were born from these experiences connecting with and bearing witness to our human condition, our joy and resilience. In praise of friendship and love in the most unexpected places. Of unsung heroes, of perseverance. Of water and stars.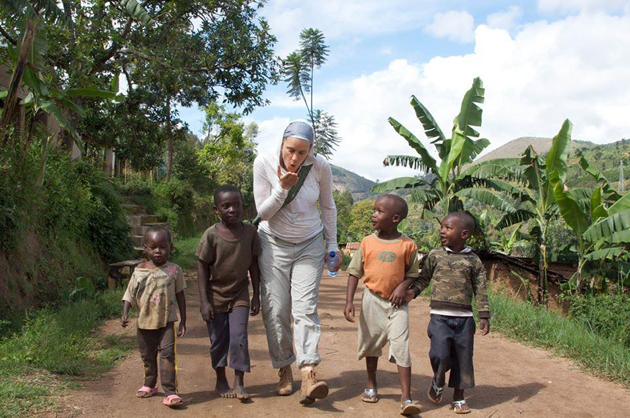 On the road to Murambi, Rwanda -- these beautiful children who live nearby joined me, and we spontaneously exchanged vocal percussion techniques! (Photo © Aleksandra Kwiatkowska)
One of the new songs for this album, "Stars," was inspired by some of what I witnessed while in Rwanda. I was there for the 20th anniversary of the genocide against the Tutsi. I sat in circle with survivors and perpetrators, and one day a mother gave a testimonial of how she and her newborn daughter had survived. Her daughter, now 22, was sitting with us and wearing earphones. I figured she was listening to the translation. As we were leaving, the daughter came to me and whispered, "Can you help me? What are stars? What is the meaning of this word?"
After I answered, she smiled bright as the sun then enthusiastically stuck her earphones in my ears and asked, "What else is he saying?" It was Bruno Mars singing "Just the Way You Are." In it he sings, "Her eyes, they make the stars look like they're not shining" ... She had lived her mother's testimonial, she didn't need to hear it again -- so she turned to music.
I learned two things in that moment: life continues even through impossible pain, and that music heals.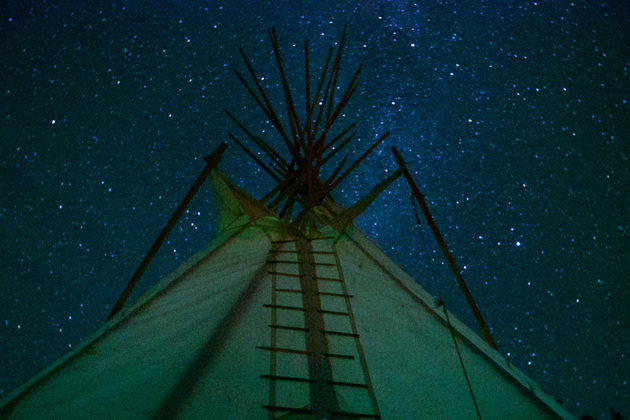 Black Hills (Photo © Peter Cunningham)
Another song on this album, "Baldwin's Wing," is inspired by James Baldwin's essay, "The Creative Process." In it he teaches, "The conquest of the physical world is not man's only duty. He is also enjoined to conquer the great wilderness of himself. The precise role of the artist, then, is to illuminate that darkness, blaze roads through that vast forest, so that we will not, in all our doing, lose sight of its purpose, which is, after all, to make the world a more human dwelling place."
Baldwin's entreaty to artists to give voice to and shed light on humanity in order to bring healing -- to ourselves and others -- is deeply resonant for me. So this song is in praise of the Artist. And I believe everyone is an Artist in the way they choose to live their lives.
"I could run a thousand miles from here but I would get nowhere / I've got to stay right here / Illuminate my own atmosphere / Luminous energy field, slow it down / Hear that sacred sound / In the midst of the mixed-up going 'round." ~ (Lyric from the title track, "Thousand Miles")
This album will hopefully serve as a friend to the listener and be part of the great map of Art that reveals time and time again how short the distance from one another truly is.
REAL LIFE. REAL NEWS. REAL VOICES.
Help us tell more of the stories that matter from voices that too often remain unheard.