In years past, women suffered in silence when it came to the issue of chafing between the inner thighs. But with the increased dialogue surrounding body positivity, which allows women to share openly about things that they used to experience in shame and isolation, we are seeing more and more brands begin to create products that directly address the experiences women have with their bodies.
Nowhere is this truer than with the founders of Bandelettes, thigh bands designed to prevent inner thigh chafing. Founders Julia and Rena have been friends for 11 years. They immigrated to the United States from the same city in Baku, capital city of Azerbaijan, and met while living on Staten Island in New York.
"I've had this problem, and I was using other shapewear garments and spandex to address it. I also used topical solutions, like creams and powders, to try and treat the chafing that was happening between my inner thighs," said Julia, the official Bandelettes guinea pig.
The two women had been talking about starting a business and were in the phase of exploring problem / solution sets that might be right for them to tackle when Julia's chafing problem leapt forward.
"She tries everything before we share it with customers," boasts Rena of Julia's product testing. "We want to be sure it's something we really like before we put it out there."
"We wanted to develop a product around a solution," said the women. "It wasn't a perfect solution initially, but no one else seemed to be doing it. So we decided to dive in and see how big the problem was."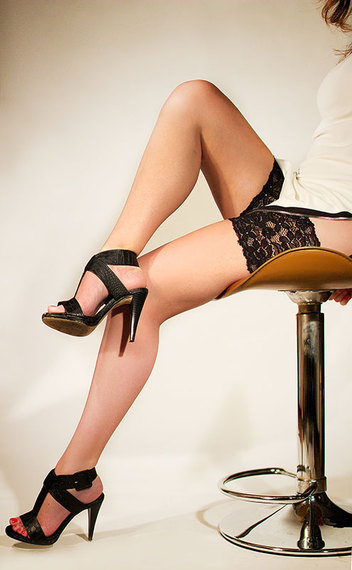 Indeed, other shapewear and lingerie makers have failed to jump in and address the problem of thigh chafing as directly as Bandelettes. Most garments that might help with chafing are actually designed for other purposes, such as panty hose and shapewear shorts, and can bring their own set of issues, such as extreme compression and full leg coverage, which wearers might not be looking for.
Topical treatments are also not that effective, which I know from my own personal experience in trying to combat thigh chafing. Creams and ointments seemed to wear off over the course of a day or an evening, making them ineffective at protecting the inner thighs for the course of a whole outing. I also found that between the mess and the quick evaporation time, baby powder wasn't a sustainable solution either. Especially with the recent study that finds a correlation between the ongoing use of baby powder and ovarian cancer, the Bandelettes founders could not be more timely in stepping forward with a product specifically designed to solve this very un-sexy problem with a sexy little solution!
"One of our customers shared with us that she used to find it difficult to navigate casual dating encounters with shapewear," the ladies giggled. "She said she'd run to the bathroom at the bar to take off her spandex shorts and pray that it wasn't a far walk!"
Truly, these women are attuned to the voice of their customers and are interested in making sure that their product works in all possible scenarios, regardless of how intimate those scenarios may be!
"We think women deserve to feel beautiful, confident and sexy in all situations, not ferreting away their shapewear like this problem is something to be ashamed of," say the Julia and Rena. "So we designed the original prototype to be sexy and ornate, like bracelets for your thighs."
As Julia and Rena continue to refine their product, the diversity of their customers continually surprises them.
"We were running out of smaller sizes," they said. It seems that "chub rub" (a term the two founders disdain) is not exclusively a problem for plus size women.
"We've encountered a lot of the 'chub rub' stigma. We don't use that term and we're against it. We've learned it's not about size, it's about body structure," say the ladies on the topic of this potentially derisive term for chafing that occurs between the inner thighs. And truly, based on the popularity of their smallest size, it seems that the thigh chafing affliction doesn't discriminate based on your thigh circumference.
"Bandelettes customers are plus size, straight size, athletes, dancers, normal women, and even men," the founders boast. "One of our friends husbands started expressing curiosity about the product, so we now make a unisex version that is also suitable for working out and other situations where a customer may not want the lace pattern of our original Bandelette."
I asked these two women about their experience working together as long-time friends and business owners. These lingerie-makers strive to decrease the friction between themselves as business women, as well as their customers' thighs!
"Our #1 rule is that we always find a solution that we both can live with," says Julia, as Rena nods emphatically. "It may not be 100% what either of us want, but it has to be something we can both agree to."
So far, their product continues to evolve as these ladies work together to improve it based on what they're hearing from wearers of Bandelettes.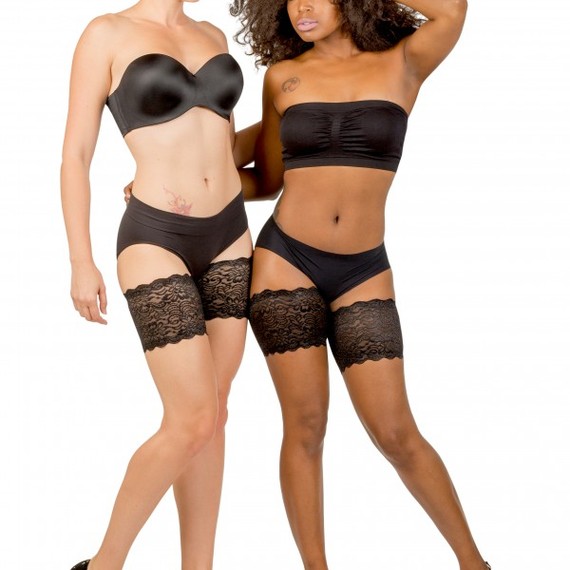 Along the way, there has been trial and error and some mistakes, as with any business venture. One issue in particular caused them to have to choose between eating the cost of a flawed order or selling the flawed product to customers.
"What's more important, our name or the money? We decided to preserve our name and take care of our customers. Customer satisfaction is the first priority. We are building a recognizable name, and we want customers to love our product," say Julia and Rena.
You can learn more about Bandelettes, and how to make your voice heard by Julia and Rena, at the Bandelettes website.