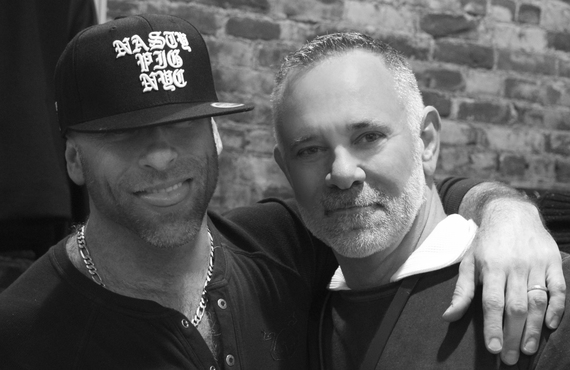 Saturday morning I was lying in bed, looking at Facebook, when I came across a story about Nasty Pig's holiday commercial being taken off TV. I immediately contacted Nasty Pig's CEO, David Lauterstein, to see if he wanted to sit down and tell me more about the situation. I'm extremely grateful that he did want to chat.
Phillip M. Miner: Can you tell me about the history of Nasty Pig?
David Lauterstein: We started in 1994. I met my partner/husband/everything, Frederick Kearney, in 1993, and he was super-talented, and he knew how to make clothing. I was really itching to start a company, so we began making clothing for friends. We started with $50 and a lot of balls. It grew organically from there. Now we have a retail store, a very strong online presence, and we sell to about 35 stores around the country -- all from nothing.
People used to tell me what we were doing was business suicide: calling a business "Nasty Pig" and building a brand around sexually active gay men. "What are you? Nuts?" I was like, "Give it 20 years. Culture will catch up." [Laughs.]
We're basically living the great American dream. We run an honest business, which is expensive! We put out quality, well-designed product. We pay our people well, and we even give them full health benefits. We've chosen to run a business with integrity and let the rest fall into place.
PM: That's really great. Could you give me a brief synopsis of the holiday-commercial situation?
DL: We shot and produced an ad, which was directed by Lil Internet, and we submitted it to Verizon Fios and Time Warner.
Verizon Fios refused to air it at all, but it was approved by Time Warner. They started running it late-night on certain networks, which was the plan. Then they told us it was yanked.
Despite our calls and emails to the company, we didn't hear anything from them. Every day that went by was one day closer to Christmas, and I was losing potential business. Eventually they told us it could not be edited and they wouldn't run it.
So Gawker stepped in and reported what was happening and exposed the unfairness of the situation, so I'm very grateful to the free press.
Some people have said they think I planned this scandal, but that would have been impossible. The ad was preapproved before it ran, and we purchased time for it to be aired. Having it pulled was never our intention.
PM: It would be pretty hard to sneak a commercial onto the air.
DL: Exactly. It's not like we're dealing with live TV! I would never pick a fight with Time Warner. They are an LGBT ally! They do good work for our community. But, in this instance, we were marginalized. We were terrified, but my husband and I decided we had to stand up for what we thought was right. Time Warner issued an apology, which we appreciate. And they assigned us a new rep, and we will be speaking soon to figure out what's next. I'm hoping to very quickly resolve this issue with them and continue our relationship in the future.
PM: And Verizon Fios refused to air it?
DL: Verizon Fios rejected the ad and said they would not accept this in any form. So, while Time Warner caught the heat, Verizon was never willing to even tell us why we couldn't air it. Time Warner didn't handle us well, but at least they gave the commercial an opportunity. Verizon Fios said [they would] not accept this or any edits. My media buyer said she has never seen anything like that before, that in her 26-year career she'd never had an ad rejected without edits. She couldn't believe it was happening. That's actually a bigger deal. So, Verizon, what's your problem? [Laughs.]
PM: What has the reaction from the ad been?
DL: We got so much support from gay and straight people, but there was definitely more negativity from within the gay community than the straight community. There was one gay man who's married and had a child and said, "My child shouldn't be exposed to this." I wanted to tell him, "Sir, people like me have pushed the boundaries so you could have children. We push boundaries of what's culturally acceptable so you can get those rights. You didn't get that right due to people like you; you got that right due to people like me." Fred and I were arrested at a Matthew Shepard march. We marched in Washington for marriage rights. We raise money for the Ali Forney Center. We are good, honest people who care very deeply about our community. Now that our company is getting more exposure, I hope people realize that, in actuality, Fred and I are a great example of what being gay in this century can be. You can have a white picket fence and you can dip it in black rubber, and it doesn't make it any less valid. I think gay people like us are a great example for the straight world too. Make your own rules for your marriage. Or don't get married at all! Just make sure your life makes you happy.
The amount of internalized homophobia that this exposed was amazing. Some gay men were saying, "This makes gay people look bad." That's ridiculous. If you love steak and you see a 99-cent Whopper ad, do you think, "This makes all meat eaters look cheap?" When you see a sexy bra ad, does that make women look like sluts? What was so different about this ad? People have sex! Gay people have sex! It's what makes us gay. Being gay doesn't define us as people, but gay sex certainly defines us as gay. My company's willingness to run this amped-up ad helps to push culture forward, not backward.
I understand that showing images of tattooed, hairy men in sexual situations is not the way gay men are depicted on TV, and I understand why it's threatening. At the same time, we are not showing anything that isn't real and isn't something you're seeing on TV with different kinds of people. If those were all straight people, I don't think there would have been a single complaint.
PM: I think you're right about that.
DL: When we made the commercial, we knew it was a strong vision, but it's no different than any other racy advertising. During the holiday season you have to cut through the clutter because every business is assaulting their customers for wallet share. That's the reason Victoria Secret does their fashion show in December. And there's a reason why Joe Boxer does their "Jingle Balls" ad, and there's a reason we ramped our advertising up during this season.
Gay people are inundated with images of sex. We know that. So our ads have lots of innuendo. When it comes to advertising, we like to say, "We want to appeal to the brains and the balls." By putting something out there that is well-edited and well-made and has those little nuances, it speaks to more than just blatant nudity, and it has something else. Our customers are intelligent people who deserve better than being pandered to with hokey, dated references and second-rate marketing. Putting our ad on TV allows us to send a very private message in a very public space. That's what Nasty Pig is about.
Our customers use our brand to quietly communicate with each other everywhere they go. They believe in us because we give them great-fitting garments and plenty of culture. And let me tell you this: I am sure as all of this drama unfolded and we got so much free advertising off of the entire episode, they were right there with us, cheering us on as we laughed all the way to the sperm bank. Right, guys?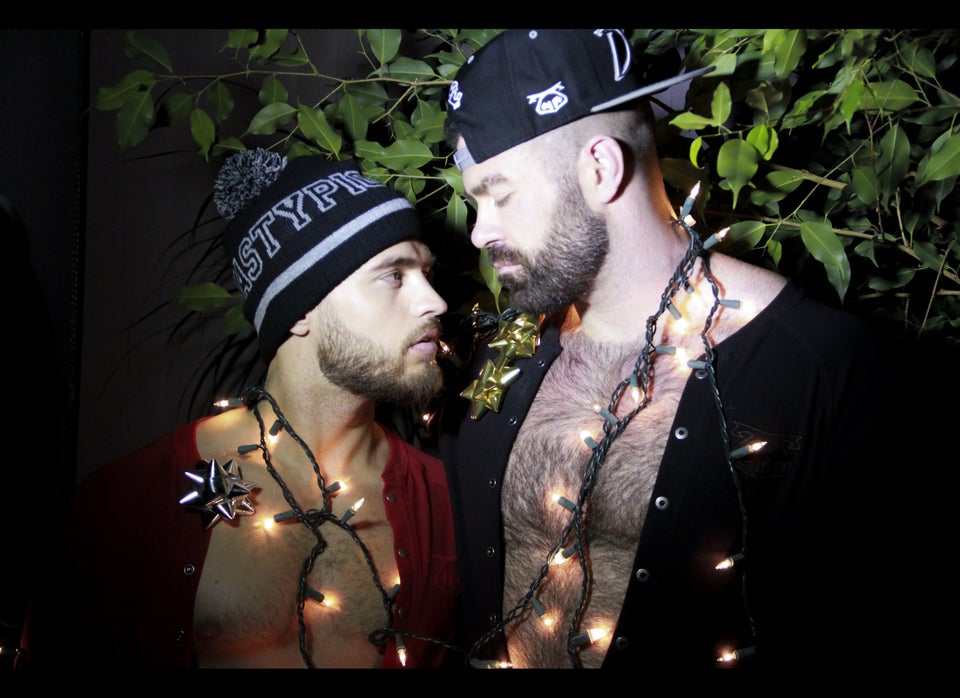 Behind-The-Scenes Footage From Nasty Pig's Banned Holiday Commercial (NSFW)