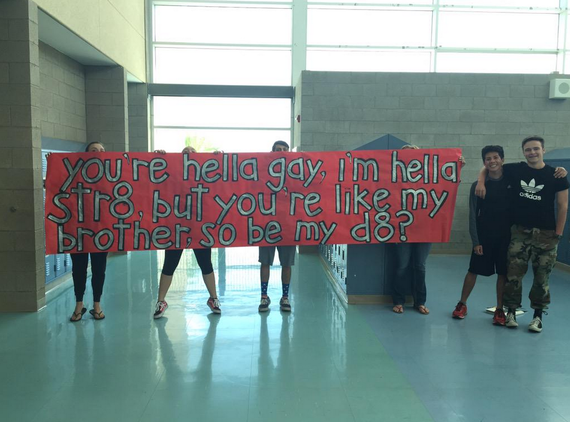 According to Anthony Martinez, "a picture is worth a thousand words. but I think people found more than a thousand words in this picture." And many would agree, including the likes of Miley Cyrus, George Takei, Tyler Oakley, and Ricky Martin.
Twelve days ago, Las Vegas junior Jacob Lescenski saw a tweet from his best friend Anthony expressing sadness that he didn't have a date for prom. Though Jacob is straight and Anthony is gay, Jacob looked past the labels and recognized an opportunity to make his best friend happy.
With the help of his friends, Jacob put together what has now become an iconic "promposal" banner, representing more than just an invitation to prom, but rather the shifting perspectives of an entire generation. It read: "You're hella gay. I'm hella str8, but you're like my brother, so be my d8?"
Now an openly gay YouTube personality, Davey Wavey was once an insecure teenage boy who was too afraid to invite a boy to his prom and chose to say at home instead. Raymond Braun, who originated several LGBT marketing campaigns for YouTube and Google, had very few straight guy friends in high school and incorrectly assumed that his male classmates wouldn't feel comfortable around him.
We were moved by what Jacob's promposal represented and wanted to share their story with as many young people as possible so they know they're growing up in a more welcoming, less fearful world, filled with people of all backgrounds who support and love them.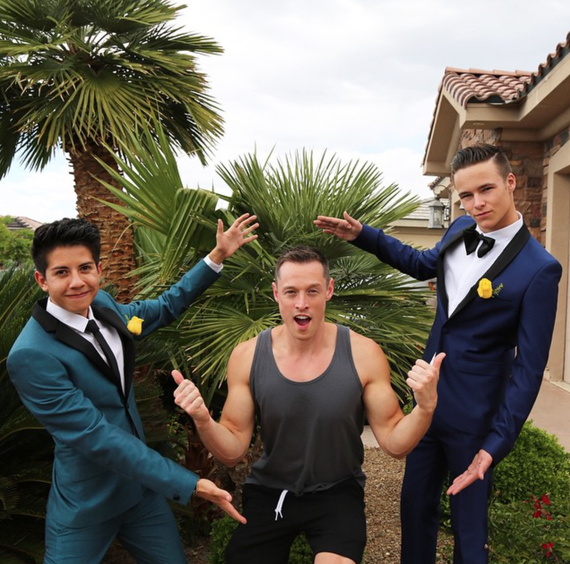 So, we set off to Las Vegas to meet Prom 2K15's most buzzed about couple in person. On Saturday, Davey documented Jacob and Anthony getting ready for prom. And then on Sunday, we sat down with them to chat about their big night, friendships between straight guys and gay guys, and the message they have for the world.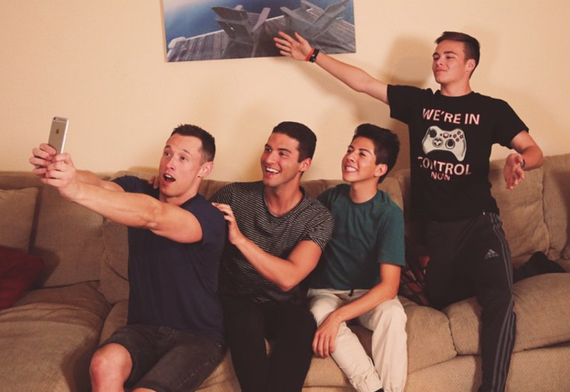 Check out Davey's video to hear Jacob and Anthony's story and experience their big night:
Check out Raymond's video to learn more about friendships between straight guys and gay guys in high school:
Davey Wavey is a YouTube personality and gay Internet icon.  With more than 225 million views in 160 countries around the world, Davey's YouTube channel is the largest and most-viewed LGBT-themed channel on YouTube. Davey was one of the first people to recognize the potential of YouTube to reach, entertain and inspire an LGBT audience and has created more than 800 videos for nearly a decade. Subscribe to Davey's YouTube channel and follow him on Twitter and Instagram.
Raymond Braun leads social campaigns for YouTube. He is currently on a volunteer leave of absence from his job to focus on launching an LGBT-themed YouTube channel. He was named to the 2014 Forbes 30 Under 30 class for his work on LGBT marketing, community engagement, and partnerships for YouTube and Google. Watch Raymond's first video and subscribe to his channel (youtube.com/raymondbraun). You can also chat with him on Twitter and Instagram.
PHOTO GALLERY
Ultimate Promposals 2013
Calling all HuffPost superfans!
Sign up for membership to become a founding member and help shape HuffPost's next chapter