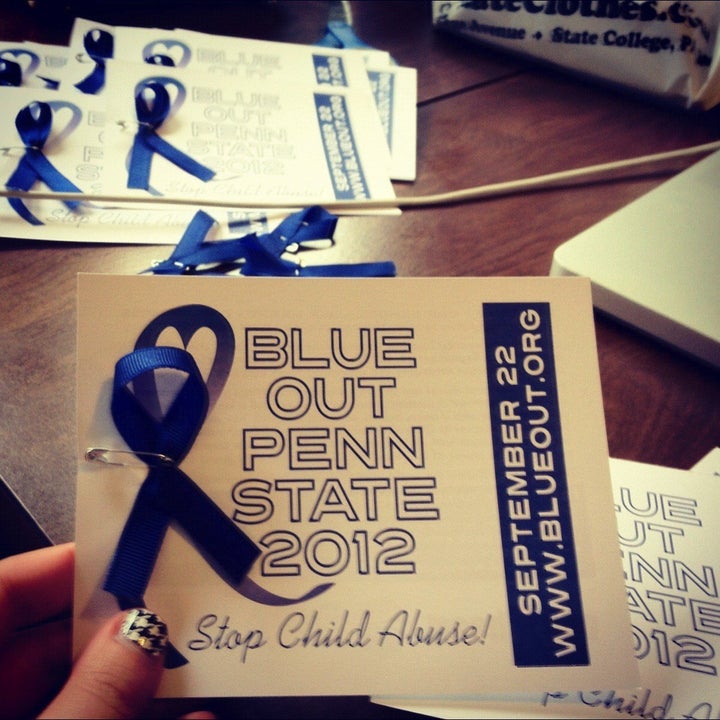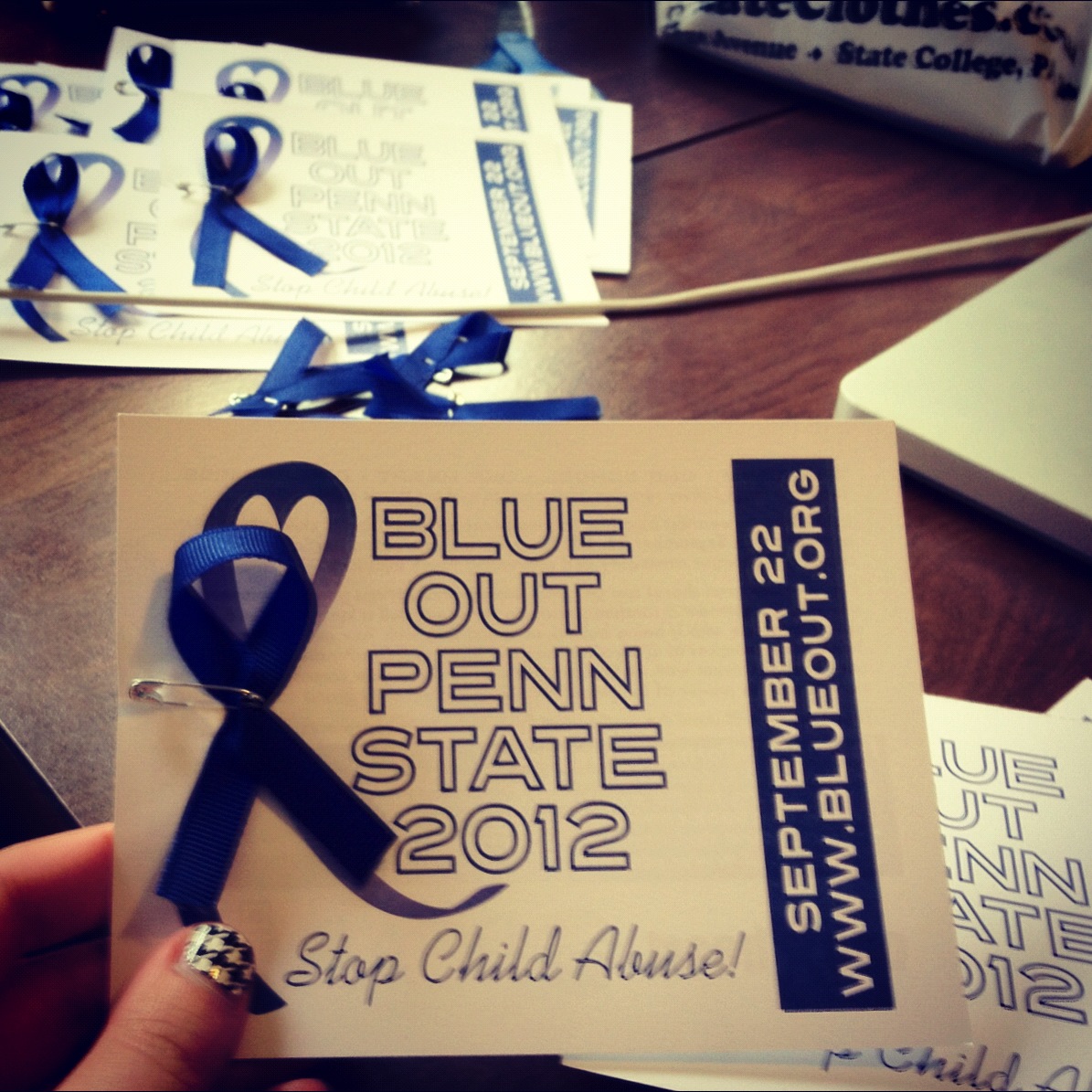 On Saturday September 1, the Penn State Nittany Lions will host the Ohio University Bobcats in their first football game of the season. While much has been said about the redesigned Penn State uniforms making their inaugural appearance this weekend, little has been mentioned regarding the origin of the blue ribbons now featured on the back of my schoolmates' helmets.
The blue ribbon represents a grassroots effort created by two ordinary students that seeks to prioritize the protection of victims and the prevention of future sex abuse and negligence. Here is our story.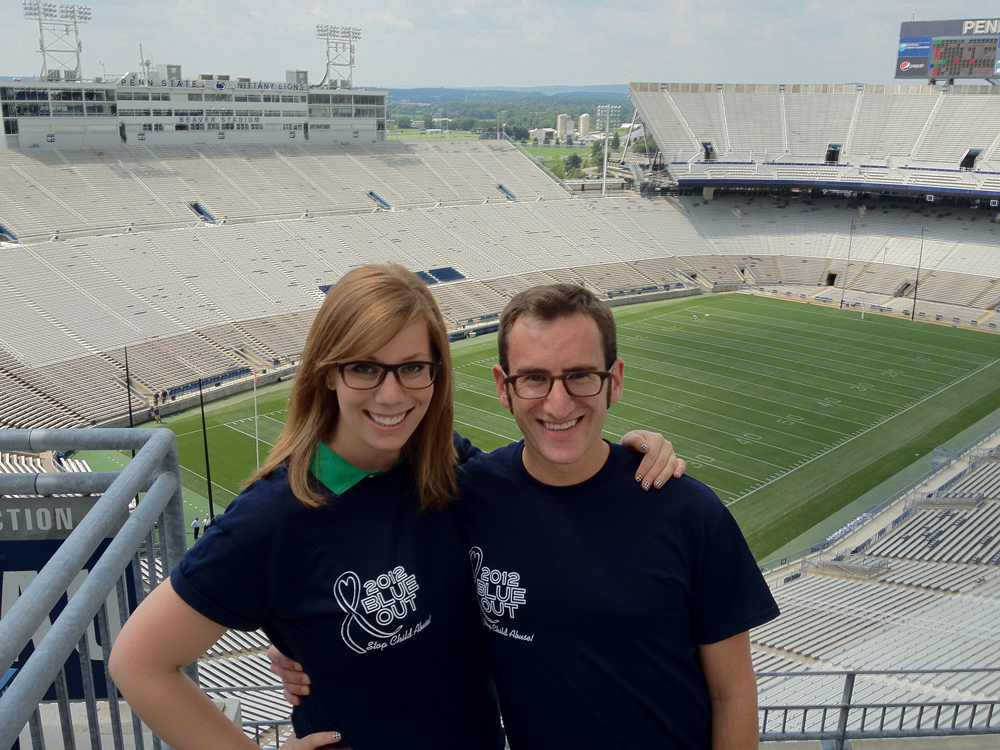 My family is from State College, the aptly named town surrounding Penn State. After receiving my undergraduate degree in art from Penn State, I worked in New York for three and a half years as a web designer for a large corporation.
I returned to State College in 2010 to be near my father. He had lost his sight and been ill for most of my life, but his health was quickly deteriorating. I chose to apply to graduate school in art education at Penn State because I wanted to combine my three passions: art, technology, and people. Years spent working in a corporate environment had taken its toll, and I looked forward to rebooting my career in a more socially responsible field. Growing up with a blind father made me realize the importance of technology for the differently-abled. I started my graduate program with a focus on designing creative spaces (or other arts-related outlets) that could be accessed by people regardless of their physical, mental, or social abilities.
Stuart was born in Connecticut and graduated from the Tisch School of the Arts at NYU with a degree in film and television production. After graduation he produced broadcast and interactive commercials at a large advertising agency that created commercials for my company. We met six months before I returned to Penn State for graduate school.
A year later, I convinced Stuart to join me for the 2011 school year. He had started working on side projects for non-profits and became interested in campaign development for social causes, and wanted to switch to a career that involved connecting non-profits and corporations for mutual benefit. However, he found that in order to be successful he needed to learn a lot more about how businesses are run. So he enrolled in Penn State's MBA program last fall.
The news of Sandusky's criminal allegations broke on Stuart's birthday. We were sitting on the couch -- procrastinating from homework -- when Stuart found the Grand Jury Report on a sports blog. A book that I recently read for an art education class, Releasing the Imagination by Maxine Greene, posited that the arts offer us the ability to imagine the world in a different way. The only way I was able to re-imagine the situation laid out by the Sandusky Grand Jury Report was a world without child rape and cover-ups. With this in mind, I googled the term "child abuse ribbon color" and the first result showed that dark blue (the color of bruises) was used to represent support for child abuse prevention. Coincidentally, dark royal blue is also a traditional Penn State color.
Stuart and I devised a way to show visual solidarity with victims and survivors of abuse via wearing blue to the next -- and last -- home football game of the 2011 season. Previously, the game was an officially scheduled "White Out," in which fans were asked to dress in white to intimidate the opposing team. The idea to change from a White Out to a Blue Out as an act of protest quickly spread through social (and printed) media. We worked closely with Therese Jones (a Penn State alumna), who created an event page on Facebook with the same idea. I designed a shirt for a local store that brought in donations for abuse prevention charities and volunteers were allowed to can for money at the stadium -- something that has rarely been allowed. I cut (and pinned) thousands of blue ribbons that were passed out with educational materials on rape. We were able to do a lot of good in the little time between the release of the Grand Jury Report and the November 11th game -- just six days later.
A month after the first Blue Out, my father died. In one of our last conversations, he said he was proud of Stuart and me for doing something to bring his community together again -- especially when the people in charge of the university did nothing. Even though my father was not physically able to see a stadium full of people wearing blue on November 11, 2011, he happily wore my Blue Out event t-shirt often.
This year, Stuart and I started working with One Heart (a newly organized student group devoted to child abuse prevention) to continue the Blue Out's mission on September 22, 2012. My kitchen table serves as "home base" for ribbon cutting and social media posting. I designed a new event t-shirt that is currently being sold across the commonwealth with proceeds being donated to the Pennsylvania Coalition Against Rape. After reading the Freeh report, it is clear that every member of the Penn State community needs to have opportunities to actively participate in the prevention of future injustices. I hope One Heart will continue this student-run tradition long after Stuart and I graduate.
My father had been a schoolteacher, and I believe that the best way to honor his memory is to try my hardest to make the world a better place for children.
For more information on the Blue Out, visit our website at www.blueout.org.
Related
Popular in the Community