Ever noticed how social media stories in the news tend to focus on user numbers, stock prices and PR disasters? In actuality, some of the most fascinating social media stories explore how people are thinking outside the box to build loyal audiences via unique strategies implemented on Twitter, Facebook, YouTube etc. Power users are creating campaigns for brands that far surpass the results of many top advertising agencies simply because they are real people who have honed in on a specific topic and connected with hundreds of thousands of real fans in that niche.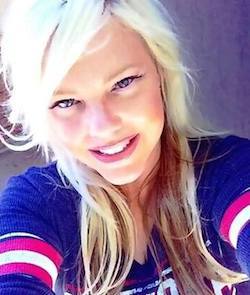 One social media power player who is leading this movement is social media's biggest country music hostess, #CMchat founder, Jessica Northey. As this remarkable woman embarks on a new adventure to commemorate the third anniversary of her game-changing #CMchat, I had the chance to ask her a few questions about her innovative experience merging social media and the music industry.
1. Three years ago, you started Country Music Chat as a way to build a community for country music fans, like yourself. You forged a path and became a social media trailblazer for country music, similar to how Oprah became a pioneer for television talk shows. What do you find is the most interesting part of the work that you do?
Honesty, I just love people. I love music. I love media. My mom said when I was a little girl I would tell everyone, "Shhh be quiet, the commercials are on!" Never did I realize that would be the creativity realm I would live in as an adult. Plus, I've always been a networking fool and love connecting people. Country Music Chat is the ultimate vehicle for that, and I basically get to take people "backstage" with me to meet their favorite celebrities and industry professionals, as well as introduce fans to each other.
2. How have you seen country music change with the integration of platforms like Twitter, Facebook, Google+?
It's a double edged sword. While it has been a career builder for some... if you're a jerk offline, you're most likely gonna be a jerk online. In the past, the "not so great" stuff about an artist could be hidden, now everything is out and open game and instant, publicists definitely have their work cut out for them!
However, social media, as a whole, is underutilized in the country music industry. For many, it's kind of a second thought or something they "have to do," mandated by a label/manager/publicist. Then there are the ones using it much like radio tour visits to directly connect to listeners... look at Blake Shelton, Jake Owen, Colt Ford, John Rich, Charlie Daniels, Oak Ridge Boys Joe Bonsall, Florida-Georgia Line, Luke Bryan -- all thriving. In addition, artists like Taylor Swift, Mary Sarah, Rachele Lynae, Moonshine Bandits, and Brett Eldredge have jumpstarted their careers from Social Media.
3. One of the ways that you have successfully built communities is by elevating emerging artists on your Twitterviews and Twangouts so the #CMchat community can "discover" them together. Was this part of your community building strategy or did it just evolve this way?
All of the above. I am the most accidental on purpose methodical person you've ever met in your life. Everything I do is also about using social media strategically to accomplish productivity goals. After working in country music radio for several years, it was clear to me that there was way more country music out there than what we were playing on air.
When I left traditional media to pursue new media full-time, from the beginning I had these goals:
Become a music discovery resource by giving fans a wide range of flavors of country music...not just what you hear on the radio or club while still maintaining authenticity to my own voice and promote artists I like and listen to
-Treat myself and social media endeavors like I AM a radio/TV station and grow my "channel"
Increase my personal brand awareness as an industry expert
Establish SEO (Search Engine Optimization) through using keywords specific to my indutry
Grow targeted following
Sell my consultation services
Get product out to people (basically #CMchat/Twangout/Me = product)
Gain more personal connections (this should be everyone's goal!)
4. Now that you have generated billions of impressions and millions of fans on social media with #CMchat, you are launching the #CMchattys. Staying true to your ambitious nature, you have created an entirely new experience here. Can you explain how the #CMchattys awards are different from other online and televised awards programs?
They are 100 percent fan nominated. One hundred percent fan voted. One hundred percent social. Also, celebrities, industry pros and fans will be recognized for their social media endeavors together. The citizen journalist that specializes in a particular niche is just as powerful as the corporate news outlets, if not more, because people actually connect with the everyday person next door whose attention and reciprocity of conversation is attainable.
They bond with them through their authenticity and "you're just like me" feelings. I know, personally, I have more intense relationships with my peers than people who only broadcast info to me. Simply put, some people just get social media and deserve to be recognized by their peeps for being awesome, and with the help of Country Outfitter, Joe's Bar, Hashtracking, Meshfire, Nashville Gab and CMchatlive.com, we will honor these hard working tweeters/posters/bookers/tumblers/tubers/photogs/clickers.
I personally live my life online, and as much as these awards are about recognition, they're also about achievement and letting people know that what they do matters. I am just so excited that I get to wake up every day and do something I love so much and share that love with my community. Influence is only the passing of enthusiasm. I hope it is clear how enthusiastic I am about what I do.
5. It is clear that you have cornered the market at the intersection of social media and country music, your fans look forward to seeing who they can discover and connect with every week on Twitter and Google+ and now they can connect with those artists via the #CMchattys. Have you thought about where you are going next?
I am known for this phrase "I have an idea!" In fact, EVERYONE makes fun of me for it. I try to keep a lot of "eggs in the basket/balls in the air" and give myself the freedom to pursue different avenues swiftly.
Our CMchatLIVE.com website is my baby. My dog has been sick. I've been sick. We've had a tough year already... but I have a couple of reality TV projects in the works as well as a few big corporate speaking gigs coming up. My biggest "next big thing" is working on a book. Our executive editor of CMchatLIVE.com, Jennifer Swirsky, wordsmith extraordinaire, is whipper-snapping my A.D.D. into efficient ass-kicking mode. I am so excited to finally be able to share my passion about social media with people who might benefit from it.
I have a very simple approach that when I work with people they tell me, "Wow, that was easy," or "I totally get this." Plus from the time I write this til the time I publish, I guarantee I'll have 5 more ideas and have bought just as many new domain names....
REAL LIFE. REAL NEWS. REAL VOICES.
Help us tell more of the stories that matter from voices that too often remain unheard.