Our company, Disaster Mesh, is a public benefit corporation co-founded that aims to establish Internet connectivity in disaster-struck areas within 24 hours.
In July of 2014, Margaux Giles, Katelyn Dunn, and myself, ages 18, 17 and 20 years old respectively, came together at a five-week program in the heart of Silicon Valley at Singularity University to learn about the trends of cutting-edge technology and their role in solving global problems. During the program we decided to devise a solution to the lack of on-demand communications networks in disaster-struck areas, in order to facilitate relief efforts. After thorough research and late nights of brainstorming, Disaster Mesh was born.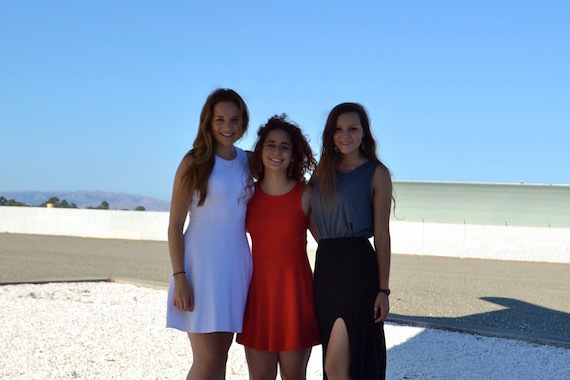 (From left to right: Katelyn Dunn, Karla Dana and Margaux Giles)
Disaster Mesh creates a mesh network deployable by airdrop, which establishes connectivity upon landing. The network nodes, designed after the aerodynamic maple seeds, contain solar panels and a USB port to charge external devices. A drone or plane airdrops thousands of seeds into a disaster-struck zone, and survivors connect to the network via Wi-Fi-enabled devices. The survivors are then able to provide vital information to relief organizations such as location and needs through a landing page with options for them to select, and are additionally able to use the network to communicate with their loved ones.
Since the startup was formed, we've worked hard to overcome many barriers in driving our vision forward. Despite being faced with challenges such as full-time education (Katelyn is in her senior year of high school, Margaux is at Stanford University, and I am at LIU Global), living in different parts of the world, being females in a male-dominated field and working on a steep learning curve, we have succeeded in launching and expanding our startup. We have pushed the limits and shown that it is possible to succeed as entrepreneurs and students simultaneously. As Margaux puts it, "We often struggle to be taken seriously because of our unusual profiles. We're full-time students, young, and female, but we make it work. There should be a lot more people in the field with that profile, and we hope to inspire them to step up."
"We're full-time students, young, and female, but we make it work. There should be a lot more people in the field with that profile, and we hope to inspire them to step up." -- Margaux Giles, Disaster Mesh Founder
We believe our perseverance and approach to these challenges has led us to ever-expanding opportunities and growth. After developing and patenting our first prototype, we presented the startup at a conference in Rome, Italy, becoming finalists in the Design4Disasters competition held by the innovation branch of the Federal Emergency Management Agency. We were also selected as one of the top gadgets at the Bay Area Maker Faire 2015. Katelyn sums up our team dynamic and values when she says, "The most helpful thing we have done for ourselves is choose to be equals, friends, and teammates."
Recently, we've been announced as one of the twelve winning teams of the Verizon Powerful Answers Award 2015, a contest aimed at locating and funding ideas with the power to change the world in which 6 million dollars are given out in cash prizes. Team Disaster Mesh is thrilled and ready to forge ahead.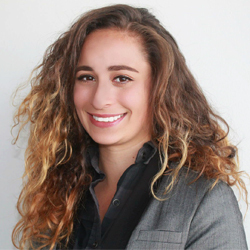 Karla Dana, COO & Co-founder of Disaster Mesh
The Powerful Answers Award is a multi-million dollar challenge for entrepreneurs, companies and innovators worldwide to provide innovative solutions to the world's biggest problems. In it's third year, Powerful Answers Award is excited as ever to share stories of the people behind the technologies leaving a positive impact in three areas: transportation, emergency response and the Internet of Things. For more information, visit here.
REAL LIFE. REAL NEWS. REAL VOICES.
Help us tell more of the stories that matter from voices that too often remain unheard.