April 14 marked the first day of a week-long magical adventure for 7-year-old Daisy Perez, and the highlight of her trip was the day she met Belle from "Beauty and the Beast" at Walt Disney World.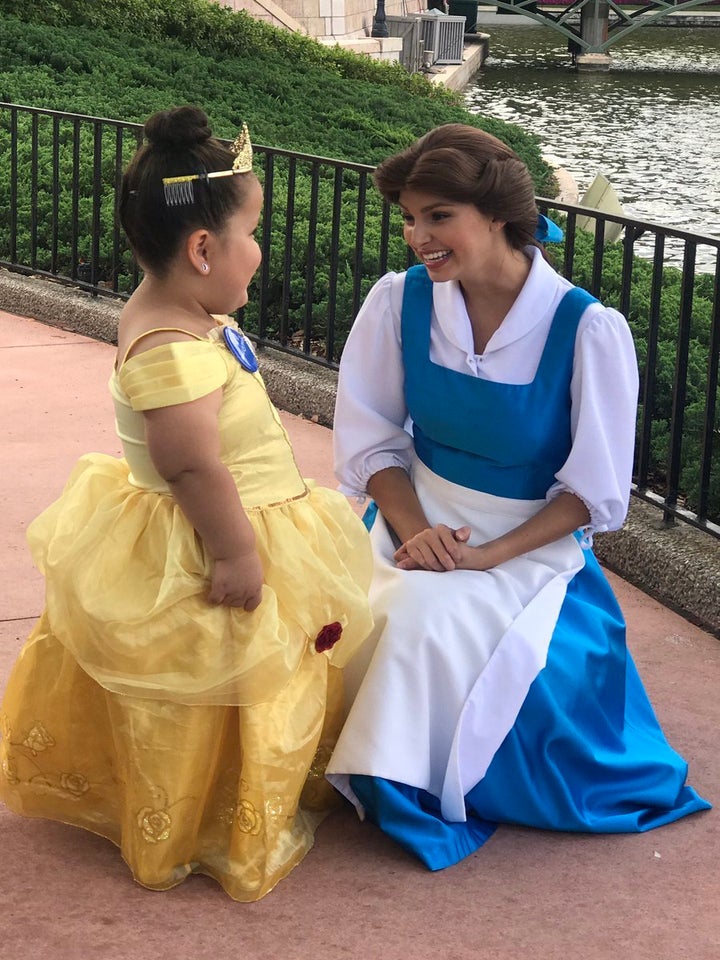 Daisy, her mother, her aunt, her brother and her sister traveled from Dallas to Orlando, Florida, last week with help from the Make-A-Wish Foundation, an organization that grants "wishes" to kids with life-threatening illnesses. Daisy's aunt, Patricia Chavez, told The Huffington Post that her niece has achondroplasia (a form of dwarfism), which has forced her to have many surgeries since she was a baby.
During the magical trip, the family visited Disney World, Universal Studios, SeaWorld, Legoland and an indoor skydiving facility called iFly. During their visit to the French-themed part of Disney World's Epcot park, Daisy met Belle from "Beauty and the Beast."
Chavez told HuffPost the princess is Daisy's favorite Disney character. The 7-year-old even wore a yellow ball gown to the park just like Belle's.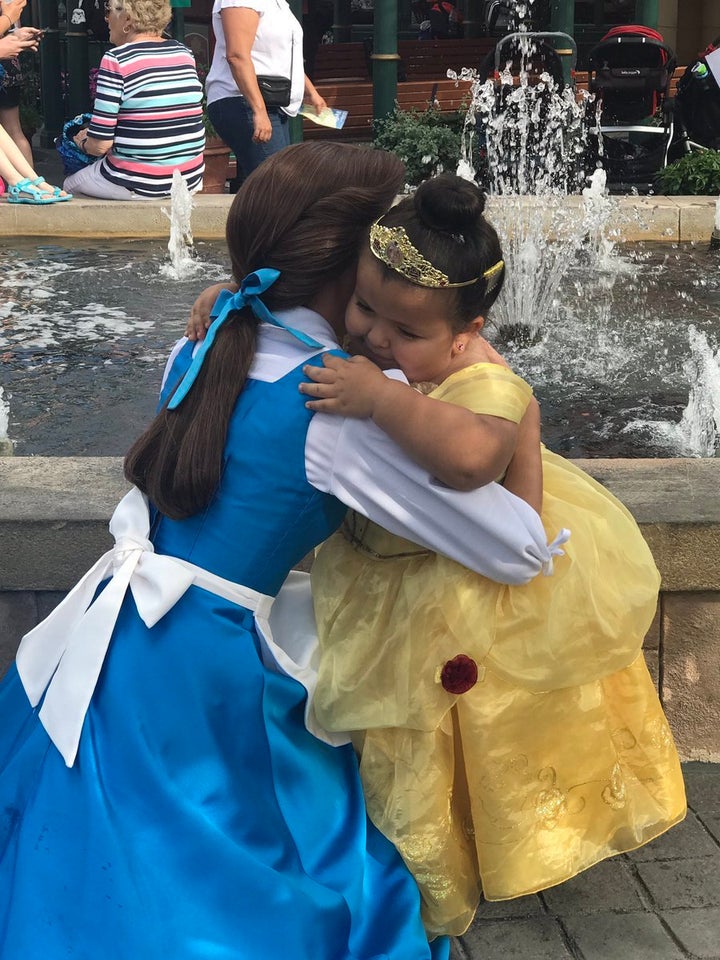 "My sister told Belle that she was the main reason Daisy wanted to go to Disney World as her wish," Chavez said. "Belle was so touched that she asked us if we had any plans afterwards, and when we said no, she said, 'Great! What if I take you on a tour of France?'"
Chavez said Daisy was so excited about hanging out with Belle that she "started bawling her little eyes out from happiness."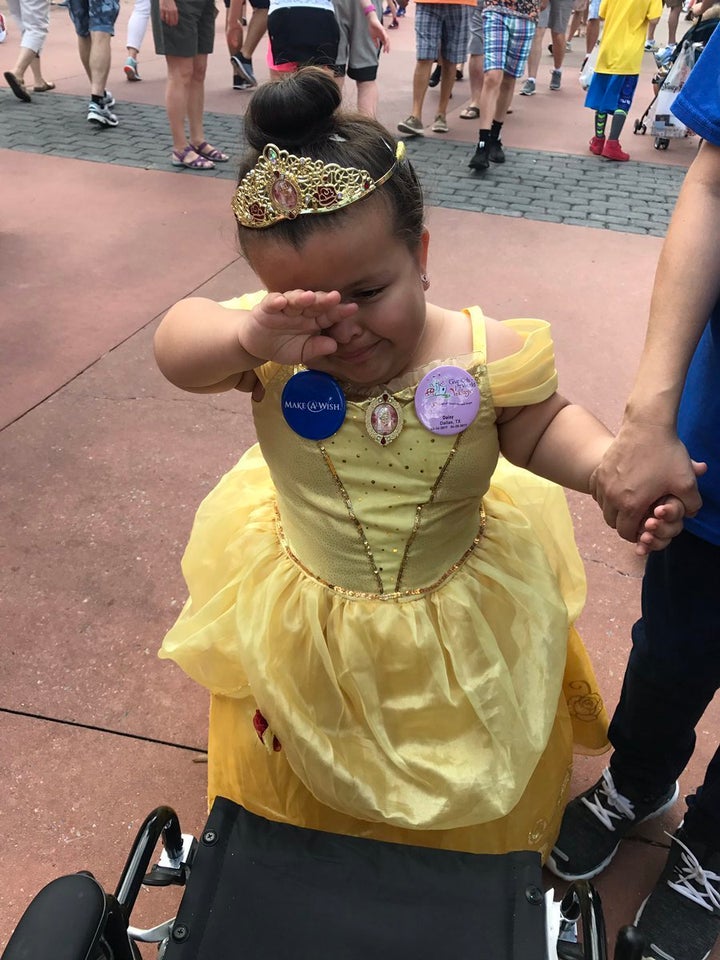 After her meet-and-greet with other guests, Belle grabbed Daisy by the hand and showed her around the park.
"It was very special and sweet and everyone walking around was smiling at the very precious sight," Chavez said. "It was honestly too cute for words."
On Sunday, Chavez shared photos of Daisy and Belle on her Twitter account, where they had been retweeted more than 40,000 times as of Thursday afternoon.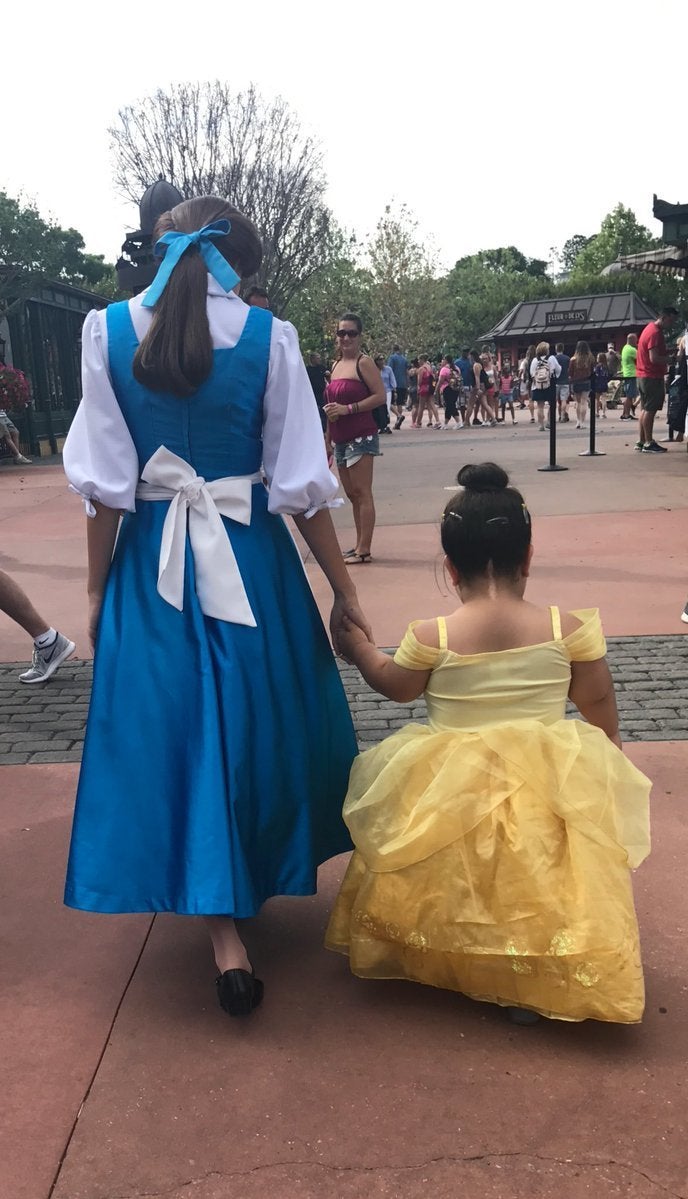 On her trip, Daisy also danced with the Beast as well as Minnie Mouse, Mickey Mouse and Goofy. The family returns home Thursday, but her mom, Claudia Perez, said Daisy doesn't want to leave the Disney magic.
"She woke up this morning and said, 'I want to live here forever,'" Perez said.
Chavez told HuffPost she's "very thankful" for Make-A-Wish and Give Kids The World Village, the nonprofit resort in Florida where they stayed that is for kids with life-threatening illnesses and their families.
She is also especially grateful for the cast member who played Belle and made her niece's day.
"She definitely made Daisy's trip a very memorable one!"
Related