I tend not to think much about health care until I need to go to the doctor. Fortunately, that is not all that often and it is usually for something minor - a sprained ankle or a routine physical exam. However, the other day I received an email from one of my closest friends asking for help because of a family medical situation. My friend's brother, Eric Valor, has ALS (Lou Gehrig's disease) and his family struggles with the cost of care. They were seeking donations from friends.
Last week Eric Valor turned 41. Eric got ALS at the age of 36 and he fought it the best he could. Fortunately, his employer, Mercedes Benz, allowed him to continue working at his research and development job even as his condition deteriorated. Now, though, Eric is on a round-the-clock ventilator and requires 24-hour professional care, seven days a week. He has lost his ability to eat and is fed through a tube to his stomach.
ALS (Amyotrophic Lateral Sclerosis) is a devastating condition where the nerves that control the skeletal muscles (hands, feet, arms, legs, etc.) die off. This can leave a fully functioning mind in an immobile body. There is no cure. And nothing can slow down the progression of the disease.
ALS also has been described as one of the most expensive illnesses to endure because of how debilitating it is. In Eric's case, the cost of the caretakers is not covered by any insurance due to the specialized type of care required.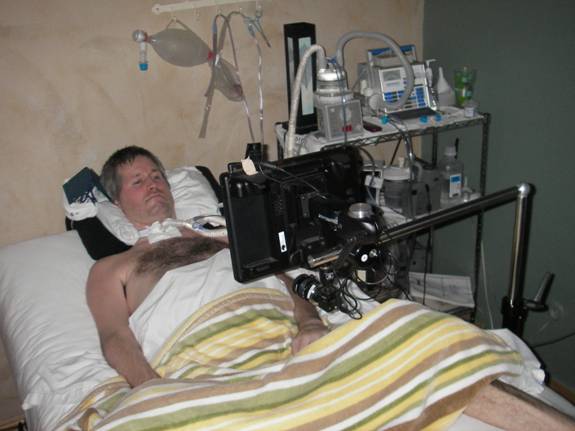 (Eric Valor)
Of course, I am not an expert on health care. So why am I posting this? Mainly because I hope people will help Eric Valor and his family. To do so, please visit here: http://www.friends4eric.org
It also seems to me that improving health care really comes down to just helping each other out where we can. And if helping Eric isn't an option for you, perhaps you'll consider helping someone else in need of medical assistance this week. No matter where you live, I am sure you won't have to look far. I am sure there are plenty who could use it.
I know how difficult it was for my friend to ask for help. But I respect him immensely for doing so. Far too many individuals and families suffer because of medical problems without help from others. No doubt, far too many people suffer without even basic medical care and without any help at all. In that respect, I know even Eric is fortunate for the care and family he does have.
And, speaking of being fortunate, that leads me to the other important reason I am sharing this story: Because I can.