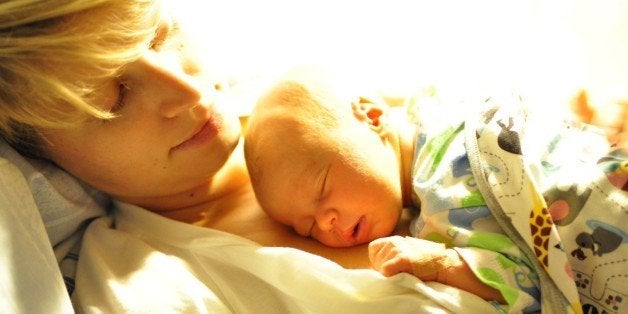 It felt like I was in a movie -- one of those scenes where the woman in labor screams in pain and squirms as each contraction kicks in. Never had I imagined that giving birth would feel like a thin line between life and death -- both for me and my baby.
My pregnancy was a good one. Besides the first trimester's spells of nausea, I had a great summer, with the possibility to both work, travel and enjoy life to the fullest. As my due date came and went, I tried to stay active, sleep a lot and prepare for the storm ahead. Twelve days passed, and I didn't have the slightest notion that my baby wanted to enter the "real" world -- yet that evening around dinnertime, I felt the first sign of labor. My contractions came quickly. In the comfort of my home, I tackled the first hour without a problem -- but after those 60 minutes, I already had one-minute-long contractions every five minutes. I contacted the hospital, located only a few blocks from our apartment, and they were informed that my husband, Markus, and I would be arriving that night. We tackled the next two hours together at home -- Markus timed the contractions with an app on his smartphone and helped me through the worst back pain. As he called the taxi to take us to the hospital, I threw up. My contractions were now only two minutes apart and stronger than I could ever have anticipated.
When preparing for labor, I had written a birth plan hoping that my baby's birth would be completely natural. I was open to the fact that labor might not go as I had planned, but I had almost ruled out the option of medical interventions -- unless it was absolutely necessary for my baby's survival.
Upon arriving at the hospital, our midwife greeted us and took us to our room, monitored my contractions and my baby's heart rate. She also checked how much I was dilated -- and to my disappointment, the previous intense hours had not been to much effect. After a hot bath, I almost fainted, threw up again and felt utterly exhausted and hopeless. At this point my contractions came in a steady flow with hardly any break in between. I couldn't bare it any more. My midwife offered me a shot of morphine, which I accepted.
In this daze, my mind drifted to the women who at the same time were in labor, yet did not have the same access to care and necessary interventions as I did. How could they cope?
The next four hours of sleep and battling pain were effective. At 5 a.m. my water broke, I was ten centimeters dilated and ready to start pushing. What a relief!
As I started to push, the midwife and assisting nurse noticed that my baby's heart rate was recovering slowly from each contraction -- a little bit too slowly. They called the obstetrician, who determined they needed to assist my delivery with a vacuum. They wanted the baby to come out quickly. They called another midwife to help me through the pushing, and as my daughter was delivered there were six medical professionals in the room, and it all went really quickly. My daughter had been incredibly active in the womb and had managed to get caught in the umbilical cord, which she had twisted twice around her neck and once around her arm. The pediatrician attended to her immediately and helped stabilize her, with my husband and I watching from a meter or two away. After ten minutes, my daughter was perfectly fine. She was brought to my chest and as I looked into her wide-open eyes for the first time I felt so incredibly grateful.
This is the final year to reach the Millennium Development Goals, and this year the world moves into a new development agenda post-2015. As we do so, we need to ensure that women and children are at the core of this agenda. We know what is needed to reduce maternal, neonatal and newborn mortality, and we must act to guarantee that necessary investments are made and measures taken.
Without the professional medical assistance of midwives, nurses and doctors, I am not sure what would have happened to me and my daughter. My only wish is that expecting mothers everywhere have the same chances I had. Together we can make sure that every mother and every baby survives and thrives.
Related