"Every once in a while a dog enters your life and changes everything." - Author unknown.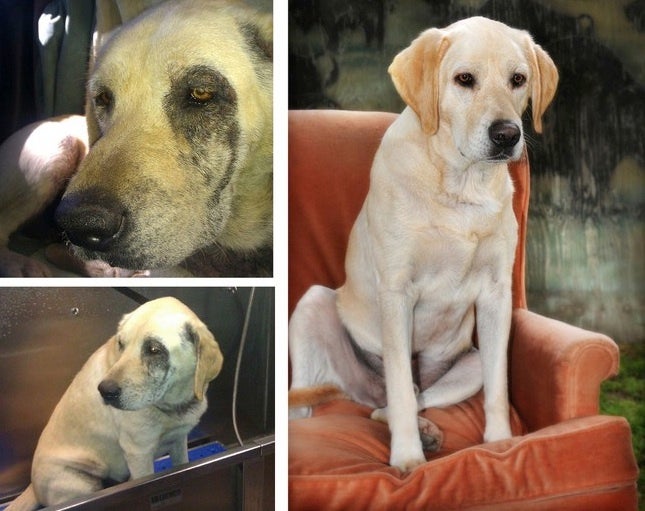 The love of a dog is truly one of the greatest gifts we can ever know. It's that undying, uncomplicated, unconditional love that us humans all seek yet we seem to make it so hard to find in each other. But dogs make it all so simple. They know how to love, they know how to live, they know how to give and they are grateful for each moment of their short lives.
And there are also certain dogs who seem to be put on this earth for the sole purpose of teaching this wisdom to us. Nikko was one of those dogs.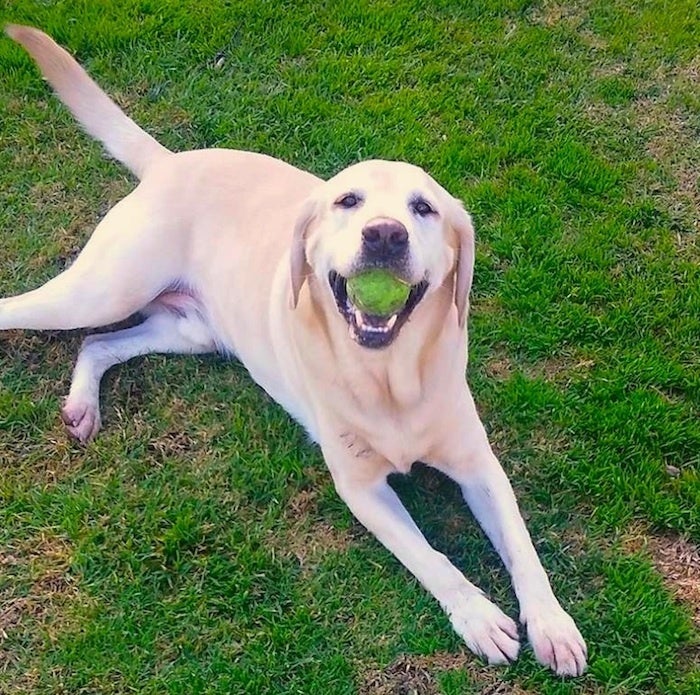 He came into our lives five years ago as an unexpected rescue dog who desperately needed a home. He was a four-year-old yellow lab in dire condition and looked more like a zombie dog than a pup that seemed safe to pet. His fur was charred in a patchwork of black and raw skin, his ears were stiff with infection, his eyes were oozing with puss and his gaze was that of a sweet soul begging for a reason to live. And that look alone gave us every reason to take him in.
Nobody really knows where or how Nikko's story really began or what happened in the first three years of his life. All that's known is that someone found him roaming the streets of Riverside, California, bleeding from injuries unknown. That Good Samaritan brought him to the animal shelter and he stayed there until one day a man came in looking for the ideal dog to wipe out the feral cats infesting his outdoor property. He sized up Nikko and saw his muscle, speed and bravado as the makings of his ruthless cat assassin. But the man was wrong.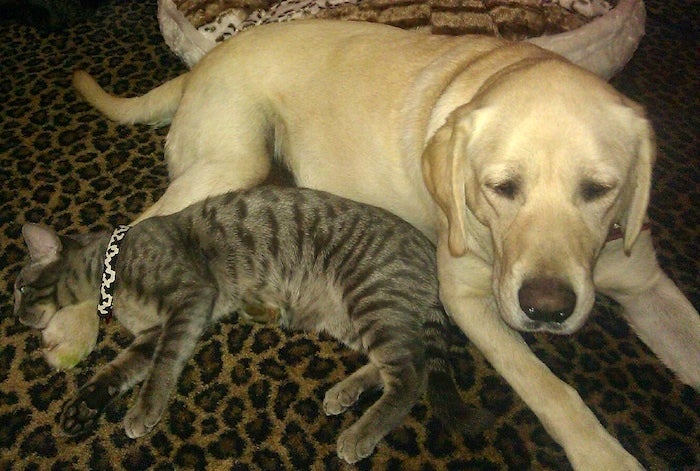 Because underneath his bark and brawn, Nikko had a heart as gold as his fur, a soul as sweet as his smile and a purpose to love. Perhaps even more ironic, is that Nikko also happened to have a special fondness for felines and he made fast friends with the feral cats, attracting even more to share his yard. Needless to say, he failed miserably at his job and the man "fired" him by leaving him neglected outdoors. Finally the man realized the failed cat assassin deserved a better home and it was this fortunate twist of fate that brought Nikko to us.
Nikko hadn't spent much time inside a house before and he had certainly never shared a home with other dogs – so we really didn't know what to expect from a sick, 80 lb. brute with a sketchy past. He stood out like an awkward, gangly-legged giant next to our four little ones and he banged into things, stepped on feet or knocked something over wherever he walked or wagged his tail. He'd cut in front of you and flip you over when you ran him on a leash, he'd gobble up whatever form of food he'd find on the sidewalk and he'd nearly pull your arm out of the socket diving into bushes for rodents or pizza. And while he was always sure to be careful never to step on the little dogs when finding his spot on the couch or bed to cuddle, he'd land on top of the rest of us crushing limbs and causing chaos.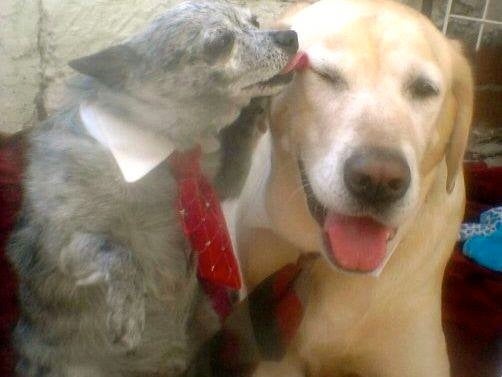 Yet somehow, Nikko fit right in to our family. He definitely didn't come trained, he certainly lacked some areas of common sense and he had no qualms about barging into your room or bathroom in the middle of a private moment. But he was so grateful for everything, so accepting of everyone else, so gentle with small animals and children, and even when he was taunted he was always forgiving and patient.
After a few months of TLC and a few trips to the vet, his charred fur turned into a soft golden mane and his spirit bounced back full force. He blossomed from a wounded soul into the energetic blonde boy who lit up every room in a home and every sidewalk in the neighborhood.
He started each day with a "downward dog" yoga stretch and a strange high-pitched yawn that sounded like a happy teakettle. He would prance down the street, handsome and regal, proudly soaking up the compliments from passing strangers who would stop to admire him. Yet he was humble, he wore his heart on his paw and he had so much love to share with everyone.
His loving spirit was so magnetic and magical that one day, a couple spotted him from across the parking lot as he waited for us outside of the grocery store and something compelled them to get out of their car to go meet him. They had just lost their beloved family dog and Nikko was a healing reminder of that certain love of a dog they deeply missed. And so, that star-crossed meeting in the parking lot turned into weekend hikes with the couple and many fun stays at their home. They not only became Nikko's Godparents but also our good friends as well and it was his love that brought us together.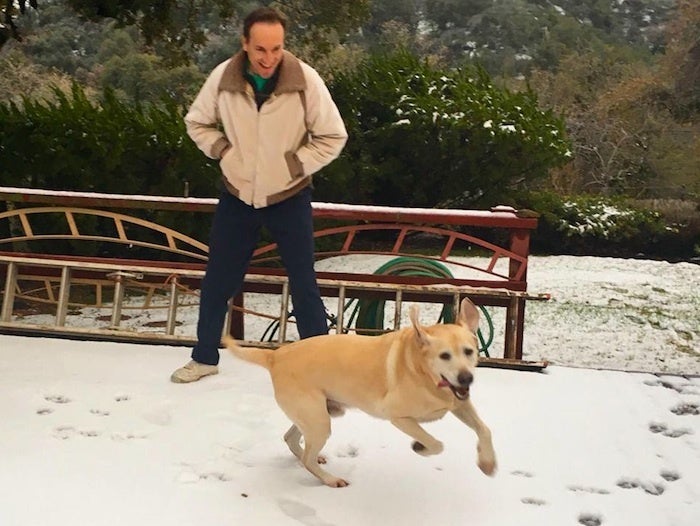 Yes Nikko truly loved all people, but he really loved people who played ball with him. Tennis balls, rubber balls, soccer balls, beach balls…Nikko was obsessed with chasing balls and he especially loved footballs. In fact, he was one of the few dogs that could actually catch a full sized football in his mouth and probably the only dog that walked all the way to the park proudly carrying it between his teeth. Playing ball not only made Nikko's day, it truly meant the world to him and if you were willing to take the time to throw that slobbery ball over and over and over again, he'd make you his friend for life.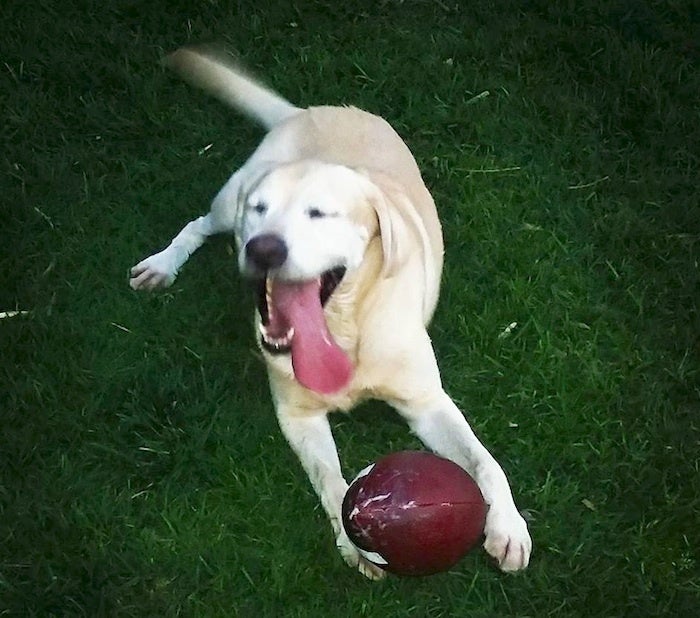 Of course Nikko was always up for any form of exercise and no matter how much he got, he was always ready for more. A hike, a run, a walk, a swim in the pool, a wrestle match, chasing the toy snake, butting your hand off keyboard as you tried to type…life was all about fun and games for him. He was loyal and loving to all of us who loved him and he found his place in all of our homes and hearts. He spent the last several months at his home in La Quinta, CA with his own back yard pool, family and friends, an endless supply of balls and each day filled with all the fun things he loved.
But on Wednesday June 21, 2017, Nikko left us as unexpectedly as he came into our lives five years ago. Still so vibrant and full of heart at 8-years-old, he suffered a random seizure and died instantly at home.
Now our hearts are heavy and his tennis balls sit untouched
Our sweet golden Nikko, you gave us so much
While words cannot describe the sudden loss of our bountiful boy
There will always be much to say about how he lived and brought us joy
Dearest Nikko thank-you for teaching us the wisdom of your ways
To live and love to the fullest and be grateful for what we have today.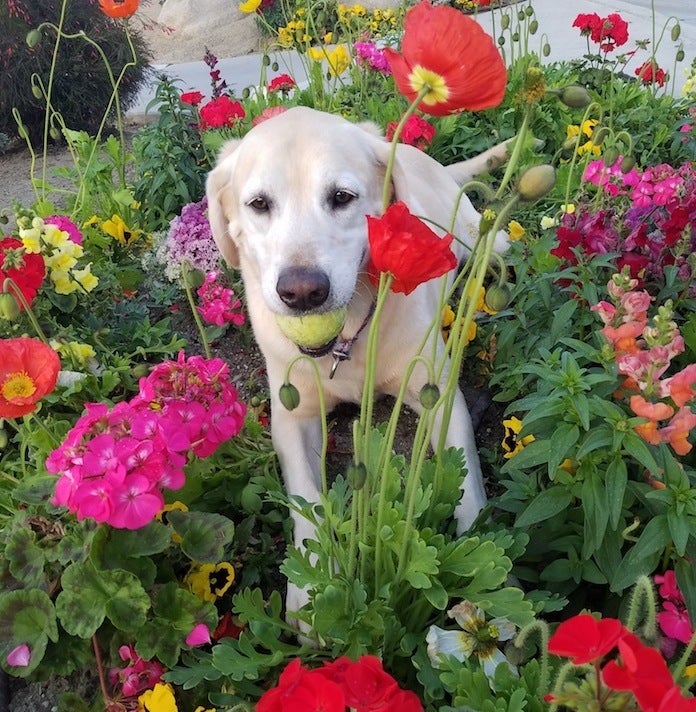 This story is devoted to Nikko and those special dogs who have touched our lives in some way. Please share your own memories and stories by clicking the comment icon on the left.
Calling all HuffPost superfans!
Sign up for membership to become a founding member and help shape HuffPost's next chapter
This post was published on the now-closed HuffPost Contributor platform. Contributors control their own work and posted freely to our site. If you need to flag this entry as abusive,
send us an email
.