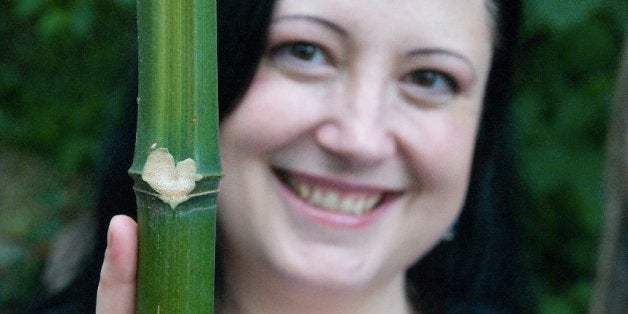 Two years ago, Eleanor Justice and her partner Vanessa Wheeler were in a rut. The two women were living in Baltimore and stuck in unfulfilling jobs -- Justice was in corporate design and Wheeler was working as a plumber. Something had to change, they knew, and when they thought about what that change might be, they agreed: it had to be something big, drastic, and meaningful; something that would change their lives.
Ever since she was a kid, Justice had dreamed of pursuing sustainable agriculture, and one day, she found a job listing for two caretakers at Raven's Blueberry Farm in York, Pennsylvania, 100 miles west of Philadelphia. To their amazement, they got the job.
"My partner and I are very unconventional (I'm heavier and she's transgender), and the odds of us getting chosen as caretakers in a very small, conservative farm community in rural Pennsylvania were very small," said Justice. "It was already kind of a miracle."
They packed up, left their jobs behind, and moved north with the plan of living modestly on the farm for 10 years, until the owner planned to return. Life on the farm was vastly different from the lives they had fled -– which of course was the point –- but they quickly settled in. During blueberry season, their days are spent weeding a berry field by hand, greeting customers at the berry stand, and running a pick-your-own-berries operation. In the offseason, Justice spends much of her time tending the chickens, canoeing on a nearby pond, and sitting and reading on her "meditation bench." Without WiFi -- the pair share an iPhone with one bar of service when they need Internet -- Justice and Wheeler have come to enjoy spending most of their time in nature.
"The wildlife, the plants, the constantly-changing environment is a never-ending source of fascination and delight," says Justice.
But less than a year after they moved to the farm, just as they were falling in love with the rhythms of their new lifestyle, the farm's owner put it up for sale. With virtually no money and no desire to return to Baltimore, the women decided to turn their personal crisis into an opportunity. They are on a mission to save the farm and transform it from a blueberries-only operation into a food forest farm based on a gift economy -– that is, a carefully cultivated woodland area with vegetables and edible plants, which are exchanged using a trusting, give-back-what-you-can system.
It's still a work in progress -- they're currently rallying the community and fundraising online to buy the farm and transform it into a collaborative community. They call their project the "Blueberry Girls Miracle," and they're a quarter of the way to their initial $10,000 fundraising goal (a small chunk of their larger, long-term goal), with over 130 supporters and counting. They have 53 days left to raise the money.
Their reason for saving the farm is about more than just maintaining their way of life.
"Being able to do we what we love and share it with people on a gift economy -- it's the most incredible thing," says Justice. "We want to reintroduce people to the concepts of abundance and generosity that are so rare in today's economy."
The two women are already sharing what they do have with the surrounding community members -- blueberries, chestnuts, and sustainable farming workshops are part of the current gift economy that they plan to expand if they can buy the farm -- and Justice says that in 20 years, she'd like to be part of a movement to bring forest farms to every state.
"They are creating a new model of what community means," said their friend Simone Parrish.
Justice says she and Wheeler stumbled on a project that perfectly combined their passions and their desire to be a part of something larger than themselves.
"It's all about being in love with the land, enjoying its beauty, gathering its bounty with gratitude and then happily sharing it with people," she says. "It's really an amazing life, I'm so incredibly grateful."
This post is part of a series produced by The Huffington Post highlighting the contributions of Go-Givers -- people who are looking beyond a "Go-Getter" approach to success and redefining success to include the importance of giving back. To nominate a Go-Giver of the Week, email gogiver@huffingtonpost.com.
Calling all HuffPost superfans!
Sign up for membership to become a founding member and help shape HuffPost's next chapter