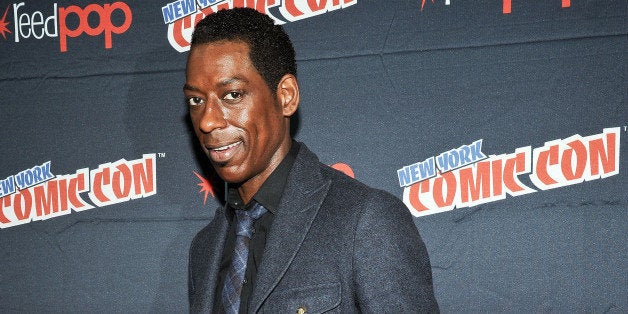 Like many of you, I often mark the arbitrary passage of time known as "the new year" by reflecting on my personal and professional accomplishments and shortcomings and laying out a plan for what I endeavor to do differently going forward.

Translation: in late December, I get drunk and daydream. Don't make it weird.
A fundamental part of my New Year's ritual involves reading a lot of year end lists, thought pieces, blog posts and more on the people, events and trends that dominated popular (and sometimes not so popular) discourse and media coverage and became "trending topics." I consider why those issues mattered enough to warrant our collective attention, how and if I can (or should) contribute to the dialogue around those topics as opposed to "staying in my lane" and how those ideas can be expressed creatively.
Then I write foolish tweets like the one I posted in late November --
-- and marvel at the wide range of passionate responses.
As the father of a 5-year old daughter, I'm mindful of the overheated rhetoric that emerges during an election cycle. I tend to view things through the filter of storytelling since it's the primary skill I possess. My personal beliefs notwithstanding, I try to consider the individual stories and lived experiences of those people who become intrinsically linked with a specific cause or idea, free of judgement or bias. Some of the stories and ideas that have captured my attention this past year, since they related to me personally either directly or indirectly, include:
• Diversity and representation in media
• The role that digital media has played in galvanizing social movements and affecting systemic change in academia, government, media/entertainment and elsewhere
• The gender pay gap in Hollywood
• How technology is transforming the way we create and consume content
• The FDA's approval of genetically modified salmon for grocery stores with no labeling required. What can I say? I'm a curious vegan.
From Jennifer Lawrence's recent essay in the online newsletter Lenny about getting paid less than her male co-stars to Chris Rock's comments about black women having an even more difficult time in Hollywood in the New Yorker profile about SNL and Ghostbusters star Leslie Jones; from passionate commentary about Caitlyn Jenner's role as the self-appointed figurehead of the trans community to Rachel Dolezal's co-opting of a black racial identity; from the power of the #BlackLivesMatter movement to the pre-written "blame the victim" script that accompanies the media's reporting of unarmed black people killed by law enforcement, the transformative stories of 2015 were shaped by historically marginalized and disenfranchised groups demanding to be heard and have a seat at the table.
In my 30-plus year career in Hollywood, I've had the good fortune to play a significant role on camera and behind the scenes in projects that charted a new course in the film, television and advertising industries. I launched an advertising agency when I was in my teens and produced spots for Food Lion, a local Mazda dealership and the Michael Dukakis presidential campaign to name a few. This led to me getting my first writing job in Hollywood on A Different World when I was 18 and working my way up the ranks as a writer/producer on shows including the pilot for Martin, Roc Live, The Sinbad Show and more.
During that period of time I cold-called Don Richards, then the SVP and Director of Resource Development at Leo Burnett and convinced him to let my partner and I write, produce and star-in a commercial spot for the McDonald's specialty sandwich the "McJordan" with basketball legend Michael Jordan.
Shortly thereafter, I was part of the team (together with Dancing with the Stars host Tom Bergeron, The Amazing Race host Phil Keoghan and Survivor hot Jeff Probst) that launched the upstart cable network FX.
I joined the Time Warner family to launch MadTV, late night's first real competitor to Saturday Night Live which enjoyed a 14-year run and just celebrated its 20th anniversary.
I then became the spokesperson for 7up, in a series of commercials I wrote and produced with Young and Rubicam that launched the iconic catch-phrase "Make 7 UP Yours" and which had the infamous distinction of having our initial spot banned from Super Bowl XXXIV in 2000. To this day, those commercials are recognized as some of the most successful brand advertising of the last 50 years by Ad Age and other leading advertising industry publications.
Throughout the late '90s and early 2000s, I enjoyed a successful run in a number of iconic feature films (Double Take, Evolution, Drumline and The Replacements to name a few) where I was recognized as a breakout performer and that continue a seemingly never ending rotation on basic cable.
I then returned to FX to launch their first foray into the late night talk show wars, tried my hand on and off Broadway, co-hosted a reality show, was a regular fixture as a guest star on many popular television shows, starred in a series opposite Martin Landau and a number of television pilots that never went to series, continued to star in a number of independent films, launched a successful fashion line, begin touring as a stand-up comic and finally ended up as one of the stars of Fox's Sleepy Hollow, which at the time of its launch was the most diverse series on television.
It was during my two seasons on that show that I also embraced my true calling, that of professional fangirl. To the likely chagrin of "the powers that be" I took an active role as fandom ambassador in a conscious effort to redefine the codified boundaries between creators and fans.
So why did I just spend the last three paragraphs of this article giving you my resume? Am I a jack of all trades and master of some? Is there a reason I'm not a bigger star (at least based on the arbitrary and capricious metrics of the traditional entertainment business)? And is it possible that I'm really the little boy from Everybody Hates Chris, or somehow related to Solange Knowles? Or could I be Jeff Goldblum in blackface? The answer is... YES. (See what I did there?)
I share all this with you in order to offer some perspective into what I've observed throughout the course of my career. To demonstrate that those 2015 trending topics are the culmination of a business undergoing seismic transformation as new voices emerge and audiences manifest an evolving relationship with the programming they consume and the manner in which they engage with it.
Ultimately, I'm sharing my story because I believe there's a certain futility in being offended by how mainstream media continues to engage in racist, sexist, transphobic and misogynistic tropes. I believe that solely focusing on efforts to hold the gate keepers accountable for their systemic bias will not create the sort of outcomes we all hope for. Personal responsibility must play a vital role.
If you have one hand at the throat of your oppressor and a brick in the other, what should you demand that you don't already have? I don't think a black James Bond is going to do much for African American males in the long run. I'm not interested in shaming DC to create movies focusing on superheroes of color.
What I'm most passionate about is removing myself from a system that is risk averse and focuses on a narrow prism of stories to spoon feed to the masses. I want to support the next generation of Ava Duvernays and Ryan Cooglers. I believe we need more Latino, Asian, and indigenous storytellers. I want to lead the charge by telling stories in non-traditional formats via emerging platforms like VR and mobile.
I want to be the catalyst that inspires young black, brown and non-binary girls and boys (and all those who are traditionally left to stand outside the gates of "the industry" waiting for their chance) to embody the merger of the poet and the engineer and define the new paradigm of how stories are told.
That's why I launched the new digital studio Legion of Creatives with my partners Jay Williams and Noam Dromi. In our first year of operation we've already won the first Creative Arts Emmy for virtual reality. We're also partnered with ABC Digital Studios to create original shows for over-the-top (OTT) and mobile platforms.
Our business model is simple: We create on our terms. We invite fans to be an active part of our storytelling process. We don't whitewash, or mansplain or otherwise presume to tell the stories of groups who deserve the chance to have their voices heard. Trans characters will be played by trans actors. Performers with disabilities will never lose out on a part to able bodies actors whenever it's possible to accommodate their needs in the creation of a story world. And women of color (specifically black women) will have the opportunity to be romantic leads who "feel the feels" without needing to be stoic. They'll get the guy and be celebrated for their beauty, complexity and vital contribution. Most importantly, we'll own whatever we make and share in that ownership with those creative partners who join our team. Think of it as a modern day "United Artists" for the digital age.
As I reflect on the year behind and the year to come, the greatest lesson I've learned and I want to impart is the need to control our own narrative across all facets of our digitally connected lives both in our fiction and IRL (in real life). Most people will meet us for the first time via an online search. Do the search results accurately reflect who we are?
To paraphrase from a mysterious (and some might say nefarious) organization that exists in the ether of digital zeroes and ones:
"We are Legion. We do not forgive. We do not forget. We create. Join us."
In 2016, I sincerely hope you'll join me on the journey to tell your own stories and not let anyone else define your narrative. Until then --
Orlando F. Jones
aka Trollando, fandom's problematic 14-year-old fangirl trapped in the body of a grown ass man
REAL LIFE. REAL NEWS. REAL VOICES.
Help us tell more of the stories that matter from voices that too often remain unheard.