I think we can all agree that goats are a little weird. Or at least, seemingly. They are, perhaps, not unlike the elusive durian--much-maligned for being thorny and smelly. But just as the durian's facade gives way to delectably sweet fruit, so too does a goat's. And, unlike a durian, which--spoiler alert!--will only give a fleeting moment of pleasure and then turns into decidedly unusable poo, a goat's bowel movement is an instant and potent fertilizer.
Genevieve Church, general manager for City Grazing--an urban goat landscaping business in the Bayview district of San Francisco--knows firsthand just how useful (and sneakily delightful) goats can actually be.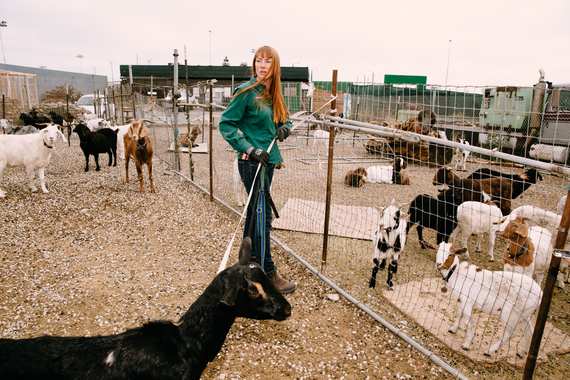 City Grazing is set against a background that is nothing short of surreal, sharing its uber-industrial location with its parent company, Waste Solutions Group (WSG), amid heaping piles of gravel, rumbling train tracks, and a cement plant; the eight-acre farm serves as a revolutionary model for ecologically sound landscaping.
Goat-grazing enables properties both big and small to have unwanted brush, weeds and bushes cleared utterly au natural, sans gas-powered lawn mowers and toxic herbicides and chemicals. Goats are also particularly nimble, able to traverse areas that machines and people alike wouldn't be able to tackle, like steep ditches and slopes.
And we already mentioned the power of the poo.
In fact, the entire entity of City Grazing exists as a testament to eco-consciousness that few facilities can boast. Genevieve explains that the president and CEO of WSG, David Gavrich, wanted "an environmentally-friendly face" for the company. He hoped to demonstrate his commitment to his methods and believed a willingness to have live animals on the property would illustrate just that. WSG's methods are so damn safe, goats can graze on the property.
The 83 goats that call City Grazing home decidedly work for their keep--they're professional nibblers after all--but Genevieve says she thrives in a place where "working animals get to live out their entire natural life," a relative anomaly.
Genevieve explains that there is a struggle to realistically challenge commercial landscaping when City Grazing is doing something that's largely unprecedented and dedicated to staunch environmentalism.
"Can we be competitive with the landscaping industry and still do what we do? Depends on the project. Depends on how you're factoring in certain things, like the fact that we leave behind a layer of compost--meaning you're no longer paying to bring that in. So if you're starting a garden, we're a really good way to do it. You're taking the unwanted vegetation on your property and turning it right back into this compost that's coming out of the goat! In terms of environmental stewardship and doing what's right for your little chunk of the planet, we're an incredible value. How do you put a price on that?"
Genevieve grew up on a farm herself in a "tiny California town" called Coarse Gold, but left the heady stench of dirt and bulls behind--"I never thought I'd work with animals again!" she says--and went to art school before wending her way to tattoo shops in San Francisco. (More on that in a minute.)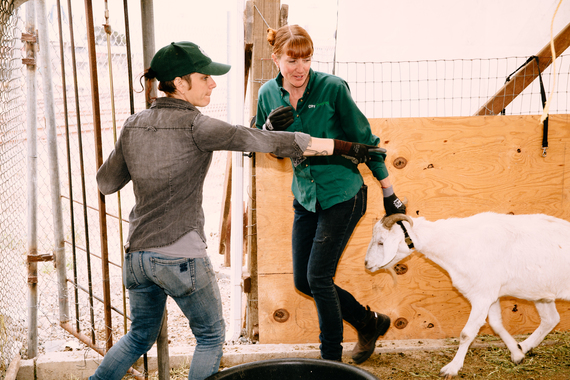 She answered an ad for help on the goat farm a few years ago and has never looked back. She's particularly keen on her hircine comrades. "Horses and dogs are fine, but they're not my chosen beast. They're too highly trained. Breaking a horse is an accurate metaphor. Goats can be aggressive and obnoxious and still get the job done for me. I love their spirit--you have to work for their love. Goats are the punks of the animal world."
These goats of City Grazing are a beautiful band of hirsute misfits--they come from all walks of life; some are failed dairy goats, some were bought at auctions from overzealous homeowners, and some have been "rescued" from the 4-H agricultural program, which teaches children (among other things) about plant and animal science. (Which, err, often includes knowledge-drops on the potential slaughtering of a beloved hand-raised goat.)
"A lot of times people buy goats, but they don't need as many as they get. They have three acres, they buy five animals, and quickly their acreage looks like the surface of Mars! We do try to not have so many of them coming from other settings as adults, because they don't fit in and can get picked on. But we often take the goats that have too big of a personality to end up on the meat truck! They're too sweet and affectionate."
But don't be mistaken. Despite Genevieve's penchant--and patience!--for the goats of City Grazing, it's strenuous work. Some of these goats are straight-up ornery, horned, and weigh 200 pounds; corralling a herd of bleating insolent goats in and out of trucks, in and out of urban environments, isn't for the faint of heart or weak of bicep. The property itself in Bayview teems with dust and wind and the incessant clamoring of hooves, horns, and staccato yelpings.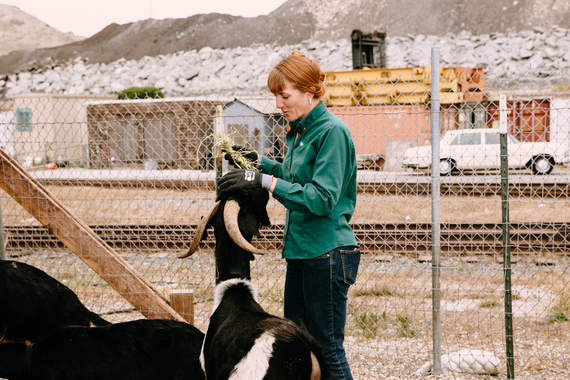 The physicality of the job is something Genevieve utterly takes for granted; she attributes her attitude to a felicitous coupling of a rugged upbringing and formidable role models.
"When I was 14, my sister bought me a copy of Our Bodies, Ourselves. I was a girl of the '80s; I'm from a big family, with a lot of powerful women. And my dad never expected any less from his daughters than his sons. I can remember being 8 and being told, 'Don't let the cows go past you!' And we're talking about a herd of 40, big, unhappy animals being moved from one area to another and I was expected to make them do a 90 [degree turn.] You just did it. You just found it in yourself and made it happen. I've never felt like being a woman has held me back. It's always just felt like a tool for me to use if I felt like it. I tend to just steamroll people if I feel like they're holding me back . . . like these goats!"
Genevieve also explained that she is decidedly not the anomaly--there's not only a host of women who work with livestock and head up goat grazing services like Rent A Ruminant (helmed by Tammy Dunakin) and Livestock for Landscapes (owned by Kathy Voth), but there is no other profession in the United States that has experienced as significant a gender shift as veterinary medicine. A vocation once dominated by men now sees its schools occupied by almost 80% women, compared to 1930, when less than 1% of all veterinarians were female. This stark reversal is still largely unexplained, chalked up to a complicated mix of shifting socio-cultural-political forces.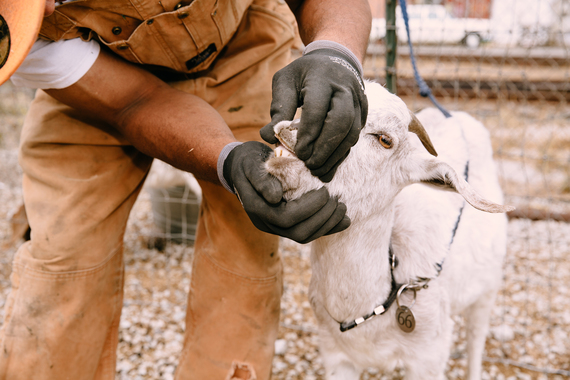 Interestingly enough, Genevieve says her worst struggles against sexism were found not out in the field, but in the hot heart of tattoo parlors in the '90s.
"I encountered far more bias coming from women working in tattooing in 1991 than I ever did from men ever on any aspect of my career as a farmer. I had a biker chick who was tattooing in a parlor in San Francisco when I went in, and had her throw things at me for even inquiring [about a job], because I wasn't a biker and how dare I. And there was a massive amount of sexual harassment there . . . getting through those barriers, that was serious. The tattooing industry at that time was a hardcore, incredibly male-dominated world. But I don't know, I wanted to do it, so I did. And I do think part of that was my childhood--if you have to turn a 800-pound longhorn bull that's very angry . . . I learned to do whatever I want and find a way."
City Grazing, while it struggles against the desolation-induced drought that every farmer, landscaper and land-worker laments here in California, only continues to grow and evolve. It has set its sights on becoming a non-profit, and is eager to expand its reach beyond the voracious appetites of goats to foster environmental education--especially among children.
If it sounds exhausting, Genevieve understands."I'm 43! After 40 I needed sleep, which was an unfortunate mortality moment, but I have a sense of humor about it."
Popular in the Community