Tourist checks out copper vase in Santa Clara del Cobre.

Enter the good guy: It was a long, bumpy ride across the Atlantic from Spain to New Spain (Mexico) in 1531, so cleric Vasco de Quiroga had plenty of time to wade through Thomas More's epic best-seller of the day, Utopia. In it, More created a paradise on earth full of commune-like craft villages in which everyone pitched in to make different kinds of goods and shared the rewards of their labors.
Enter the SOB: It's not known what Nuño de Guzman did (other than sharpening his sword for optimum slashing) on the Atlantic crossing two years before Quiroga's trip. But the history books tell us Guzman - the son of a big wheel in the Inquisition - was sent to Mexico by Spain's King Charles V to keep an eye on the country's conqueror, Hernan Cortes.
As things turned out after the conquest, the king didn't trust Cortes, and Cortes didn't like the king. Cortes didn't think much of Guzman, either, so he sent him out to conquer some unruly lands in western Mexico (surely there was an Indian archer there with a great aim).
Fast-forward a few years, and Guzman is busily slaughtering Indians around the state of modern-day Michoacan and sending others down to the Caribbean to work as slaves on plantations there.
Quiroga the Peacemaker: Known as a champion of the peasants during his early years in Spain, Quiroga quickly earned a similar rep in Mexico City. So it was no surprise that in 1535 he was named bishop of the newly formed diocese of Michoacan about 150 miles west of Mexico City - with the mission of making peace with a tribe of rebellious Indians.
A whole lot of peacemaking was needed, because the Indians, the Purepecha, had been butchered by Guzman along with thousands more living as far west as the coastal states of Sinaloa, Nayarit, Jalisco and Colima (the home states of today's resorts at Mazatlan, The Riviera Nayarit, Puerto Vallarta and Manzanillo).
Utopia in Mexico: Quiroga's strategy to turn the Purepecha into a bunch of happy campers - borrowed in large part from Thomas More - was to set up craft villages in which everyone would pitch in to make a town specialty, such as pottery, woven goods, baskets or carved wooden figures (while at the same time converting to Christianity).
His first success was at the little village of Santa Clara del Cobre, where coppersmithing had been the town's claim to fame for centuries. Here, Quiroga sweetened the pot by granting the villagers the exclusive right to produce the country's widely popular copper casos (doubled-handled cooking bowls). Some 400 copper shops are now scattered around the city selling everything from broaches to bathtubs.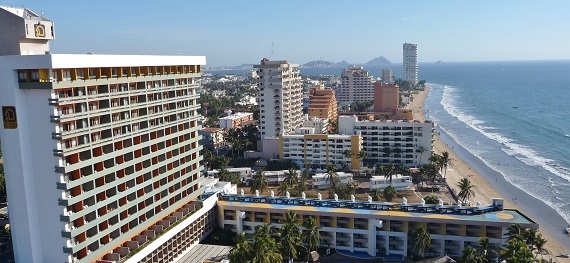 Mazatlan's main hotel strip is called the Zona Dorada (Golden Zone).

The bishop went on to teach craft skills in the surrounding villages. Family units in Quiroga's Eden were tasked with making pottery, baskets, chairs and the like under the supervision of Purepecha bosses, who in turn (again, a la More) reported to a prince-like super-boss appointed by the top brass in Mexico City.
Legacy of Quiroga: You can see Quiroga's heritage today during tours of the region. Heading south from the state capital at Morelia, the tours typically make a beeline to the copper shops at Santa Clara. Along the way, lacquerware fans can load up at Uruapan. Pottery lovers can buy all kinds of colorful bowls and plates at Tzintzuntzan. Looking for furniture? You'll get great deals at Cuanajo. How about a guitar? Elvis would have loved Paracho.
A tip to tourists: Save more than a few pesos for yet another stop on your tour at Patzcuaro, the region's main marketplace and home of the Plaza Vasco de Quiroga.
The Demise of de Guzman: He was so brutal, according to historian Jaime Capulli, that the top chronicler of the era had this to say about him: "In all the provinces of New Spain there is no other man more foul and evil than (Guzman)." Another report said Guzman "was the most depraved man to ever set foot in New Spain." His biographer charged him with "cruelty of the highest order, ambition without limit and great immorality."
It took a while, but King Charles finally got fed up with his man in Mexico (possibly with some urging by Cortes and by church heavyweights such as de Quiroga). Guzman was arrested in 1536, held in prison for a couple of years, put on trial - where de Quiroga was one of the judges - and then dragged back to Spain in chains. He died in 1558, a broken man.
Quiroga died seven years later, still the champion of the little guys.
Related