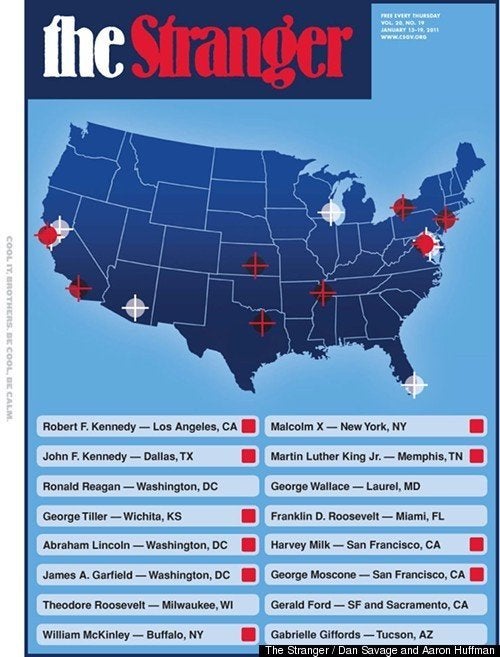 This weekend's tragedy brought renewed attention to Palin's map, which was controversial enough at the time of its release that it concerned Giffords herself, who was marked on it. In the wake of the backlash, Team Palin responded by asserting that the crosshairs were "surveyor's marks," which no doubt inspired thousands of people to Google what "surveyor's marks" were, for the first time in their lives.
Here's the Stranger cover.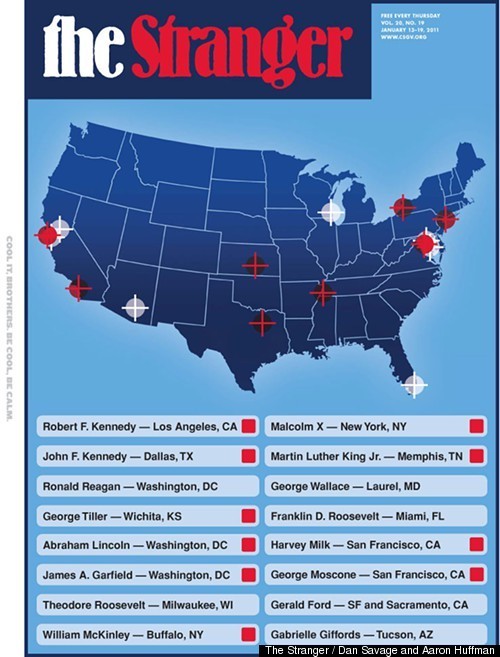 One cannot argue that it's a partisan piece of agitprop, seeing as it includes victims and would-be targets of assassinations from across the political spectrum, John F. Kennedy and Ronald Reagan alike. As one commenter notes, "That has got to be the first time ever that George Wallace and Harvey Milk have been on any sort of list together." Overall, it reinforces the fact that such violence, and the trauma it causes the nation, cuts across ideological lines indiscriminately. The recontextualizing of Palin's map underscores just how inured we've become to violent imagery.
Among urban alt-weeklies, The Stranger has a certain degree of national prominence, owing to the fact that its current editorial director and former editor-in-chief is the well-known "Savage Love" columnist and LGBT activist Dan Savage. Savage collaborated on this cover design with art director Aaron Huffman.
This isn't the first time a Stranger cover flirted with virality. In 2004, Savage and then-art director Corianton Hale created this "Do Not Despair" cover in response to John Kerry's defeat at the polls. That issue became a collector's item.
Ironically, The Stranger has also courted the same controversy that's being heaped onto Palin now. On the Halloween prior to the 2008 election, the paper published an article entitled, "Hell Houses: Topography Of Terror," that published images and addresses of area homes displaying the yard signs of Republican candidates. The article elicited a strong negative response from readers who felt the content incited voter intimidation, and the addresses were subsequently redacted in the online edition of the article.
Popular in the Community