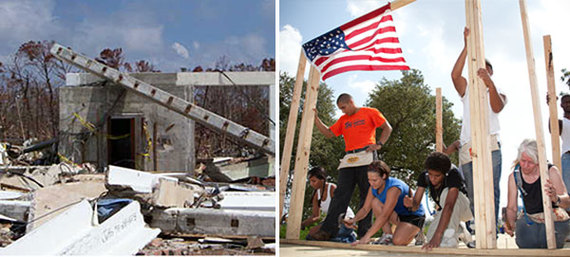 My visit to Waveland, Mississippi, last week brought back one of the most searing images of destruction I have seen in my nearly two decades of working in the disaster response and volunteer management field.
Ten years ago, I was serving as the CEO of the Governor's Commission on Volunteerism and Community Service in Florida, and our team had come to Mississippi as part of the multi-state response to help the Gulf Coast rebuild after Hurricane Katrina.
When we arrived, a local official from Waveland led us on a tour of what the hurricane had left behind. As we surveyed what appeared to be an open space, he asked us what we thought it used to be. There was just one small structure standing, so some of us guessed it must have been a park or maybe a baseball field. It was just so open, so desolate.
He turned to us and said, "That used to be our downtown."
That one structure we saw in this open field was a bank vault, the only remaining piece of what had been this community's commercial nerve center. Small businesses, grocery stores, doctors' offices--all had literally been erased.
We gasped--and tears ran down the faces of the group as we absorbed just how much the people of this community had lost.
The situation in Waveland is what inspired us and other volunteers from across the country to stream to Mississippi. In fact, more than 1 million volunteers served across the Gulf Coast following Hurricane Katrina in the largest volunteer response to a natural disaster in American history.
But when they arrived, these volunteers needed direction. They needed guidance. And they needed leadership.
They managed other volunteers, oversaw incoming donations, and staffed emergency call centers.
Because of the role that volunteers played, we are now better equipped to help our friends and neighbors across the country--not just after disaster strikes but many months before they happen.
And we have taken the lessons we learned during Hurricane Katrina and used them to guide our response to other disasters that followed. What the people of the Gulf Coast accomplished now serves as a model for the rest of the country.
We learned how to better manage donation and distribution centers before tornadoes touched down in Joplin, Missouri.
We learned how to make our volunteer reception centers stronger before tornadoes reached Moore, Oklahoma.
And we learned how to connect more people to up-to-date information and resources before Hurricane Sandy struck New Jersey and New York.
The lessons we have learned and the partnerships we have formed have made it easier for more Americans to answer the call to serve when and where they are needed the most.
In the 10 years since Hurricane Katrina landed, more than 40,000 national service members and volunteers have provided nearly 10 million hours of service around the Gulf Coast. Along the way as they built and repaired homes; served in shelters, feeding centers, and donation warehouses; or set up school and youth programs, they helped coordinate 650,000 community volunteers to serve with them.
Today, more than 9,500 AmeriCorps members and Senior Corps volunteers are serving at 1,000 locations in the region with fantastic organizations such as Habitat for Humanity, St. Bernard Project, Teach For America, and many others too numerous to list here.
National service has been there for the people of the Gulf Coast, and we will continue to be there for them as long as they need us.
My trip back to Waveland stirred up memories of that scene from 10 years ago but also gave me hope seeing how much things have improved in the years since. Visitors there can feel the strength of a resilient community, and I have confidence that better days are in its future because it is still standing tall.
Wendy Spencer is the CEO of the Corporation for National and Community Service, the federal agency that engages millions of Americans in service through its AmeriCorps, Senior Corps, Social Innovation Fund, and Volunteer Generation Fund programs.
Calling all HuffPost superfans!
Sign up for membership to become a founding member and help shape HuffPost's next chapter