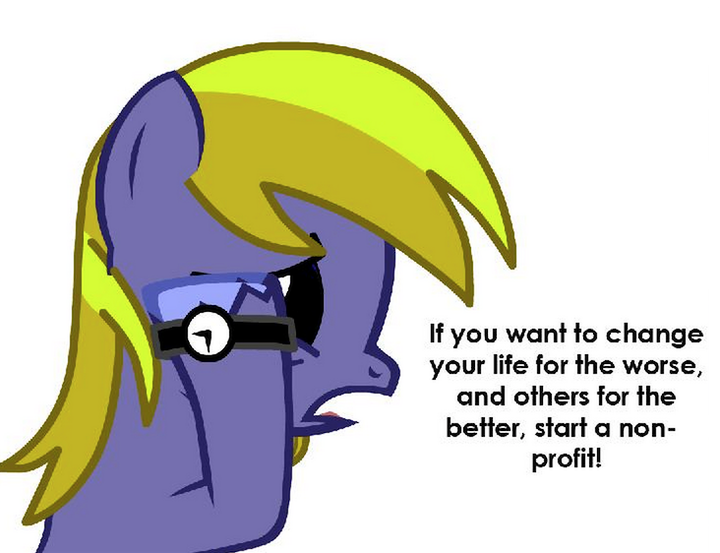 I started volunteering at various non-profit organizations with my twin sister when we were 15 years old, and immediately fell in love with all the people giving their time to help others. I knew that when I was older I wanted to be on a board of a non-profit organization, to do more good. Fast-forward 20 years or so and instead of joining a board of directors at an existing non-profit, I decided I wanted to start my own. And well, because my twin sister and I are very competitive, she started one too!
The mission of my non-profit, Sink or Swim Philadelphia, which I founded in 2011 and ended in 2014, was to help people who were uninsured or undersinsured raise funds to pay for medical expenses using social media and crowdfunding. It was one of the most rewarding experiences I have ever had, being able to ease the burden of decision for people who literally had to choose between paying for food and rent or paying for life-saving medical treatments. And while it was all "rainbows and unicorns" from that aspect, the other side of that experience was one of little funding, little time, and little human capital, creating an environment that was unsustainable.
While I was in the planning stages of Sink or Swim I met with an acquaintance who had been running a fairly successful non-profit for many years. Her first words to me were, and I quote, "Don't do it, it will ruin your life!" I was taken aback and a bit disheartened, but not dissuaded. Instead of heeding her expert advice, I went blindly and optimistically into the hardest three years of my life, the whole time after thinking, "boy was she ever right!"
And I am not alone. I have witnessed the challenges facing other non-profits as well, including my sister's non-profit Red Paw Emergency Relief Team. Per their Wikipedia page, Red Paw Emergency Relief Team "is a Philadelphia-based nonprofit emergency service dedicated to helping pets displaced by house fires and other residential disasters. Their goal is to reunite pets with their families once they have recovered and reduce the number of animals surrendered to shelters due to sudden hardship. The team works with local chapters of the American Red Cross, fire departments, and other disaster relief organizations to provide search and rescue, emergency transport, veterinary care, shelter and supplies for affected pets, at no cost to their owners." Red Paw assists 900+ pets each year — families and animals that would have nothing and no one during one of the worst times of their lives.
The people and pets my sister's organization helps aren't the only ones struggling to stay afloat though. I have watched her struggle for over 5 years to get her incredible, innovative, one-of-a kind, organization off the ground. Red Paw struggles to raise funds, to get volunteers, and to keep the organization going. Non-profit startups require many things to be successful and sustainable, not least of which is funding, because without it, well, you are not.
And herein lies problem number one: the US has approximately 1.5 million non-profit organizations — one.point.five.million! Those same 1.5 million are vying for your attention and your money. In fact, of the 1.7 trillion dollars in revenue public charities accrued in 2013, only 21% came from contributions (from viewers like you). Getting funding for anything in this day and age takes persistence, perseverance, grit, and time, but for struggling non-profits, and the people (or animals) they help, time is something they often don't have the luxury of having.
While I was in the process of starting my non-profit, I went through a Board Prep program run by Young Involved Philadelphia (YIP), a group that helps young people prepare to volunteer on non-profit boards. I learned that non-profit organizations need to be around for a certain number of years before having valid street cred. Some funders won't even consider supporting a non-profit that hasn't been around for at least 3 years. And that is the second problem, because you can't stay afloat as a non-profit if you can't get funding and you can't get funding if you haven't stayed afloat. #catch22
Problem #3 has to do with our current state of "social media activism". People are quick to "Like" posts, but less likely to share posts with their friends and family. Even worse, it's nearly impossible to get them to donate. When Red Paw posts to social media showing homes that have been destroyed by fire it often generates a flurry of "likes" and offers of prayers, but not much else. And while prayers may help in the long run, it does nothing to help the families or the organization raise desperately needed funds. It's hard though, I get it, my social media feed is inundated with posts from groups of dedicated humans trying to help others. It warms my heart, it really does, but the pull to share posts and donate is overwhelming. I feel awful when I don't donate, and even more guilty when I don't share, but there are just too many…one.point.five.million!
Which leads me to the other great piece of advice I received from the YIP board prep course: if you are thinking of starting a new non-profit, don't! It's almost a guarantee that an existing organization is tackling a similar project and/or serving the same target population, an organization that would love to have you, an enthusiastic volunteer or board member! With my sister's non-profit, that wasn't the case, Red Paw is the only organization in this country (maybe even the world) doing what they do. But for the many others, including my own non-profit, there are organizations that have similar missions, so why not help existing groups succeed?
And here is how you can help: be thoughtful. Thoughtful about which organizations you help and about how you help them. The "season of giving" is fast upon us, and you can decide to give something of meaning, something substantial that will make a difference. Movements such as #GivingTuesday are working to replace our materialistic culture with a culture of giving to create "a global day of giving fueled by the power of social media and collaboration." But it doesn't have to stop there, with just one day, that mindset change could help organizations and the people (and animals) they serve throughout the year.
Lastly, consider being more than a social media activist, make an actual donation to Red Paw and other non-profit organizations, "share" their pages, and volunteer your time! Let's help dedicated non-profits and their leaders continue to help others, and fulfill their respective missions of changing the word for the better. The struggle is real, but it doesn't have to be!