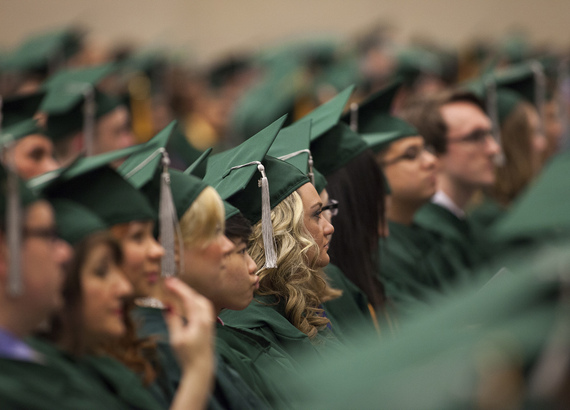 College of DuPage 2014 commencement ceremony. Photo courtesy of COD Newsroom/Flickr.
Staying on top of your payments is the No. 1 rule when your grace period ends and student loan repayment starts. Federal student loan servicers play a crucial role in keeping your loans current, but you might not know what these companies do or how to work with them effectively. That's why it's key to educate yourself about the student loan system so you know how to get what you need from your servicer.
Here are five reasons why understanding how your loan servicer works, and communicating regularly with the company, are your secret weapons for keeping your student loans under control.
1. Servicers collect, and keep track of, your payments.
Nearly 41 million student student loan borrowers were in repayment as of June 2015. The federal government contracts with 11 student loan servicing companies to collect and manage all those borrowers' monthly payments. So when you pay your federal loan bill each month, you send it not to the government directly, but to one of these companies.
Your servicer will contact you after your first federal loan is disbursed, and it's best to register for an account on its website right away. You can start keeping track of how much you've taken out and how much interest adds up while you're in school. Once you graduate, sign up for automatic monthly payments through your servicer so you're less likely to fall behind.
The four most common servicers are FedLoan Servicing, also known as PHEAA; Great Lakes Educational Loan Services, Inc.; Navient and Nelnet. There are several smaller servicers, too, including CornerStone, Granite State Management and Resources and MOHELA. (A full list is available at Federal Student Aid.)
2. Servicers help you pick the repayment plan that's right for you.
When you complete a federal loan exit counseling session your senior year of college, you'll have the opportunity to pick a repayment plan, which determines the amount you're required to pay each month toward your loans. Many students aren't aware of the federal government's many repayment options, so they stick with the standard repayment plan. The standard plan breaks up your total balance into 120 fixed payments over 10 years, and if you have a lot of debt it can be difficult to afford as a new grad.
Student loan servicers can help you figure out if you're eligible for one of the government's income-driven repayment plans, which tie your loan payments to your income so you never pay more than you can afford. You'll be required to fill out an application and re-certify your income every year to stay eligible. Your servicer will work with you -- for free -- to make sure all your documents are in order.
3. When you give servicers instructions, they customize your payments.
Once you start earning enough money to pay extra toward your loans, you might want to pay off certain loans first -- like the ones with the highest interest rates, which will help you save money in the long run. Some servicers will automatically apply an extra payment across all your loans in a certain billing group, but you can call, email or write them a letter instructing them to apply an extra payment to a certain loan instead.
Federal regulations require your servicer to apply extra payments first to late fees, then to accrued interest and, finally, to the principal balance, or the original amount of the loan you took out. Contributing more than your scheduled payment will reduce both your overall balance and the interest you pay over time, so kick in a little more than you need to when you can.
4. Servicers process your requests for deferment or forbearance.
In a single 10-year repayment term, there may be periods when you can't afford your loan payment; you could lose your job, get sick or decide to join the Peace Corps. No matter what keeps you from being able to pay your bill, call your loan servicer to let it know as soon as you can. Before you start falling behind, you'll have the option to apply for deferment or forbearance, temporary postponements of your payments during periods of financial difficulty.
Deferment will save you more money, since subsidized loans don't accrue interest while they're deferred. All your federal loans will continue to accrue interest during forbearance, but it's a good option for borrowers who don't qualify for deferment. Your servicer will help you determine which one you're eligible for and how to get it.
5. Servicers are your first point of contact if you're interested in loan forgiveness.
Grads who work full time for the government or for nonprofits should ask their servicers about the Public Service Loan Forgiveness program (PSLF). Make 120 on-time payments toward federal Direct Loans as a public service employee, and your remaining balance will be forgiven if you're still working in the public interest at the time of forgiveness.
To make sure you're on track to get the benefit, your servicer can help you determine whether your loans are eligible, whether you're on a qualifying repayment plan and whether you've properly filled out the Employment Certification Form. FedLoan Servicing manages the PSLF program for the government, so your loans will be transferred to that servicer if you don't already work with it.
Your servicer's role is to help you. But if you're experiencing an issue with the company that you're having trouble resolving, submit a complaint to the Federal Student Aid Ombudsman Group of the U.S. Department of Education. Before you email or call the office, first read up on what the Ombudsman Group can do, then make sure you have the background information you need by filling out the Federal Student Aid Ombudsman Information Checklist.
Keep in mind that there are always resources available to you if you need help repaying your federal loans. Instead of ignoring the problem, work with your servicer and the U.S. Department of Education, if necessary, to get back in good standing and commit to getting out of debt.
Learn more about your individual student loan servicer:
Calling all HuffPost superfans!
Sign up for membership to become a founding member and help shape HuffPost's next chapter