San Fermin, an eight-piece band from Brooklyn, took over the small stage at The Echo in Los Angeles last Tuesday to perform songs from their eponymous album, an expansive debut that's being likened to a heady collection of artists.
Their sound is grounded in an operatic score, one crafted by the band's 24-year-old leader, Ellis Ludwig-Leone, over a few-week stay in the Rocky Mountains in Canada. The songs connect to tell the story of a couple in a relationship, a conceptualization which brings to mind Sufjan Stevens's iconic albums about two Midwestern states. The angular, poppy songs, especially "Sonsick", harken to Dirty Projectors, while the songs from the male character have a somber weight, lyrical turns of phrase, a finding-your-way-while-stumbling-around-in-the-dark-I-stubbed-my-toe-but-I'm-hiding-the-pain sensibility that is not dissimilar to The National.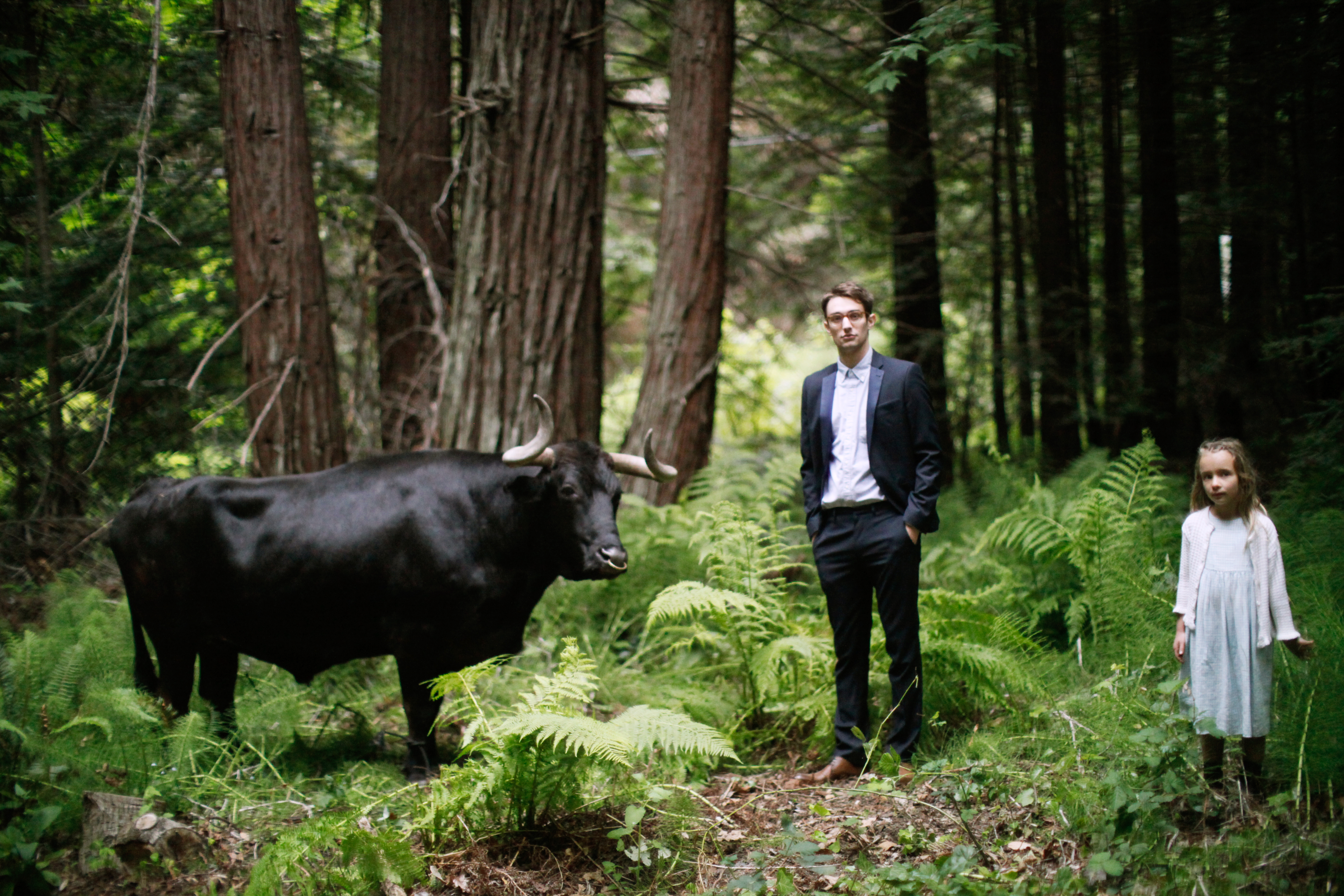 While these comparisons and categorizations are easy to embrace, like describing a new movie as a mix between two old favorites (It's Top Gun meets Air Bud!), it would be folly to let them limit your appreciation for San Fermin. Theirs is music as storytelling, and it is a unique talent to be able to mix the two.
Concept albums can be difficult. Where bands typically offer singles and song that standalone, these types albums offer less entry points. Like a racing, curving waterslide, they're normally best started at the top. San Fermin allows you to get your feet wet in multiple spots, with songs that stand alone in performance. Those songs slip seamlessly back into the album, at home among the interludes and arc that Ludwig-Leone first crafted two years ago.
The group played a confident set, supported by talented musicians and an eager audience. The songs are still so fresh, and each member allows emotion to seep in. As the night slips by, and staccato trumpet blasts lap at the feet of a saxophone-led Strokes cover, one song stands out among the rest: the beautiful "Methuselah."
I caught up with San Fermin's leader Ellis Ludwig-Leone as he was driving north from Los Angeles to San Francisco to talk first tours, the goofy heroics of Victorian romance novels and embracing a stylistic wildness.
You haven't toured with this band before. How do you like it?

It's our first tour as a band, our first honest tour. We started on the 24th of September, so we're getting accustomed to it. It's been great, it's a really good group of people; a couple of them have been close friends since I was 15.
It's a minor miracle that people are there to hear us. It's super awesome. It really is, a show is a dream come true. I've been to LA once before, and to go again, with a room full of people who all know at least one song, if not the record, is something else.
How does touring with these songs compare to the isolation of writing them?

I wrote these songs when I was 22, two years ago, and it's so funny... while writing, so solo, I only knew that Allen [Tate] would be singing, everything else was up in the air. It felt like a solo project -- over two years a lot can change. Now it's such a full-blown band in every sense of the word, it's impossible to imagine these songs played by anyone else. It's weird. Writing these lyrics was super personal -- it was me and my computer, and my score, and now to be up there, sharing with audience is nice, but sharing the music with all of these people that I've gotten close with in this band, it's different. A real revolution.
Did you have any trepidation letting such intimate songs loose?

Especially with singers, Allen and I have been close since we were 14. We always used to write songs, we had a bunch of other bands where Allen would write, and I would write, that was one way that we worked. Each person would own the song they wrote. Now, when I showed him these songs, he was the first critic of the record. I had a lot of trepidation, because I was depending on him to sing these things, things that felt like he wanted to sing. We started working on it, hope he likes it kind of thing. As we worked through each song, we changed very small things, little motive things, shifting a word around so that it becomes something that's really natural for him to be saying.
San Fermin is a concept album about the relationship between a male character and a female character. What did that form allow you to express?

I've come to realize that the creation of characters was by far the most important thing for me. Whenever I would try to write songs, I always had this feeling of wanting to put the whole world in every song. I felt pulled two ways about everything, and things would get very grandiose, or melodramatic or whatever.
What's really great about having the characters, is that since neither are me, they are able to argue things out but I don't have to commit to either one of them. It's good for all sorts of reasons. You can push these characters further in any direction than you yourself might go. That's been thrilling.
Are there concept albums that influenced you?

I grew up listening to The Beatles' Abbey Road, but that's not a concept album, but it's meant to be listened to. The second half of the record blends in together, certain things that come back, things that get recontextualized. It's been in my musical fiber since I was really young. Another, more obvious one, a big influence is Sufjan Stevens' Illinois, and Michigan record, with the idea that you can tackle something really large, than have small specific chunks. That was really interesting to me.
You have a rich character development that's more often seen in other mediums. How did you approach that process?

I was reading a lot while writing in Canada. It's one of those things, these sort of, Victorian-era romance novels, which I found very goofy but kind of heroic, which is the male character. You have these people, these characters, going on these grand romantic adventures, and on one hand it's so absurd, and the writing is so rich and crazy, but finding an exciting life, a lot of these, like The Purple Land, that book, this guy leaves his boring life and follows this exotic woman around through crazy jungles, and that's something very attractive, even though it's overwrought.
Were you able to illustrate the characters with music?

This being our first record, there was a certain stylistic wildness. The band's laughing around me as I just said that. We were trying a lot of different things; the reason for that, we were, trying to find a voice a little bit, so certain concepts lent themselves better. Interludes would lead to a more composed, controlled instrumental environment, some of the female songs needed to be poppier so that they would hit you in the gut in the right way. I studied classical music in school, but also had a lot of experience with indie rock and pop music; these things were naturally part of my wheelhouse. I would pull on them depending on how I was trying to impact the listener.
The result is more mixed up and blended together -- the ambition of trying to combine things that feel natural together.
You haven't finished your first real tour, and yet you're looking at your second album already. How is it coming along?

We're working on the second record now. On this one the stylistic wildness will be more mixed up together and blended in a way that feels more consistent, but still pulls on a lot of different sounds. We'll see where it goes.
I'm trying to scan a lot of musical territory, and find what feels most natural.
We're close to finishing it up now, and I'm hoping to get in the studio when we finish touring.
San Fermin's album San Fermin is out now on Downtown Records.
--
Remaining shows:

October 24, 2013: Washington, DC - DC9
October 25, 2013: Philadelphia, PA - Boot & Saddle
October 26, 2013: Boston, MA - Cafe 939
October 27, 2013: Providence, RI - Columbus Theatre
Popular in the Community