Singer Jordin Sparks may not have taken the knee during Monday night's NFL game in Arizona, but she managed to make a powerful statement nonetheless. 
Sparks, on the other hand, stood tall throughout her performance. But there was one small detail that could shed a light on what the 28-year-old singer was thinking. 
Scribbled in black on her hand were the words Prov. 31:8-9. It's a reference from the book of Proverbs, in the Bible.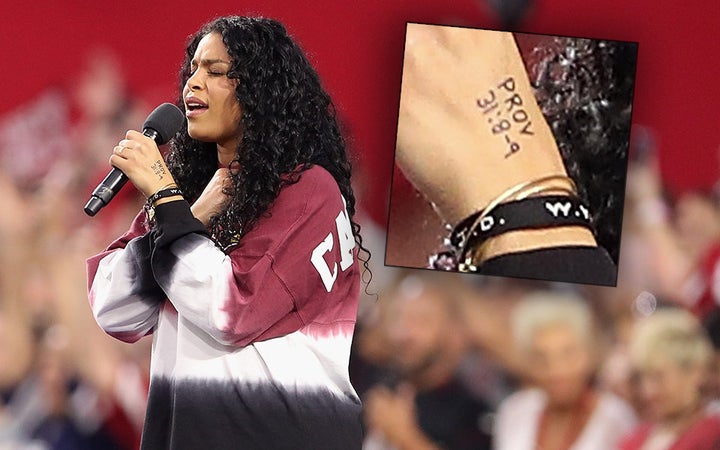 Speak up for those who cannot speak for themselves;
ensure justice for those being crushed.
Yes, speak up for the poor and helpless,
and see that they get justice.
The Rev. Jacqueline Lewis, senior minister of New York City's Middle Collegiate Church, told HuffPost that the text invites those who are powerful to use their voices to speak up for those on the margins. 
"In a season in which we yearn for fresh starts, in a time [during the High Holidays] when our Jewish family turns its face toward repentance, all of us who claim faith in G-d might want to inscribe this text on our hearts," Lewis told HuffPost. "As a Christian minister who follows the teachings of Rabbi Jesus, this text reminds me that my faith is not an individual experience. My faith calls me to work for the Shalom of all of the people on all of the earth."
 Watch Sparks' performance at Monday night's game in the video below. 
UPDATE: This article has been updated with a quote from the Rev. Jacqueline J. Lewis.
REAL LIFE. REAL NEWS. REAL VOICES.
Help us tell more of the stories that matter from voices that too often remain unheard.
BEFORE YOU GO
PHOTO GALLERY
'You Are Enough" Project Celebrates Black Women