With photographs and video by Eric Minh Swenson
The subversive power of women's laughter filled the outdoor courtyard of the new Hauser Wirth & Schimmel art complex when over 700 women artists - along with women art professionals and some supportive men - gathered for Now Be Here , a photo event in DTLA, on a sunny Sunday on August 28th.
The late-morning event was organized by artist Kim Schoenstadt and Aandrea Stang (head of education at HW&S) to celebrate the last week of the international gallery's groundbreaking thematic survey of 70 years of women's sculpture: major artworks using hands-on techniques and soft materials that broke new ground in sculpture. Revolution in the Making: Abstract Sculpture by Women, 1947-2016 is the first exhibition to celebrate the contribution of legendary women sculptors who changed the history of sculpture and women's art. Photographers Isabel Avila and Carrie Yury have been commissioned to archive the group photographs, and each participating artist will get a link to her photograph for her own archive. Schoenstadt will also provide archival copies of the photographs to SoCal museums and the National Archives of American Art, making this event an historic turning point for L.A. women artists.
While women artists still do not have gender equality in the art world, they are no longer the outsiders they used to be. In 1981, heritage feminist artists Suzanne Lacy and Ruth Weisberg organized a playful protest at the Los Angeles County Museum of Art against a 1970s survey exhibition curated by chauvinistic womanizer, Maurice Tuchman, which only included one woman artist. Dressed as cowgirls wearing masks of Tuchman's face, they staged a protest - with great production values - to make fun of the antiquated gender imbalance.
This spirit of fun, love of costume and celebration is characteristic of Los Angeles. The power of laughter can be subversive - as we all know, watching political comedians like Samantha Bee, Bill Maher, John Oliver, Sarah Silverman, Jon Stewart and Stephen Colbert. Hollywood Halloween parades and gay pride parades also share this quality. On the same day as this photo event, women went topless to the "Go Topless" event at Venice Beach. We know that "Girls Just Want to Have Fun" (Cyndi Lauper, herself a politically-engaged artist) especially when they make fun of Jurassic gender inequality in amusing feminist stunts.
The phenomenal turnout - 973 people in total - at the cross-generational, historic photo event continued this L.A. tradition of combining humor, costume and celebration to energize women to continue the advancement of women's art. Heritage women artists attended the event as role models to inspire emerging women artists. Major artists including Catherine Opie, Betye Saar, Alison Saar, Alexis Smith, Ruth Weisberg, Lita Alburqueque, Helen Pashgian, Gisela Colon, Barbara T. Smith, Meg Cranston and Liza Lou all attended.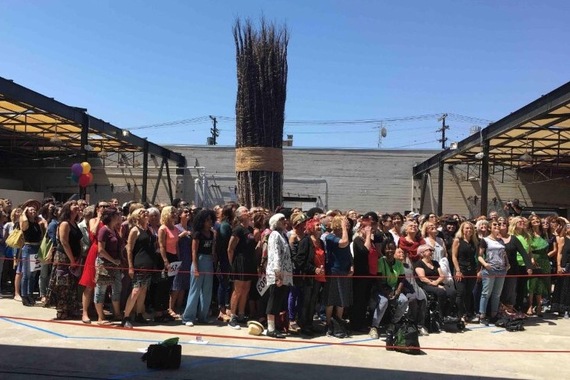 Maybe "we have come a long way, baby," but there is still more work ahead to ensure women artists get more equal representation in galleries and auction prices. Today, only 31% of the art currently on display in most galleries is from women artists, according to Micol Hebron in her "gallery tally." The sales of womens' art represents only 17 cents on the male artist dollar, and only a few living women artists (like Cindy Sherman) can command top dollar. A woman artist either has to be deceased or over 80 years old to sell her work for the higher prices consistently earned by male artists of equal stature. These horrifying statistics can no longer pass muster with today's cross-generation of women artists, who refuse to remain in stunned silence. The HW&S photo event is galvanizing a cross-generation of women to come together in a call for solidarity - just as previous generations did in the '70s and '80s womens' art movement. But today we have heritage feminist artists - and some female identified men - to support women in this fun. Outmoded chauvinism will soon be ridiculed by women artists empowered by this new solidarity and the trending of a more expansive feminism in all areas of life.
I recall an ancient Chinese story in General Sun Tse's manual of strategy - a handbook for warriors. A king commanded General Sun Tse: "[you] claim to be able to teach anybody in the arts of war... take my wives and make soldiers out of them!" (he had 180 wives). Sun Tse arranged the women in two rows to teach them the meaning of the drumbeat: two beats = right, three beats = left, four beats = about turn/march backward. Instead of following the code, the women began laughing, and Sun Tse, ever the military strategist, repeated the order several times. The more he commanded the women, the more they laughed. So Sun Tse applied a law: should women fall about laughing instead of learning to march to the drumbeat, they will have their heads chopped off. The king was concerned because he did not want to lose all his wives (okay, maybe just a couple) so two women were beheaded as an example. The women watched and then marched in silence.
Women have marched in silence for centuries, suppressing their laughter at the absurdity of misogynistic commands. But times have changed: a new brand of cross-generational, gender fluid, feminism is trending. As an artist-centered gallery, Hauser Wirth & Schimmel has tapped into the zeitgeist of womens' subversive power of celebration.
Reactions from women artists at the photo event

Betye Saar: "My daughter Alison invited me to go with her to the women artists photo event at Hauser Wirth & Schimmel. It was wonderful. I saw many old friends and ex-students. It was very hot, but the camaraderie made it all worthwhile. I was probably the oldest artist there: I'm 90. But I wanted to be an example that being an artist can be a life long experience."
Ruth Weisberg: "It gives a feeling of solidarity and mutual support. It is also wonderful to see friends and former students. I think it is long overdue and wonderful for young women artists who won't have the same struggle we had. Some of it was good for us, but we have to do things differently now because there aren't the same impediments. There still are impediments if you look at auction prices and the number of women in shows. This is important politically for reasons of social action, but not quite the same as it was when we were real outsiders."
Lita Albuquerque: "I think the show is a wonderful museum historical show. It brings the role of women artists up into the forefront. I think this event is groundbreaking, and this may cause more in terms of changing the face of women artists. Kim's event here at Hauser Wirth & Schimmel combined with the exhibition opens doors for women artists and it is a tremendous amount of fun and brings a lot of women together."
Gisela Colon: "There is a lot of significance attached to a gathering of over 700 women artists in the context of a group exhibition that dates back over 70 years of sculpture. In the context of being a sculptor myself and seeing the gathering, it is historic and from a woman's point of view it gives attention to women sculptors working in areas that have never been shown in the right light and right context. I think it is a sign of the times that it is all coming together: Feminine power brings about equality in the art world today.
May Sun: "I think it is a good idea in relation to the exhibition that is really strong with powerful women artists over decades. It is very generous of Kim Schoenstadt to start this project, and it shows physically how many women artists there are in L.A. It shows a real solidarity."
Lisa Adams: "It looks to be an enormous amount of women artists, right? But if you look at female artists in places of power and strength at the top, then the percentage is small. If you used this nearly 1,000 women as a database and did research, what percentage are represented officially by an established gallery?"
Nancy Buchanan: "It is always great to see how many wonderful women artists there are in our city. But it is discouraging that things haven't changed more than they have, and that there are still discrepancies in representation, in pay, and simple things like respect."
Phyllis Green: "This is a great moment. I thought this show would be a great catalyst for bringing women out of the woodwork and it has. I've been in L.A. since 1979, and I've seen people here I met then, plus students that were my students years ago. So, it is amazing."
Catherine Opie :" I've known Kim a long time, but I had no idea it would be such a statement and celebration of women artists. Looking at multiple generations of women artists, from women in their twenties to Betye Saar, was a very powerful event. But I want true equality embedded at every level, through gallery represention, sales, and not just museum shows, for celebration."
Related
Popular in the Community