I am a fan of the television show 'The Fear Factor.' In this show, participants are given challenges to undertake which are deemed to be 'fearsome.' The aim is to see who would have the guts to challenge and take on their fear. The Fear Factor challenge involves doing a lot of scary things you can ever imagine.
Every challenge undertaken in the show reveals three types of characters which relate to fear.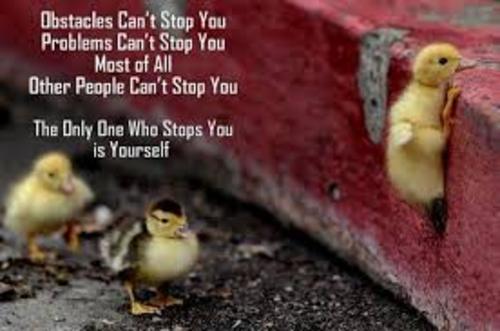 1. The Victim
There are some contestants who do not even attempt to undertake the challenge. They give up without even attempting overcoming their fear. This group of people play victim to fear. Fear determines what they can do and what they cannot do. They allow fear to dictate the pace at which they do things in their lives. Fear becomes their driving force and it controls them.
These contestants will not only disqualify themselves before attempting to undertake a challenge but will also let the prize money on offer pass them by.
You will find yourself in a similar situation in life if you play victim to fear. You limit yourself. You disqualify yourself from the very things that can propel you to greater heights. The fear victim will not attempt to do anything at all in life.
Refuse to live in bondage. You are able to do something great if only you can break out of your fear.
2. The Quitter
In the Fear Factor challenge there are those contestants who attempt to do a challenge and give up somewhere along the way. The quitter gathers courage at first to conquer his fear. However due to other factors he allows that same fear to creep in and discard all his efforts. This is the most dangerous character on the fear factor challenge. The participant exposes himself to serious danger by giving up in the middle of a challenge. Something can just go wrong when one quits whilst in the midst of performing a stunt and might result in injury or even death.
There is a man who undertook the fear factor challenge in the bible but displayed the character of a quitter. He nearly lost his life as a result of giving up in the midst of facing his fear. His name is Simon Peter. Let's have a look at what he did in the following passage of scripture:
Matthew 14:22-32
"Immediately Jesus made the disciples get into the boat and go on ahead of him to the other side, while he dismissed the crowd. After he had dismissed them, he went up on a mountainside by himself to pray. When evening came, he was there alone, but the boat was already a considerable distance from land, buffeted by the waves because the wind was against it. During the fourth watch of the night Jesus went out to them, walking on the lake. When the disciples saw him walking on the lake, they were terrified. "It's a ghost," they said, and cried out in fear. But Jesus immediately said to them: "Take courage! It is I. Don't be afraid." "Lord, if it's you," Peter replied, "tell me to come to you on the water." "Come," he said. Then Peter got down out of the boat, walked on the water and came towards Jesus. But when he saw the wind, he was afraid and, beginning to sink, cried out, "Lord, save me!" Immediately Jesus reached out his hand and caught him. "You of little faith," he said, "why did you doubt?"" (New International Version)
The above scripture passage highlights the first two types of characters related to fear. All the disciples were filled with fear thinking that Jesus was a ghost. Simon Peter asked to also walk on water like what Jesus was doing. He didn't allow himself to be the victim of fear. The rest of the disciples never attempted to walk on water as Jesus Christ did. These disciples died without experiencing what it is to walk on water. They missed an opportunity of a lifetime due to fear.
Peter was very courageous. He got out of the boat and started walking on water. I am sure he was pretty excited by this experience. However when he saw the wind blowing whilst walking on water he became afraid. Due to fear, Simon Peter started to sink. He doubted if he would be able to complete the challenge without sinking. The moment he allowed doubt to creep in, he started to fear. Simon Peter resembles the quitter. He gave up in the midst of the challenge.
Those who play it safe will never be able to testify what it means to conquer a fear. Those who attempt to face their fear should remain courageous so as to conquer the fear until it is completely eliminated. They should never allow doubt to take over lest fear will hinder what they are able to achieve.
3. The Courageous
The last type of character in the Fear Factor challenge is the courageous. The courageous ones undertake the challenge to its completion and discover that they would have already conquered their fear. They do not quit. They fight to the bitter end.
A life of courage over fear is a live of victory. Nothing can hold back someone who is courageous.
I challenge you to face your fears. Try to do things which you have always been afraid to do. Attempt the things which you once gave up on. If you are courageous enough you will discover that fear is only a factor that exists in the mind. It can be overcome. It can be conquered. There is no need to fear anything in your life.
Adopted from my latest book More Than A Conqueror. Download for free on www.peterchi.co.zw
Calling all HuffPost superfans!
Sign up for membership to become a founding member and help shape HuffPost's next chapter