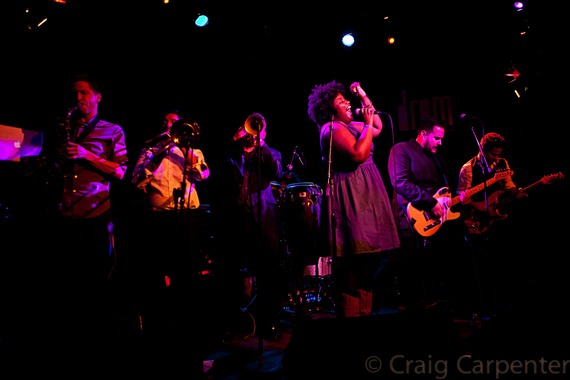 Covering music showcases gets a little hectic. Between trying to learn all of the artists that may be playing on a given night, hastily scribbling interview notes while also snapping photographs, multi-tasking is a job requirement. But there is also instinct and discernment; those things that any journalist must possess in order to find and produce a story before someone else gets to it. So, I must confess the degree to which I was unprepared at last year's CMJ Music Marathon, which was the first time I had ever heard of the now semi-famous band from Houston called The Suffers. There I was, running back and forth from the stage at the Lower East Side venue called DROM, to their narrow and crowded lobby. Back and forth, from performance to interview, rinse and repeat. All the while, there she was, playfully mingling with the guests, smiling as she posed for photos in the promotional booth beside the couch which I'd made my temporary office space. And I missed my chance. My discernment having failed, my instincts dulled, I missed the chance to speak with the band's lead singer, Kam Franklin, before they tore the house down, before they'd be mobbed by the guests who'd stayed for their second encore, and before their then career defining event - their appearance on Letterman. "If you can't do this," the venerable talk show host exhorted the audience as he congratulated the band, "get out of the business."
Ms. Franklin is the lead singer of this "Gulf Coast Soul" outfit hailing from Houston, who've described their music as a mix of funk, soul, Latin and reggae -- a regional gumbo based on the classics they grew up with. Through an email exchange we discussed life since Letterman, touring with ten people and what's coming next. The following has been edited for clarity.
Much has happened with the ten-piece since then. As would be expected, an appearance on a major late-night talk show certainly boosted their visibility, but they set the road ablaze as soon as they left New York the first time. The Late Show was almost a landing pad, rather than a runway.
As a ten piece band, that's like a really big family. What challenges does that present?
It can be tough, for sure. Communication is a struggle. It can be hard to keep the whole team on the same page. But, we have been able to manage it with apps like GroupMe and various Google apps. This would have been much harder 20 years ago. We've all known each other for 10+ years and played in other bands together so we are aware of each others' quirks and needs. We travel in a 15 passenger van with a trailer and at night we usually get 2 or 3 hotel rooms. Space is tight but luckily we all get along great and know how to give each other a little room. When we pull into gas stations and truck stops we tend to scatter. Sometimes you need a little alone time; even if it's just 5 minutes looking at the beef jerky selection.
Can you list some of the jobs or other means of survival the band members have used as the success has started to pick up?
We've been on the road almost constantly since February. We've had a couple of weeks home but not long enough for other jobs. We have an amazing home team that works so hard for us. We couldn't do this without them. Taco Bell helped us out with their Feed the Beat program. That really helps on the road. Fans, venues, random cross country family, and other musicians have also been more than generous. It feels so great to have the outpouring of support.

Describe your reaction when it was announced the band would appear on the late show. Any particularly interesting stories?
We found out a few months before the rest of the world and we couldn't tell anyone until two weeks before it aired. It was the hardest secret to keep! I told my fiancé and my mom and that was it.
Tell me about the morning after that appearance, and then what plans were set to from then - because the band has been able to gig successfully and get exposed to more listeners. How did that happen? Any surprises?
We taped the show in the afternoon but it didn't air until later that night. Everyone back in Houston was watching. They were sending us pictures of watch parties and stuff. When our part came on and finished all of our phones just exploded. It all started getting a little heavy. I turned off my phone until the next morning. When I turned it on it buzzed for about a half a hour with texts and tags and tweets. I cried. So much love and support. It was wonderful and I'll never forget that feeling. Since we knew we were going to be on the show we also knew we had to seize the opportunity. We released our EP, all quit our days jobs and headed out on the road starting in mid February. It was a bit strange to play all those shows and not be able to tell them to watch Letterman. In those first few weeks of road shows we learned how to tour. When the letterman thing happened we were ready to keep the train rolling. We've been touring ever since.
The new album is being funded through Kickstarter, and the band is asking fans to "be their record label". Please explain that idea.
The album has already been recorded, mixed and mastered. Artwork is done. These days, that is often the easiest part of the process. One area where signed bands have a real advantage is marketing, promotion and advertising. Labels often have departments that handle that internally. We don't have those departments and that is why we are doing a Kickstarter. The funds generated by our supporters will go towards a proper national release the same way a good label would. To us, our supporters are our label.
Having finally met you and then the rest of the band after your DROM performance at CMJ last year, I found everyone to be extraordinarily gracious and warm, and really humble after torching the place. So, this hearkens back a bit to the first question. Is it characteristic of "Gulf Coast" musicians? I really want to know more about the personalities in the band, the roles the members play to each other - because I know that relationship must be so complex, but to the outside, it looks like ego is definitely put aside.
It's definitely a regional thing. Houston has so many wonderful musicians that are all so supportive of each other. We may not be the best at talking about ourselves or our music scene, but it feels like a big musical family down there. Everyone in The Suffers grew up playing in bands together, going to each other's shows, recording each other's records. We were fans of each other. That still applies today. We love playing in a band with each other.

New York City has really appreciated The Suffers thus far. What does returning to NY for the (3rd?) time mean to them? Excited?
This is our 4th time. We love it. Every time we come here it just feels electric. The fans are so great and we are glad to get a foothold in a city so full of great music. It means a lot to us.

I'm guessing that life has been pretty exciting over this last year. In addition to the album release, what is the band looking forward to?
More touring! We are also preparing a performance with the University of Houston marching band. That's huge for us.
The Suffers will be appearing on Friday in New York at The Mercury Lounge and Saturday at Rough Trade NYC.
Calling all HuffPost superfans!
Sign up for membership to become a founding member and help shape HuffPost's next chapter