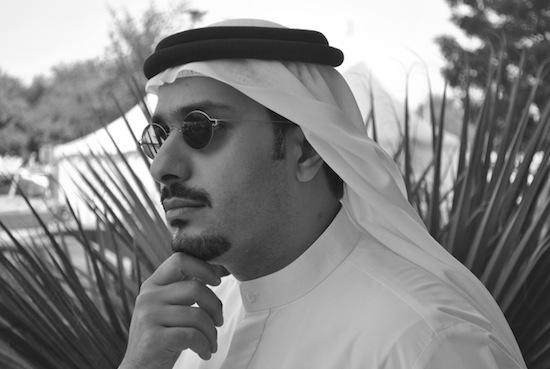 Ever wonder how this world of ours would be if we supported and promoted artists instead of wars and arms dealers? My guess is pretty great, and although it is within the nature of man to pick a fight from time to time, we would at least be surrounded by great art, beautiful cinema and glorious written word at those times when scuffles prove necessary.
Personally, I always look to the Arab world for artistic inspiration, pioneering individuals and groundbreaking initiatives. Probably because I've learned first hand from my travels through MENA that away from the media propaganda, the hate mongering and the catastrophic-sounding headlines, without fail I've found a semblance of beauty and culture in places like the United Arab Emirates. Not to be disappointed, it is again within that world, more specifically in the Emirate of Abu Dhabi, where I found a modern-day patron of the arts, an exceptional human being who has made it a point to support young, indie artists in all disciplines and give them the financial wings necessary to fly. We are kidding ourselves if we believe that art is just about inspiration these days. It's a business and only those who understand that can cross the line from hobby to masterpiece.
When I first meet Sultan Saeed Al Darmaki on a terrace in Dubai on a crisp January morning, I'm pleasantly surprised at how kind, cool and welcoming he is. Being on the receiving end of his ideas is an interviewer's dream come true, since Al Darmaki sounds like what I imagine Paulo Coelho must have sounded like at his age. He is handsome and very, very smart, always of course in the wonderfully humble way of the Arab world, and equally at ease wearing a traditional Emirati kandoora or jeans and a t-shirt.
Al Darmaki's passion for the arts complements his hectic work routine since he started running the family business last year -- the Al Darmaki Group is an impressive conglomerate of construction, travel and retail based in Abu Dhabi -- as their Chairman and Managing Director. To keep up with his obvious artistic talent, he began writing five years ago and had a wildly successful opinion column in one the Gulf's popular weekend magazines. But never satisfied with just a column -- it seems to be a trademark of Al Darmaki, this "how can I do more" attitude -- he has recently published a book of personal wisdoms, titled Leave the Birds Alone. With wonderful insights such as "A person who claims to know everything is an absolute idiot, as for the person who says he does not know everything, he's an absolute human being" illustrated efficiently by Mark De Castro, the book offers what Al Darmaki calls a chance for us "to embrace our similarities and our differences at the same time."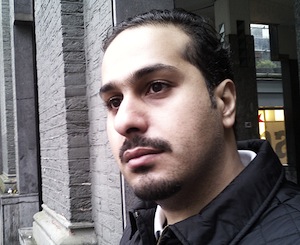 But if you expect Al Darmaki to be like Lorenzo de' Medici, the Florentine statesman known for his support of the arts as well as his financial inefficiency, think again. Though his youth as well as his palpable enthusiasm may at first lull those who meet him into thinking he's just a great art lover with a wallet, Al Darmaki is first and foremost a strong businessman. After all, he has inherited that talent from both his father, the late H. E. Saeed Sultan Al Darmaki and his mother, a strong woman who singlehandedly took over the family business when her husband passed on more than twenty years ago. And Al Darmaki himself works, hard. He is in his office six days a week, and even when he travels, it is to shop for his retail stores or create new alliances. So it's no surprise that when searching for ventures to fund on Kickstarter, the wildly popular crowd-funding site, Al Darmaki has some very exact business criteria, as well as a specific schedule for choosing films:
Every six hours I do a search for recently launched projects. I also look at a film's budget and what they are raising the money for. Typically, I prefer projects that are already filmed, need the money for post-production, sound editing, or to build the trailer. Then I look at the story, because both story and numbers interest me. And I research rewards tiers, what a film will give back to its funders. A successful campaign is one that gives you details, is clear about rewards and sounds realistic, much like a great curriculum vitae. I also look at the past campaigns by the project's creators and whether those were successful. If not, I still may not shy away from this campaign but I'll definitely need more time to think about it.
On Al Darmaki's current Kickstarter profile there are such diverse projects as the documentary Arrangiarsi, about the great skill of making do which the inhabitants of Naples in the south of Italy have elevated to an art; Aghbalou, about man's unending quest for life's only true commodity -- water -- in the mountains of Morocco; Native Boy, a magical film project about a boy's quest to capture the sun created by a retired NYC firefighter and Umbrella, a feature film by a UK director that explores themes of forgiveness. And then there are projects in other mediums like the cosmic anthology titled The Big Feminist But, "GameStick" the first truly compact, portable video console and the "One Love Garden Mosaic & Sculpture" project in South Philadelphia, which promises to beautify a public green space as well as engage the kids of the GW Childs School in Point Breeze.
If it sounds like there is a lot Al Darmaki is supporting, what I've written so far doesn't even begin to cover the first layer. In fact, there are upcoming prizes in his name which will be handed out during prestigious literary festivals like Oxford as well as a film festival in the Southern Italian town of Amantea, which is being greatly assisted by Al Darmaki's generous donations. When a group of enterprising and idealistic young artists from around the world wanted to clean up a forgotten open-air theater and start La Guarimba Film Festival there, one devoted to showcasing films from around the world in an idyllic southern Italian setting (think a modern-day Cinema Paradiso), Al Darmaki saw the greatness of the endeavor and gave the money necessary to make this film festival a reality and not just a dream.
A consummate traveler and lover of lands near and far from his native Abu Dhabi, Al Darmaki wouldn't really have to venture outside the door of his own home to find beauty. Entering into his family's compound is like stepping through the gates of time, and I can't help thinking that his living room, decorated by his mother in stunning antiques, is the kind of living room that puts all other living rooms to shame. Yet, even within the opulent surroundings, Al Darmaki speaks humbly and offers some of the best hosting I've ever experienced. And don't even get me started on the lavish banquet placed in front for me, complete with fresh fruit juices and Emirati delicacies.
The road ahead for Al Darmaki offers great potential. He could help to bridge the divide of our different cultures by offering a helping hand to artist in the West who can explain and enlighten the human race about our existence. Personally, I look forward to his projects with bated breath and await the results of his great vision, coupled with the artistic endeavors of his chosen virtuosos, as a means to better this sometimes confused world of ours.
Images courtesy of Sultan Al Darmaki, used with permission
Related
Popular in the Community