I am ridiculously envious of each of these authors' amazing writing styles and have learned so much from their beautifully told stories. After staying up way too late a few nights in a row to read the last two, I felt like someone was really trying to tell me something. Maybe it was the lack of sleep or self editing notes swirling around in my head, but I couldn't seem to focus on any work project for a significant period of time without leaving my home office desk for a glance into my cluttered closets, overstocked bookshelves and expired staple food filled pantry.
Full disclosure: I am neat. I am organized. To the casual observer my house looks this way. But if one such casual observer ventured beyond the proverbial velvet ropes in my home, they would find messes in my closets, drawers, storage spaces and the like.
I started with my own closet. Marie Kondo says to first take everything out of your closet, then go through each piece of clothing, only keeping those items that bring you joy. That's a tough one for me because so many of my clothes bring me joy. Yes I am way too attached to my clothes! But I knew what she meant. Kondo also says it's okay to talk to your clothes – to thank them for the times they served you, then say goodbye to them and move on. I know this sounds ridiculous, but this is not the first time I have heard of this concept. A couple of my friends in college came to my room before we moved out of our off-campus house at the end of our senior year to say goodbye to my sweaters that they had borrowed throughout the years we were in school. I realized my college friends were way ahead of their time back then, and they probably should have written a book on the topic. Regardless, saying goodbye to some of my most favorite jeans and sweaters, which either no longer fit me right, weren't comfortable anymore or simply weren't getting worn, made it a lot easier for me to purge them.
I moved onto papers in and around my desk, which are also tough for me. Although I do love trees, the air we breathe and a clean workspace, I print out way too many things on paper and then hold on to the papers for too long. Case in point, I always print out directions straight from Google Maps before I go on any kind of road trip. I don't always trust that I'll have service for navigation on my phone. And I write down most of my essay, story and book ideas on actual note paper then save those notebooks even after I transcribe the thoughts to my computer and then print out the published work. I was strong and held firm to my new found advice as I purged paper after paper until the insides and outsides of my desk were super clean and organized. I even created files on my computer to replace the paper files in my desk. I felt my old luddite ways beginning to wash away.
Next, I had to conquer my vast collection of dishes and tchotchkes, which are both the joy and the bane of my existence. I have much respect and admiration for those people (many of whom are my good friends) whose counter tops, tables and shelves are clean and classy, featuring a simple vase, a special silver picture frame or one large bowl and two clean lined candlesticks. I apparently have some sort of disease (it may just be hereditary) whereby I feel the need to display vases on top of runners on top of dishes surrounded by ten mismatched candlesticks. My kitchen and dining room tables look a bit like Mackenzie Childs threw up on Pierre Deux and Athropologie. I know it's a look and some would say a style, but I had to get these items under control. I was strong and purged like a drill sergeant inspecting recent recruits quarters. It helped to talk to such favorite items just like I did with my clothes, to put some away in my cabinets for now and to give some away to those who I knew would appreciate and use them.
The hardest part for sure was the sentimental stuff, and Marie Kondo warned me that it would be. It's difficult to say goodbye to a thing - even if it is an inanimate object - which brings back a really special memory or makes you feel a certain way. Over the years, I became the receptacle for all sentimental items in my extended family. I think this is due in part to the fact that I am one of only a couple females in my generation of siblings and cousins, because I have a lot of storage space in my house and because my family knows I'm so sentimental.
After my grandmother died, my aunt (her daughter-in-law) gave me boxes of items which my grandmother had saved for much of her life – essay papers from when she went to college, pictures of her long ago vast travels with my grandfather and beautifully written letters she received from friends and family. When my aunt gave them to me, she said "these are not mine to throw away." I knew what she meant. They have sat in boxes in my basement for over a decade. I spent a decent amount of time this summer going through the boxes remembering wonderful things about my grandmother and imagining her life long before I ever knew her. I didn't want the boxes to sit for more years in my basement and eventually become a burden to my children. They were mine to get rid of and so I did. I still have the memories.
When my father was doing some serious purging of his own several years ago, he gave me my treasured childhood dollhouse to keep in my own grownup house. It's actually a mouse house, the imaginary and beautifully decorated home to tiny little fake mice dressed in people clothes. Weird, I know but it was awesome when I was a kid. My parents bought me the house for a young birthday and then every birthday and other gift for as long as I can remember went towards furnishing and decorating the treasured mouse house. I'd so look forward to going to the antique doll shop in our town with my mother, my aunt and my grandmother after school or on a Saturday morning to purchase a new item for the house. Each room had its own style complete with different wall paper, a miniature oriental rug in the living room, a farmhouse table in the kitchen and a claw foot tub in the bathroom. I kind of want to live in a real life size version of the mouse house today.
I thought about what to do with the mouse house for a long time. My daughter had no interest in it nor did any other children in my extended family. I am told that kids today no longer want to play with toys of generations past, and I completely understand that. Plus a lot of the items in the house had taken some abuse, were broken, yellowed or missing. And so I sat down in my basement with my fake little dressed up mice (don't judge!) thought about my happy childhood, and I knew it was time to get rid of the house. Following Marie Kondo's advice, I took just a few small items to hold on to for sentimental value. I saved the tiny bathroom set with the grandma mouse in the claw foot tub and the wood-burning stove from the mouse kitchen. The mini bathroom set now sits on the side of my bathroom counter, and the mini stove on a shelf in my kitchen. When I notice them from time to time in my daily life, I can't help but smile.
I brought the rest of the mouse house up from the basement to prepare for the trash. The house was too big to fit in a giant Hefty black garbage bag. I became so focused on purging and getting rid of it at that point that I actually took a hammer to the house and kind of demolished what was left of it. When the house was fully destroyed and in the garbage bag, I laughed out loud at the absurdity of my process: I went through sentimental items with lots of love, time and care and then at some point, I just took a hammer to my whole childhood.
It worked for me – it really did. I took the time to cleanse, tidy up and occasionally violently purge, and I do feel better. I feel calmer, happier more productive and like some weight has been lifted off of me as well as off of every previously cramped and unseen space in my house. It's easier for me to find things all around my house, to get dressed in my closet, get work done at my desk and prepare meals in my kitchen. I'm even considering going back to reading fiction and maybe just maybe rejoining the book club.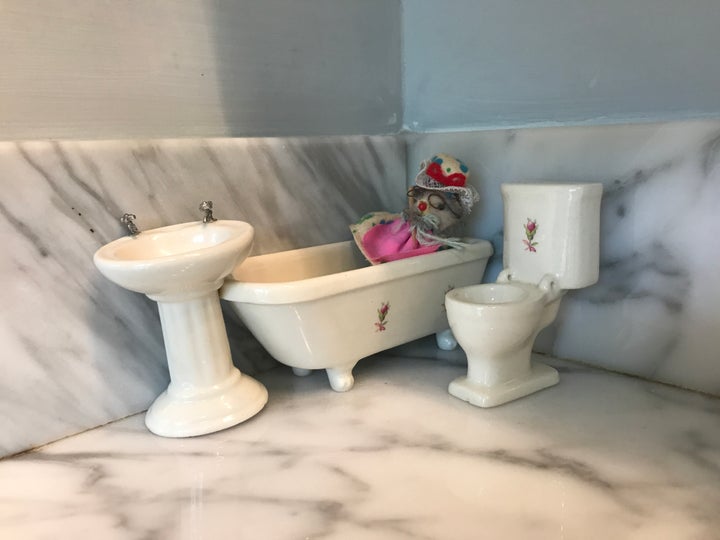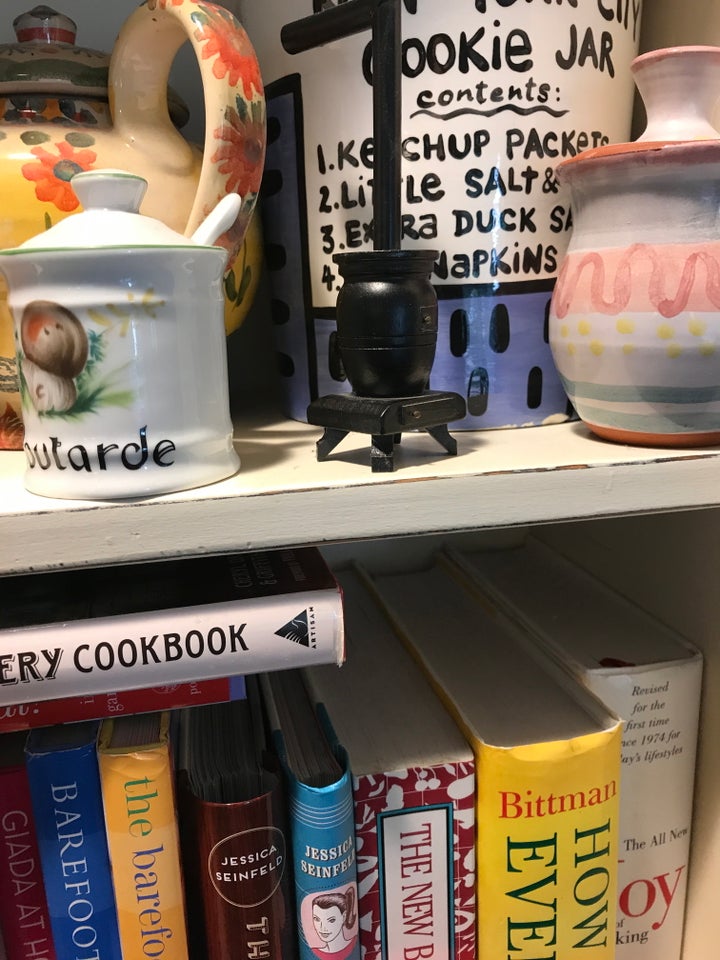 Related
Popular in the Community