Winter has its icy roads, but summer, when we're on the go and active outdoors, has its own dangers. Not saying you should lock yourself in a closet this summer, but new technologies have created some rather effective solutions for common summer problems.
Drowning
Yes, the best defense is learning to swim, but according to the World Health Organization, drowning is the third leading preventable cause of death worldwide with 372,000 preventable accidents happening every year.
To keep others aware of your swimming status look at iSwimband ($59). It's an electronic headband (pictured below) that you can wear on its own, attach to a pair of goggles, or put it on your wrist. Using a Bluetooth connection (yes, you'll need a smartphone near enough to pair the Bluetooth device), the sensor detects when you've been underwater longer than the duration you've created in the app's settings. If you're under too long the app sounds an alarm and turns the entire phone screen into a red-flagged emergency. Best used for keeping an eye on the kids as long as you remember to stay in Bluetooth range and keep your phone with you at all times.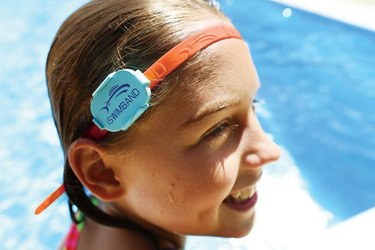 Another water safety alternative is a high tech inflatable life vest. Available on Indiegogo, Kingii ($79 now on Indiegogo; final retail price unknown) is an unobtrusive device you wear on your wrist. A flip of a lever turns it from a wristband into an inflated life vest. The campaign has been well received but the device is not yet certified by the Coast Guard or other standards organizations. Still, if you're looking to swim safely and unencumbered by a clumsy life vest you might be interested.
Another swim safety option is the Safety Turtle wrist wearable swimming pool alarm. It will sound an alarm when it gets wet. $149 as a child wristband; $139 to attach to a pet collar
Lost Kids
Having your kids wear a GPS locator bracelet may seem like over-parenting to some, but for others it's an important way to keep young kids safe. Two examples are the FiLIP from AT&T ($150) and the hereO ($179 plus $4.95/month). Both are wrist watch style devices that use GSM (cellular) and GPS to locate your child so you're covered everywhere. Also, both have additional monthly service fees and you need to remember to keep their batteries charged. But it's a small price to pay for peace of mind.
Sunburn
Netatmo ($129) detects the amount of UV rays your skin is exposed to. While you wear the pretty bracelet and sensor, the app on your phone is precisely measuring the amount of harmful rays you're getting. The accompanying app figures your skin type into the equation app and alerts you when you're getting too much sun exposure.
Allergies
Allergic reactions, especially to stings and bites, are another one of summer's less-than pleasures. Veta ($59) is a smart case for a traditional EpiPen, which is a prescription epinephrine injection. Veta makes the EpiPen smart because it uses Bluetooth to communicate with an app on your smartphone so you can locate the EpiPen. You can even set it up to send you a message when you've left it behind, so you don't, for example, head out for a hike and leave the pen at the hotel.
Pollution
The World Health Organization also estimates that nearly 7 million people die prematurely from harmful air pollution each year. Nearly 200,000 of these deaths occur in the U.S. alone. TZOA ($139 on Indiegogo; eventual retail price unknown) is a device that uses internal sensors to measure air quality, temperature, humidity, atmospheric pressure, ambient light and UV exposure in a small, wearable device. It connects to a smartphone app that supplies information monitoring on air quality within their geographic location. It also dispenses common sense advice like closing or opening your windows.
Outdoor Adventuring
SPOT is a tracker for adults that play away from cell service. It uses GPS to keep track of your location, and satellites to communicate. You can have your location periodically logged on your personal page, so that friends at home can follow your journey, but more importantly, there is a help button that can send a message to your list of SPOT contacts. And yes there's also an OK button, to let everyone know you're good. There are several models; Gen3 currently lists for $149 plus you need a service contract.
Drunken Driving
Whether you're protecting yourself from yourself or from hurting others, summer and long sunny days make it likelier to imbibe. Breathometer's Breeze ($79) measures blood alcohol levels and offers advice on whether to drive or not. It's pocket sized, easy to use, and one of the few products ever endorsed by the entire Shark Tank team during its TV showcase.
Of course there are many people who'll tell you that technology itself is the most dangerous part of summer, so remember to unplug often.
Robin Raskin is founder of Living in Digital Times (LIDT), a team of technophiles who bring together top experts and the latest innovations that intersect lifestyle and technology. LIDT produces conferences and expos at CES and throughout the year focusing on how technology enhances every aspect of our lives through the eyes of today's digital consumer.
REAL LIFE. REAL NEWS. REAL VOICES.
Help us tell more of the stories that matter from voices that too often remain unheard.