Passionate sex, classical music, and high fashion all in one film? Can it be? The French film Coco Chanel and Igor Stravinsky, about the affair between the legendary composer and fashion designer is finally making its United States debut this summer. It opened in New York and Los Angeles on June 11 and will come to Washington, DC and other select cities July 16
I've been anxiously waiting to see the love story starring Mads Mikkelsen and Anna Mouglasis in the starring roles since reading the novel last fall, and was not disappointed. Everything from the set design, to the music, to the wardrobes was sublime and both actors fully capture the complex characters and their physical chemistry in the many erotic love scenes. Fashion lovers who may have felt slightly let down by the Coco Before Chanel movie last year due to its lack of Chanelian glamour, will adore this film as it portrays Coco in her heyday in the 1920's in full black and white splendor with waist length pearl necklaces and other chic accessories.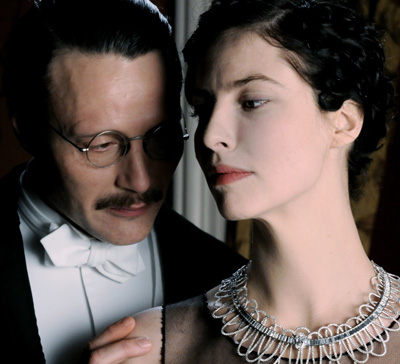 According to the director Jan Kounen, Karl Lagerfeld and Maison Chanel in Paris were generous with their time and support for the project.
The meeting with Karl and Maison CHANEL was important. The collaboration I dreaded was in fact very pleasant. Karl Lagerfeld advised us on the costumes and on Coco Chanel's habits. He also opened her private wardrobe for us. We also shot in Chanel's place and we had intimate objects of hers at our disposal for the shooting at the Ritz.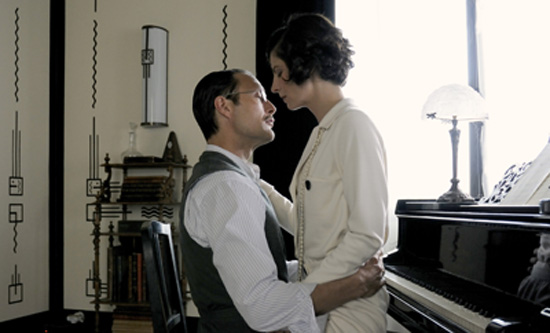 One of the gowns worn toward the end of the film by the exotic Ms. Mouglasis, who has been a muse to the House of Chanel, was designed by Mr. Lagerfeld. Fashion historians will be intrigued by the plot which takes Coco to a lab where she holds countless perfume vials under her nose finally selecting the scent which will become Chanel Number 5, the most iconic fragrance in history.