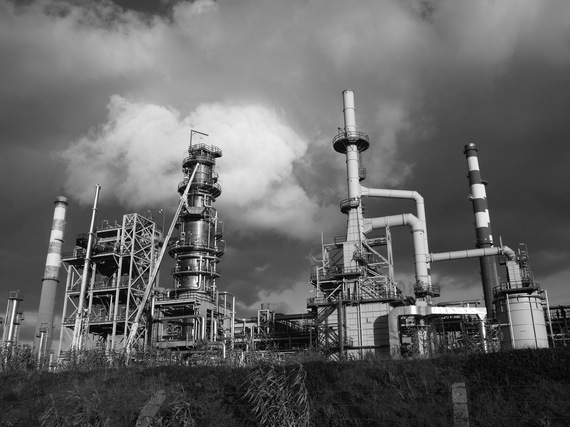 Oil refinery - via Flickr
Earlier this month, Saudi Arabian Deputy Crown Prince Mohammed bin Salman announced that the Kingdom is in the process of building a US$2 trillion Public Investment Fund (PIF) funded, in part, by an IPO of the state-run oil company Aramco. The goal of this fund will be to wean the kingdom off oil and turn the oil major into an industrial conglomerate. According to the deputy prince, this could happen as soon as next year. "[W]ithin 20 years," he claims, "we will be an economy or state that doesn't depend mainly on oil."
According to the deputy prince, the fund will supposedly raise an extra US$100 billion per year by 2020. In order to raise the funds (and restructure the economy along the way), the kingdom will make reforms including a restructuring of energy subsidies that is expected to save US$30 billion, a house-building initiative dedicated to alleviating the kingdom's shortage of living quarters, the kingdom's first-ever international sovereign dollar bond issuance, and a value-added tax of 5%.
The PIF has already made small but significant steps towards the Kingdom's goal. The fund holds stakes in Saudi Basic Industries Corp. and National Commercial Bank, two of Saudi Arabia's largest companies. It obtained a 38% stake in South Korea's Posco Engineering & Construction Co. and has forged an agreement with Russia for a significant partnership in its Direct Investment Fund. And according to the deputy prince, the Fund is looking at two more deals outside the kingdom as well.
The deputy prince's commitment is indeed laudable, and two trillion U.S. dollars is nothing to sneeze at (that's enough cash to buy the world's top four publically traded companies outright). With an economy slated to double by 2030 (adding roughly $800 billion), mostly by prioritizing non-oil sectors, Saudi investment will most likely look for outlets. At this point, 90% of the Kingdom's $600 billion worth of exports come from oil and oil-derived products, a windfall that will have to be replaced by expanding the reach of other sectors. As such, it's highly likely that the Saudis will head to their traditional trade partners, like the UK - the source of some $130 billion of investments in Saudi - and capitalize on the roughly 200 joint ventures established there. Unlike the US, with its pesky CFIUS to block foreign investments, London would put up no such roadblocks.
The plan is a courageous move especially since history is not on Saudi's side. According to an International Monetary Fund study in 2014, the failures of countries seeking to kick the oil habit are many, whereas the successes are few. Saudi Arabia doesn't improve its odds by starting now, when oil hovers around US$40 a barrel instead of a few years ago when it was up over US$100.

Can the Saudis save the world?
Throwing money at the problem is only part of the solution. For eight long decades, the Saudis have been one of the world's major dealers of oil, feeding the addiction of countries far and wide, while denying the toll that the addiction takes on the planet. Although the obstinate could live in denial of anthropogenic climate change in times past, those days have gone the way of $100-a-barrel crude. Man-made global warming is a fact, COP21 has shown that the nations of the world are committing themselves to limiting the damage, and it is therefore time for the Saudis to become a part of the solution.
There's a very persuasive argument that the harm done is irreversible, and that anything the Saudis may choose to do is too little, too late. Global temperatures are on the move at speeds never before seen in Earth's history. Dapper and dour scientists are more emphatic about the dangers that lie ahead than ever, freely using terms like "alarming," "emergency," and "insane." According to recent reports, the pace of Antarctica's melting is projected to raise sea levels far beyond previous predictions. A recent study projects global sea levels to rise by between 1.5 and 2.1 meters (59.1" and 82.7") by the year 2100 - a year that children in diapers today are likely to live to see.
If the deputy prince's plan is to have any hope of success, the fund should therefore focus on renewable energy. As the kingdom's Oil Minister Ali al-Naimi rightly pointed out, "I don't think there is a more ideal country for renewables than Saudi Arabia," as it has the requisite sunshine, land in abundance, and more sand than it could ever use to make solar panels. By throwing a part of the $2 trillion fund behind renewables (especially solar), the Saudis could probably play a pivotal role in driving energy prices and making a CO2-free economy well within reach.
Western countries are coming to their senses on the issue of fossil fuels. Even a majority of Americans, where climate change denial is nearly as hallowed as mom and apple pie, have come to accept that humans burning hydrocarbons causes climate change. Additionally, most new investment in power plants is in renewables, not coal. It's not hard to think that petroleum is fast losing its shine. Saudi Arabia's first step towards decarbonizing its economy is a welcome one and could represent a milestone for renewables. Only time will tell.
Calling all HuffPost superfans!
Sign up for membership to become a founding member and help shape HuffPost's next chapter