Kids and animals onstage in a daffy and heartwarming musical comedy? Depending on whom you talk to, this could either be a horror show or a holiday delight.
Typically, I lean toward the latter -- one can only take so much sweetness in one sitting. However, Annie, especially this unashamedly endearing new tour directed by one of the musical's originators Martin Charnin, relentlessly reminds you that you're never fully dressed without a smile.
And smile you do - my face literally hurt by the jubilant curtain call.
And, quite ironically (at least, in my case), it's all about the kids and the dog that carries this first-rate production. Charnin goes back to the basics -- having directed more than a dozen productions of this beloved musical over the past 35 years, he knows exactly what strings to pull to make the show zip right into the heart. This isn't some revisionist, modern Annie (that version is hitting movie theaters in December). This is a full-scale production of the Annie we all grew up with.
Despite some treacly bits of business she's clearly been directed to do (including a few annoying line readings), the clear-voiced Issie Swickle finds Annie's strength and heart. Clearly the audience, including the rows of young theatergoers, bought into the orphan's rise to success story. The rest of the orphans also delight, including a scene-stealing Lilly Mae Stewart as Molly (she'll make an exceptional Annie one day).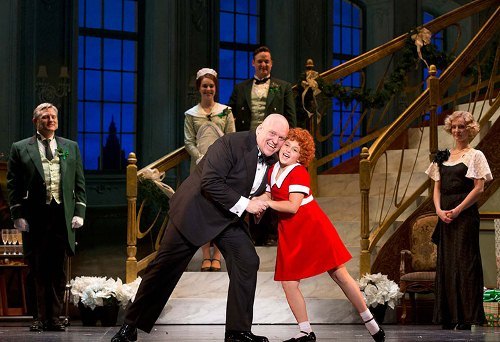 As the quintessential villain-we-love-to-hate Miss Hannigan, Lynn Andrews manages to find a fresh and perfectly pitched take on the iconic role. Where most Hannigans could easily default to downtrodden and defeated, Andrews' Hannigan is more an over-caffeinated, tightly wound creature with swift comedic timing. Her clear and bellowing belt adds the necessary force.
As the final key player in this simple and unexpected love story, Gilgamesh Taggett makes for a properly curmudgeonly Daddy Warbucks whose gruff exterior melts away when Annie disrupts his billion-dollar world.
Featuring a sizable orchestra in the put (including a tuba!), Charles Strouse and Charnin's score twinkles with vintage charm. Beowulf Boritt's set adheres to tradition, but also features some eye-popping backdrops.
And - the dog is SUPER CUTE.
"Annie" plays through November 30 at the Cadillac Palace Theatre. More info here >