In part four of HuffPost Culture's ongoing series, The Sundance Diaries, our five featured shorts filmmakers tackle big questions. Like: What's an animator to do with a woman behind a veil? And was growing up in the seventies like being in a horror movie? (Disclosure: the answer has nothing to do with using a clothing iron on one's head, surprisingly.)
As always, click on any filmmaker's name below for their individual entry, and click "More" at the liveblog's end for previous installments. Have at it!
"Avocados" animator Kataneh Vahdani on learning to observe people in a country where women conceal themselves.
Director Kelly Sears on how the politics of the 1970s inspired her minimalist horror short, "Once It Started It Could Not End Otherwise."
Jessie Ennis on directing "The Arm" with two fellow actresses who knew how to dress the part.
Animator Stephen Neary on the nonsense film that made "Dr. Breakfast" possible.
Tibor Banoczi on why his film "Les Conquerants" is like a good loaf of bread.
01/30/2012 8:02 AM EST
Ready For Film Camp
Jan. 19, 2012
Soon, I will be heading to the airport to fly off Sundance. Yes, the festival started Thursday the 19th, but I had to teach my students After Effects and show them animations made from old films and appropriated images today. Class just ended, and now I'm typing one last post before I start packing. Currently it's 70 degrees and muggy here in Texas. Tomorrow, I'll be 8000 ft up a mountain and the weather will be somewhere in the 20s.
I have an open suitcase on the floor and a pile of thermals and wool socks and boots and a parka dug out of the back of my closet nearby. There is a wardrobe transformation that is unique to Sundance. All attendees don the required gear to be in cold weather and endure a marathon of films from 9 AM to 2 AM daily. Everyone is puffy with layers, trudging up and down Main Street, riding the shuttles around, trying to score tickets to movies. No one looks great, but everyone looks warm, which is the point. We're here to see some films and are equipped with the gear needed to do so. Additionally, into the suitcase goes postcards announcing my film's screenings and DVD screeners to share. However, one special item is coming with me this year and it's a custom made hat.
My boyfriend's mother knit my boyfriend and I hats for Sundance this year. I'm not sure if she is aware, but it's the most perfect hat I've ever worn. It fits magnificently; it's warm and soft. Hats have always been a point of contention for me, never fitting quite right, feeling scratchy, and not being protective enough. This one is top shelf material.
And with this exceptional item in tow, I'm ready to depart for film camp, which is how I fondly think of Sundance. Where else can you watch movies all day long and never leave the cinema universe? Over each meal, on every shuttle, at all the parties, people are talking about all the films they have been watching or hope to see.
My film is playing in the Midnight Movie category this year, so all my screenings will be at the end of the day. Sundance does a fantastic job of pairing short films with features for a lot of the screenings. I'm excited to be screening with Nicholas McCarthy's The Pact, a family centric ghost story that is rooted in adolescence terror. Our first screening is Friday night…at midnight!
Is it time to Sundance yet?
-- Kelly Sears
WATCH a preview for "Once It Started It Could Not End Otherwise":
01/30/2012 8:02 AM EST
Not Hurling
Jan. 22, 2012
I've seen "Dr Breakfast" maybe a million times. I've watched it through storyboards, through finished animation, through sound design. And even before I made the film, I saw it over and over again in my head, each time a little different.
But watching "Dr Breakfast" with an audience at Sundance is pretty nuts. Just because I'd seen the short so many times didn't make me want to vomit any less out of nervousness. When it screened for the first time on Saturday, my brain was peppered with questions like, "Did I remember to wear deodorant?" and "Am I wearing enough deodorant?"


Everything was fine. The audience laughed. I held my lunch. And after my film played first, I got to concentrate on the other wonderful films screening in the Animation Spotlight program:
"38-39˚C," Kangmin Kim
"663114," Isamu Hirabayashi
"Avocados," Kataneh Vahdani
"Belly," Julia Pott
"It's Such a Beautiful Day," Don Hertzfeldt
"Night Hunter," Stacey Steers
"Robots of Brixton," Kibwe Tavares
"Slow Derek," Dan Ojari
The program is thoroughly creative and compelling. You might think from the subject sampling and execution that all animation directors are mentally unstable, we're all pretty chill people. I promise!
Just getting around Park City has been another adventure. The snow has slowed bus travel, and my best bet is usually hoofing around in Sundance-provided snow boots. It's been almost like having a festival at the north pole. Connie crocheted me a formidable scarf before I left New York. Well, more of a giant warm loop than a scarf. It's like a toasty Mobius strip minus the twist: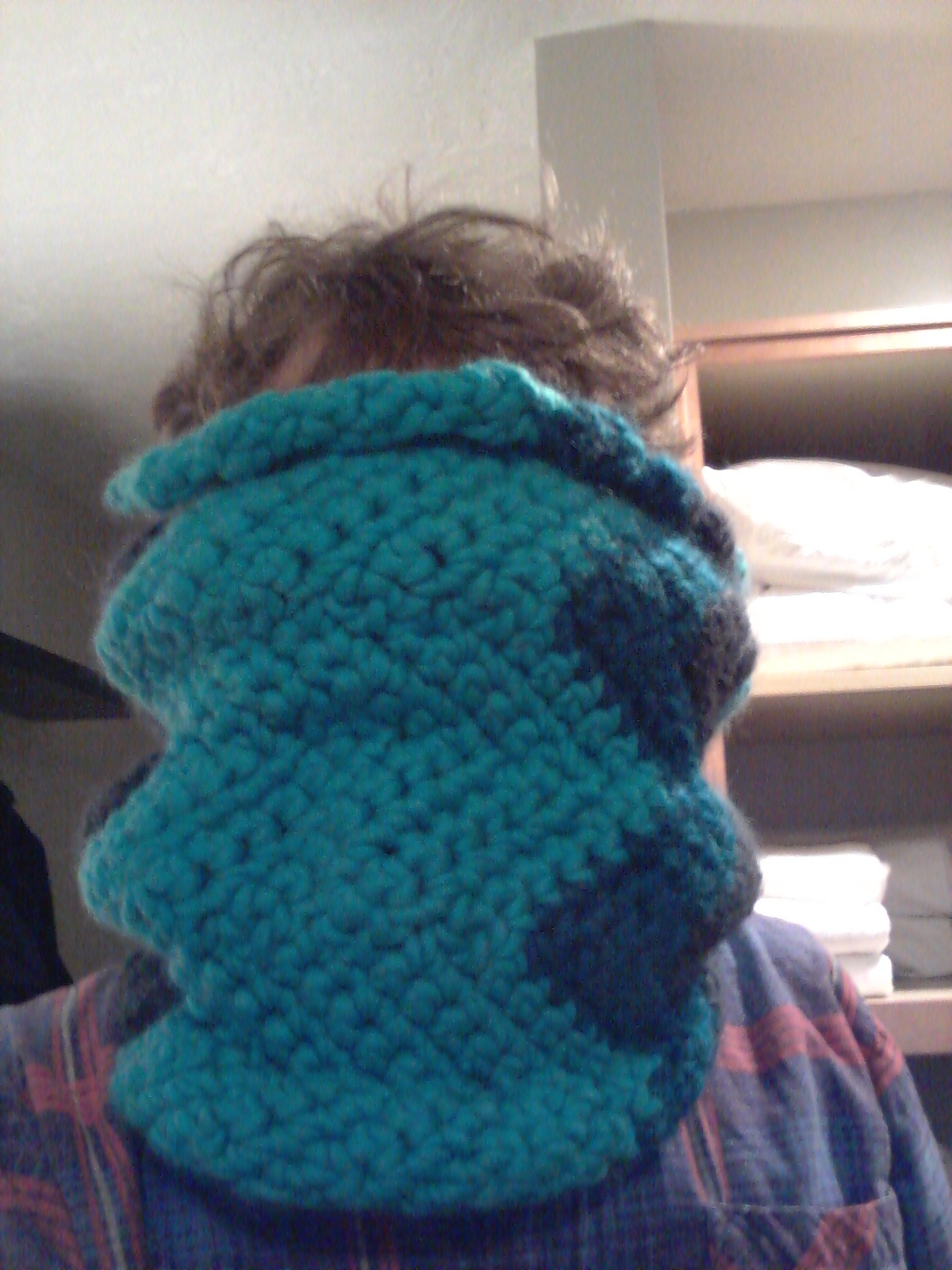 After just 10 minutes walking outside, this is what you'll look like.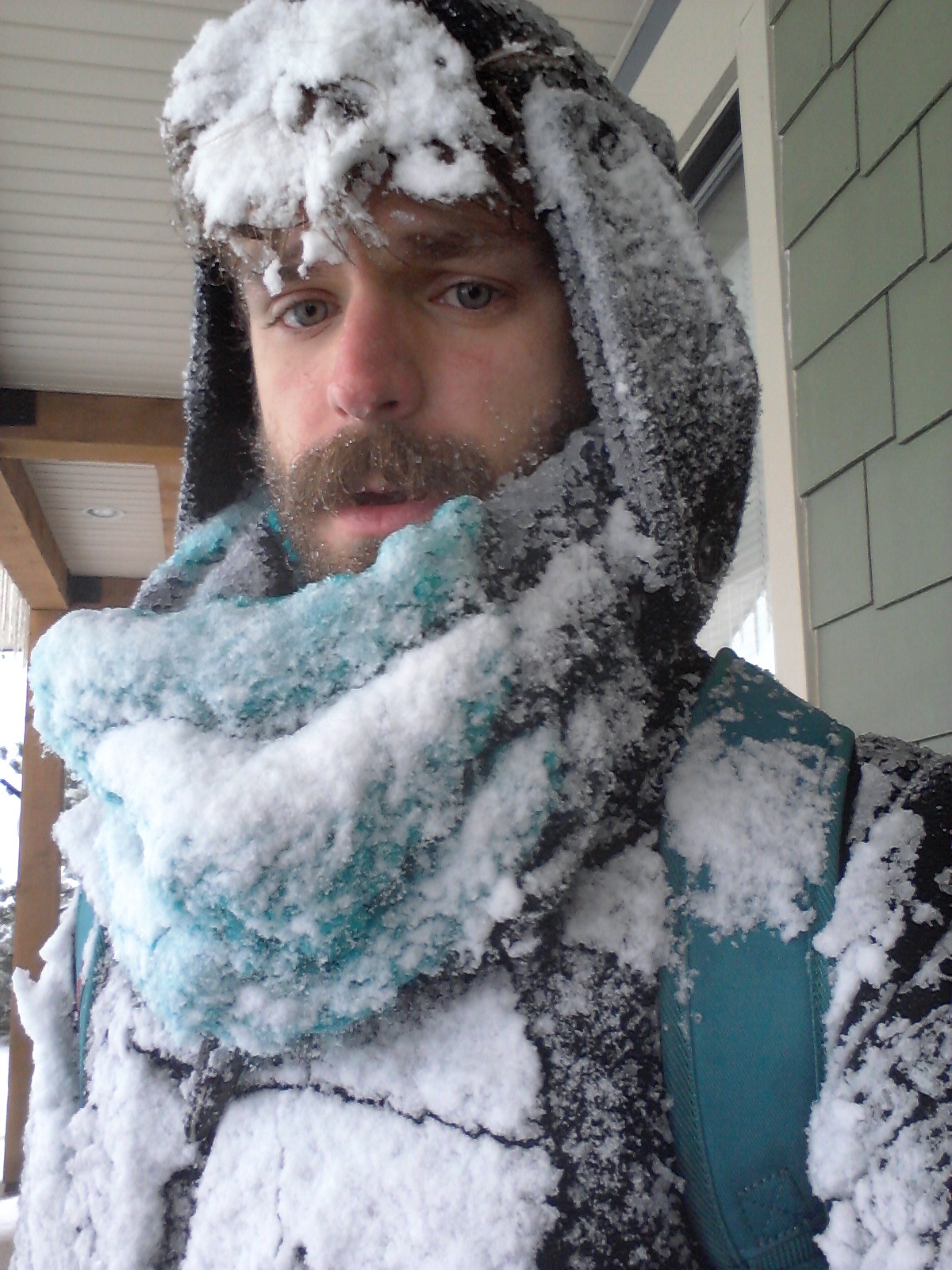 Good thing we're all too hopped up on film to care!
WATCH a preview for Neary's Sundance entrant, "Dr. Breakfast":
01/30/2012 7:54 AM EST
You Miss Much More If You Win
Jan. 27, 2012
So firstly – boo hoo hoo. I'm not going to Sundance. Whaa whaa the big baby cries.
Being chronically short sighted I never considered the need to book ahead. Being busy I thought I'd wait and see how work panned out before committing myself. Now listening to the tales of people who have 'luckily' managed to rent half a sofa for the week I fear the opportunity may have passed. I've comforted myself in the thought that I might get to go out there again when I next make a film, but the rate it takes to get an independent animated short done (well, the ones I make anyway), it might be quite a while.
Don't worry; I've been kept abreast of what's going on out there. Jill Soloway and Fred Casella, who are in the same program as I, were beautiful enough to email me and try to organise a Program 1 wonder-bus for us all to go out to Robert Redford's ranch for a film makers brunch. The thought of missing such a snazzy late breakfast filled me with regret, especially as London is currently grey, drizzly and germ spreadingly warm; but mostly it was the brief inclusion in the joy and camaraderie that seems to spread amongst filmmakers at festivals.
Again I don't know about feature film festivals, but the experience I have of short film festivals are that it induces a rather lovely sense of community amongst the directors who have usually travelled far and wide to attend. I think it's to do with love, yes love baby! As far as I can tell no one seems to make a short film for financial gain - to make a quick buck. There's no mad eyed money man at a giant gleaming golden abacus totting up the prospective profit margin of this new fifteen minute blockbuster. There might be some sort of investment in developing emerging talent through short film, in the form of a limited budget, but mostly the herculean task of making one of these little critters is with your own money or your own time, or both; and I suppose you do that because you love it so much. Whether it's to do with kudos, a first step towards bigger things, or an inexplicable need to entertain or engage people for just a few minutes, all of it is done with passion. Yeah passion baby!
So when an invite arrives asking you and an equally thrilled number of directors to get together for a festival, there always seems to be a heady mix of relief, excitement and a genuine shared interest that enables everyone to get along so well, and I've missed it! What a Muppet. I bet some people have walked, dodged an avalanche, sacrificed a limb to a hungry wolf, and then finally crawled on their raw and freezing bellies to get to Sundance. Well I salute you, and your now racked and ruined torso.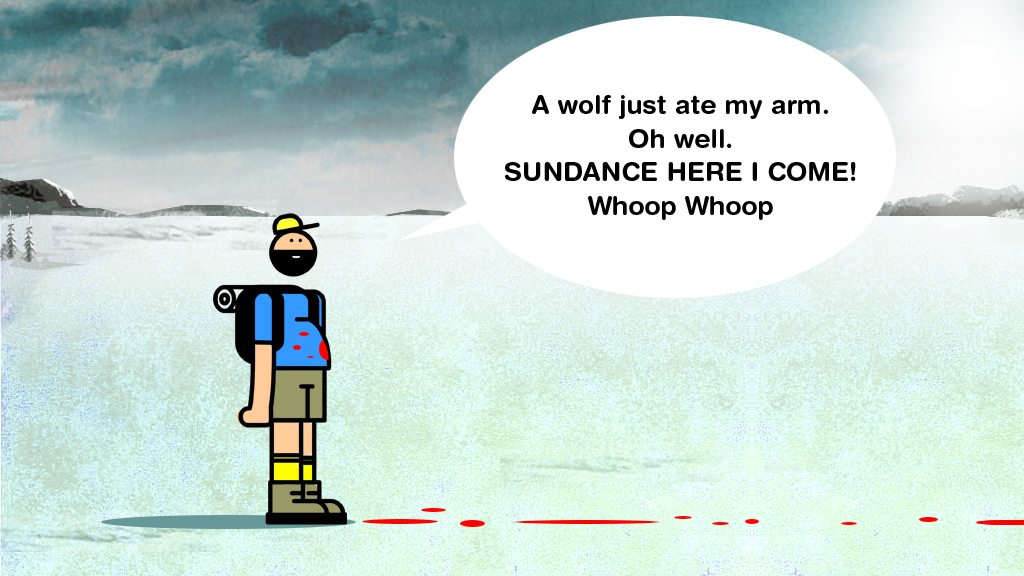 Yet while I've had comfort, I have also been inflicted with great envy. Its one thing to miss the buzz and the love, yeah love baby, that envelopes a rip roaring festival, but I now realise you miss it that much more if you win. Don't get me wrong, I'm ecstatic and in no way complaining. You should have seen me jumping around my bedroom at 7 o'clock in the morning in my unsightly and soon to be soiled boxer shorts after being texted by my producer saying we'd won at Sundance. Still, I'd much rather have been jumping up and down in Park City next to host and hero Mike Judge (Although he might not have been too happy, what with the state of my underpants).
Anyway, thanks very much to Sundance for the award, and congratulations to everyone else; a special nod and a wink to Kibwe Tavares for making it all the way from my locale in Sarf London.
I hope you all have a wonderful last weekend you lucky, intrepid and beautiful people.
WATCH a preview for Orchard's "A Morning Stroll" below:
01/30/2012 7:50 AM EST
How To Blatantly Use People And Get Away With It
Jan. 27, 2012
Most people get sensitive or pissy when they sense they're being used…but if you tell them it's for a film, they'll be real eager to "help out" / get raped of their resources. When Brie [Larson], Sarah [Ramos], and I asked a bunch of our friends and family to dress all in black for a teen's funeral we were creating, they were totally gung-ho to show up at the Seal Beach pier at 5am. And when we asked Brie's mom, who is a party planner, to design a funeral brochure for the funeral of the character that her youngest daughter was playing, she did it happily. And when we asked Sarah's family and extended family if we could use their homes for a weekend to shoot in, they were fine with it…well, we didn't really ask.
That's an important part of it too: don't ask if you don't have to. For instance, steal your 13 year-old sister's slutty clothes to use as costumes. Her distressed American flag bikini is funny, everyone will agree. I'm not saying you should blatantly take take take…but when these resources present themselves and you're trying to make a movie for free, DO IT!
We filled our cast with friends, family, and friends of friends and family. Miles Heizer, our story's hero and our real-life hero, had a couple friends he suggested that were spot-on fits and meant he was surrounded by familiar faces while shooting. Because we had never been in charge of anything before, we wanted to insure ourselves with as much ease and comfort possible. Working with people we're used to hanging out with or having Christmas dinner with made our set's atmosphere much more casual.
As we reminded people of their 5 am call time, we kept giggling in amazement, "We just came up with this idea, and now we can get people to do what we want? We can do that?! And people are gonna come? Are they actually going to come? Fuck, what if no one comes?!" I was worried the way I was worried about my 9th birthday party. Oh god, my 9th birthday…ice skating. My classmate's mom called a few nights beforehand to inform us that she too would be having an ice skating birthday party, on that same day, at that same time. She also extended an invitation and asked me to RSVP. People are psychotic.
But unlike my 9th birthday (thanks, Mom, for skating with me), everyone came!! Sure, there was some arm twisting and bribery in the form of breakfast burritos…but we got a cast and crew together and successfully shot our entire film in two and a half days. Which is also key: don't make people commit to long periods of time. Trick them into thinking it's not going to take anytime at all, and then make sure it actually takes very little time.
We wanted to cast people who would immediately make the audience recognize the character; we needed to fulfill stereotypes. Part of the process of directing as a threesome meant we needed to be entirely on the same page. We fleshed out how we felt about each character, who they reminded us of, who would play them in their bio-pic…and then tried to fill spots with our friends and family. In a few cases we were writing the characters with the friend in mind.
When it came to the mother character, we joked about the moms at my high school. I went to a very progressive and nurturing private school in Santa Monica where fake tits, Berkin bags, and BMWs crowd PTA functions. The mix between "finding yourself" and "get rich quick" is intoxicating. But casting a woman nothing like them was key in getting the right performance. Jessica Hecht, a very strong actress and mother to two sweet kids I baby-sit, was pleased to be asked to do it. And I was a bit surprised..but thrilled and very thankful.
Then the dynamic and negative elements of casting friends started to show themselves. People felt so casual about the whole thing that they didn't feel too bad dropping out a few days before we were set on shooting. I'm talking about one person in particular. Her role was pretty much to look cute and young and make-out with a stranger for an hour or so. Those were the requirements. And we were running out of friends. I was frantically asking everyone and leaving the bit out about the kissing. "She's a sassy, young, popular girl. The boys love her" Did I want to flatter them? It wasn't working. No one was free. I called my friend's younger brother in a panic and said, "Joe, I need your help. I'm shooting a short film in a couple days and I need a young girl who is obviously hot. I need a sexy baby." He sent me a bunch of numbers and I felt sick.
With the film cast, we realized we were going to need the actual equipment and brains to MAKE this thing. We started calling everyone we knew, searching for a Director of Photography and a Sound Engineer. Sarah coincidentally met Blake McClure at a party a week before we were planning on filming, and he said he'd be willing to be our DP and he had his own Canon 5D that we could shoot it on. We rented a few lenses and illegally borrowed sound equipment from a family member who works in film production for a popular chain restaurant (they make instructional videos for their staff so that the business's kagillion locations have a uniform taste and atmosphere).
But it's not over! I've realized that even people I don't know want to be my friend via the internet. That's cool? Maybe not safe..but I can use it to my advantage: INTERNET FRIENDS EVERYWHERE! The Arm is in this Yahoo competition for $5000 and needs your votes! We made The Arm on $800. With this prize money we could make The Arm x 6.25!! PLUS, you're my friend and I need your help. IT'S FOR MY FILM!
Vote away! Voting closes tonight.
-- Jessie Ennis
WATCH a preview for Ennis' "The Arm," a short about love and texting, at prescreen.com.
01/30/2012 7:39 AM EST
Had I Won
Jan. 29, 2012
The party's over. It's on a par with returning from summer camp where you're really nervous before you go, and then leave a week later having exchanged numbers and addresses with your new best friends and promised to write as soon as you got home. There is no better inspiration to make a new film like the thought of being allowed back into the Snowy, Christmas card world of Sundance, so I've already started mulling things over whilst waiting for the kettle to boil.
The advice I always try to follow is don't make your film for other people, make it for yourself. It's great advice. However whenever I am sitting alone in my room, drawing the same creature for the 400th time, I'm usually thinking something along the lines of, 'I hope my dad likes this.'
I have been lucky enough to have a brilliant support system of friends and family who make sure I'm fed and sane when in the throws of my latest animation. When something like Sundance comes around, it brings with it the opportunity to win an award, and therefore leap up on stage and say gushing thank yous to all those people who flew a flag for you when you were at your lowest, most unwashed moment. Now you may think this paragraph is leading to the joyous tale of how I won, 'the most brilliant and fantastic animator' award and everyone showered me with love and money. Not so dear reader - I won bupkis. I'm sure there was some kind of oversight and they'll ring me up soon (denial), but in the meantime I'm using this blog to say the words I would have said…had I won.
My family suffered a great loss last week, in the passing of my aunt. I'm not a big crier, but when I was told of the news I couldn't hold it together. She was one you migrate to on holidays and special occasions…the family glue, for want of a better expression. I am the family member who will always feels like the baby. Even now, when my only slightly older cousins have created very small adorable children, I feel like I'm about to be found out and placed back on the kid's table where I belong. I feel out of my element during discussions of politics or sports, and often find myself nodding quietly along, hoping not to be called on to contribute anything coherent. My aunt fell into a different category – wiser, calmer and wittier than most. She was one of the rare gems of a person who, when asked for her opinion, would give you her opinion. I fear these people, because I often worry that I am in the midst of doing something stupid. However, when it came to my work, my aunt was one of my biggest supporters. This baffled me…my work by all accounts is a little bit out there. Nevertheless she would watch it all and vehemently defend my career choice to enquiring family members. This thrilled me. The last time I really saw her was at my graduation show, where she had come up to London from Hampshire just to watch my 7 minute animation play out on the big screen. As she left she told me 'I loved it…but I'm not sure I understood it.'
I think we're all feeling our way without her, and being so far away from my family has never felt as huge as it does now. So in a small homage to a woman who will be so greatly missed - this one's for you aunt.
-- Julia Pott
WATCH a trailer for Potts' "Belly" below:
Belly - trailer from Julia Pott on Vimeo.
01/21/2012 12:52 PM EST
Somehow, I'd Become The Film Set Drug Dealer
In the days after Sundance's announcement that Fishing Without Nets was accepted, one and all were invited to Park City, without a consideration for how friends and family (and taxi drivers and shop attendants and grocery clerks and…) would obtain tickets to our shows. It was gleeful, this 'come one, come all' attitude. On the heels of Thanksgiving was Christmas! and New Years! and Sundance! Huzzah!
Farah Rashid, on-set translator English to Somali for "Fishing Without Nets," and an excellent Scrabble-r, described the experience of chewing miraa as "building sandcastles in the wind," because chewers have a tendency to dream big while using miraa. He could have been describing my attitude in the first few days of the Sundance high.
Quick research about Somali pirates will reveal a culture dependent on a nausea-killing plant called khat, or 'miraa' in Swahili. It's a stimulant that allows pirates in small fishing boats to roll with the waves of the dark blue seas, without the fear of sea sickness or the anxiety of attacking a ship.
Part of our prop/food budget was allocated to miraa for the cast: to maintain the reality of the film, to keep people comfortable on those small boats bouncing in the sea, and because all but our lead actor was a regular user of this tobacco-meets-Ritalin source of plant courage.
Plus, in the same way "building it" was coaxing the deceased players to "The Field of Dreams," miraa was one important hook to corralling our cast, who was always in demand of more miraa. The more miraa, the happier the pirates. But we needed some guidance at first.
Abubakr, our Somali producer, taught us the ins and outs of miraa haggling: he would weigh bunches against others in his hands. Measure the different lengths of stems. Lots of taste testing. After a purchase was made, our pockets were teeming, but that didn't mean we were holding for long. As soon as we arrived on set, we were swarmed.
While slapping his two index fingers together with a gesture meaning "friend," Abubakr would put one arm around my shoulder and use the other arm to search my person, expecting a stash of miraa somewhere. He was the friendliest of pirates when my pockets were most full.
Our cast member Mustaf's miraa mysteriously went missing before we had a chance to pass a round to everyone in the scene. He'd hold his palms out to show he had nothing, saying, "It's, I no know." He'd point to Hussein, who corroborated the mystery, in a ruse straight from the Abbot and Costello playbook. When we gave Mustaf another portion, Hussein's pile grew larger.
N.B. Mustaf has a piece of his calf missing from a shotgun blast, and Hussein can balance an AK47 on his shoulders, no hands. Hard as hell, they still have time for jokes.
Continuity be damned, they would finish the miraa before we had a chance to shoot the scene. The comedy was not lost on us, but we had scenes to shoot. We became savvy, and started rationing in waves, rather than whole portions. Before long they were accusing me of stealing miraa for myself. Maybe I was.
Who's on first?
After the tickets to the Shorts Programs sold out, the miraa high fizzled out. I stopped inviting the dry cleaners, the flower shop owners, the candlestick makers. It's a blessing people are interested in these shorts, and I can't wait for the packed houses. A live audience for our short! A big screen!
I just hope the guy next to me on the Metro a few weeks ago doesn't show up opening night, palms up. I won't have any miraa to spare.
WATCH miraa-heavy footage from behind the scenes on "Fishing Without Nets":
-- John Hibey
WATCH a trailer for "Fishing Without Nets":
01/21/2012 12:51 PM EST
What Will This Baby Accomplish In His Life?
My film "Dol (First Birthday)" is about a family celebration. Dol is a traditional Korean first birthday party. The baby is dressed up in a colorful hanbok. The family gathers and shares food. Objects are set out in front of the baby: rice, money, a pencil, thread, a paintbrush. The object the child chooses predicts the his or her future. For example, if the baby chooses a pencil, he will be a scholar. If she chooses a paintbrush, she'll be an artist.
When I did research for my film, I asked my parents what I chose at my dol. They couldn't remember. My father searched the attic and found an old beta tape with footage from my dol. I chose two things: I grabbed the spool of thread with one hand (long life!) and played with the bowl of rice with the other (wealth!).
WATCH a clip from Ahn's Dol ceremony:
Father's Day/Dol from Andrew Ahn on Vimeo.
Watching that footage, I am so amazed by how young my parents look. My mother and father look like friends of mine, people I might grab a drink with. The timbre of their voices are clearer, pitched just a little higher. I can see in my father's eyes a dream of the future. What will this baby accomplish in his life? Who will he grow up to be?
Dol celebrations are about the future, a family's hopes and dreams. It feels so appropriate that I made this film now, at this specific point in my life. I'm making breakthroughs as a person, as a filmmaker. I can't help but feel like I'm answering the questions my father asked himself 24 years ago, albeit quietly, humbly. Now, new questions emerge. What's next, after Sundance? What will my family life look like?
Perhaps these questions can wait. All I know is that I am thankful. I want to celebrate! I posted my first blog entry for the Huffington Post on my Facebook profile. Everyone has been so supportive: my friends, my fellow filmmakers, and even anonymous commenters. The response has been overwhelming.
I am so thankful, not just for my family, but also my filmmaking family: my cast, my crew, and my mentors at CalArts. They indulged me. They helped me do this for me. For that, I will always be grateful.
WATCH a clip of the cast of "Dol":
Dol Cast and Crew from Andrew Ahn on Vimeo.
-- Andrew Ahn
WATCH a trailer for Ahn's "Dol":
Dol Trailer from Andrew Ahn on Vimeo.
"Dol (First Birthday)" can be seen in full at Yahoo! Screen, alongside eight other Sundance short films as a part of the Yahoo! Audience Award.
01/21/2012 12:51 PM EST
A World-Class Director, For About 10 Minutes
About a week ago, my friend Robin called to ask if I'd like to share a Groupon with her. Although I'd made it a policy to never do anything remotely Groupon related, I said yes because it was Robin and I was in deep need of some Robin time.
We were going to learn how to knit.
Guys, there's only one thing I hate more than bloggers who start sentences with 'guys'—and it's those mealy mouth hipsters who crochet codpieces, and their ye olde sideburned friends who pickle stuff and slaughter their own gluten-free goats. But when I walked into the shop with its cozy hippie furniture and soft glowing bands of color, I got excited.
I like color. I like red and orange and crazy-ass hot pink and I like them together. The knit lady tried to steer me toward a simple beige as it would be a first attempt, but I'm not into first attempts. I had one week until Sundance and I was gonna make my mutha-effin Sundance Scarf. Did I say I like color? I like color and I'm a doer and when I've got a picture of my red and orange and crazy-ass hot pink scarf in my head, I'm like a dog with one of my mom's bras in its mouth.
I chose my yarn and the knit lady cast on for me. Within a few minutes, I got it. Turns out knitting is easy. It's more or less tying knots on a stick and then putting them on another stick. Also, I went to elementary school with a bunch of black kids so my hands can jump into a cornrow rhythm like no white girl you know (double dutch is another story entirely).
The other thing I found out about knitting is that it's straight up Xanax. After our knitting lesson I just kept going. And going. And going. I craved it like I crave... any other recreational activity that makes you feel relaxed. But Jill, you may ask, why or why would you need to relax so damn badly? THE BEST THING IN THE WORLD JUST HAPPENED! You're going to Sundance!
Guess what, I may answer. It's not actually the best thing in the world. It kind of sucks. Getting into Sundance is a certain sort of passport to a level of anxiety I've never experienced, even having had a baby in the NICU for a week. For about ten minutes, you're a world-class director. Then you become an entry-level, harried, low level concierge with absolutely no juice.
My husband and I decided we just HAD to reserve a way too-expensive house close to Main Street-- we'd get the money back from all the people who would wanna stay with us, right? Two excel spreadsheets and a per person/per night/per bed map on my desktop later, I wondered what in the world I was thinking. My best friend from high school was coming, then wasn't coming, then was coming if she could bring her gay friend, then wasn't if he couldn't, then was anyway. We decided I should go by myself, then that we should bring our whole family and nanny, and for a moment contemplated the labradoodles. My teenage kid needed a friend, who at first was coming but couldn't tell his parents, then was coming but wasn't paying, then wasn't coming. What percentage should I charge those who bring their own blow up mattress for the floor, and do I need permission from those paying full freight? And what about bathrooms? Is it rude for me to bring incense from home, or rude not to?
Beds, baths and beyond are NADA compared to screening tickets and party invites. Turns out I've invited ten of my nearest and dearest so that they can come to Park City and feel like crap over and over again. Two of my screenings have no room for me at all, and some of the parties grudgingly welcome me, as a director, but no plus ones. That means everyone I love is in town and I'm alone, sucking on a warm Pinot Grigio, in a cacophonous room full of agents and hookers who want to do unspeakable things for them for free.
What you'll see somewhere on this blog, if technology is on my side, is a picture of me working on my Sundance Scarf. It know it looks like I'm sitting in a cozy window in a café on Main Street but I'm actually sitting in a window in a café on Larchmont back in LA COMPLETELY FREAKING.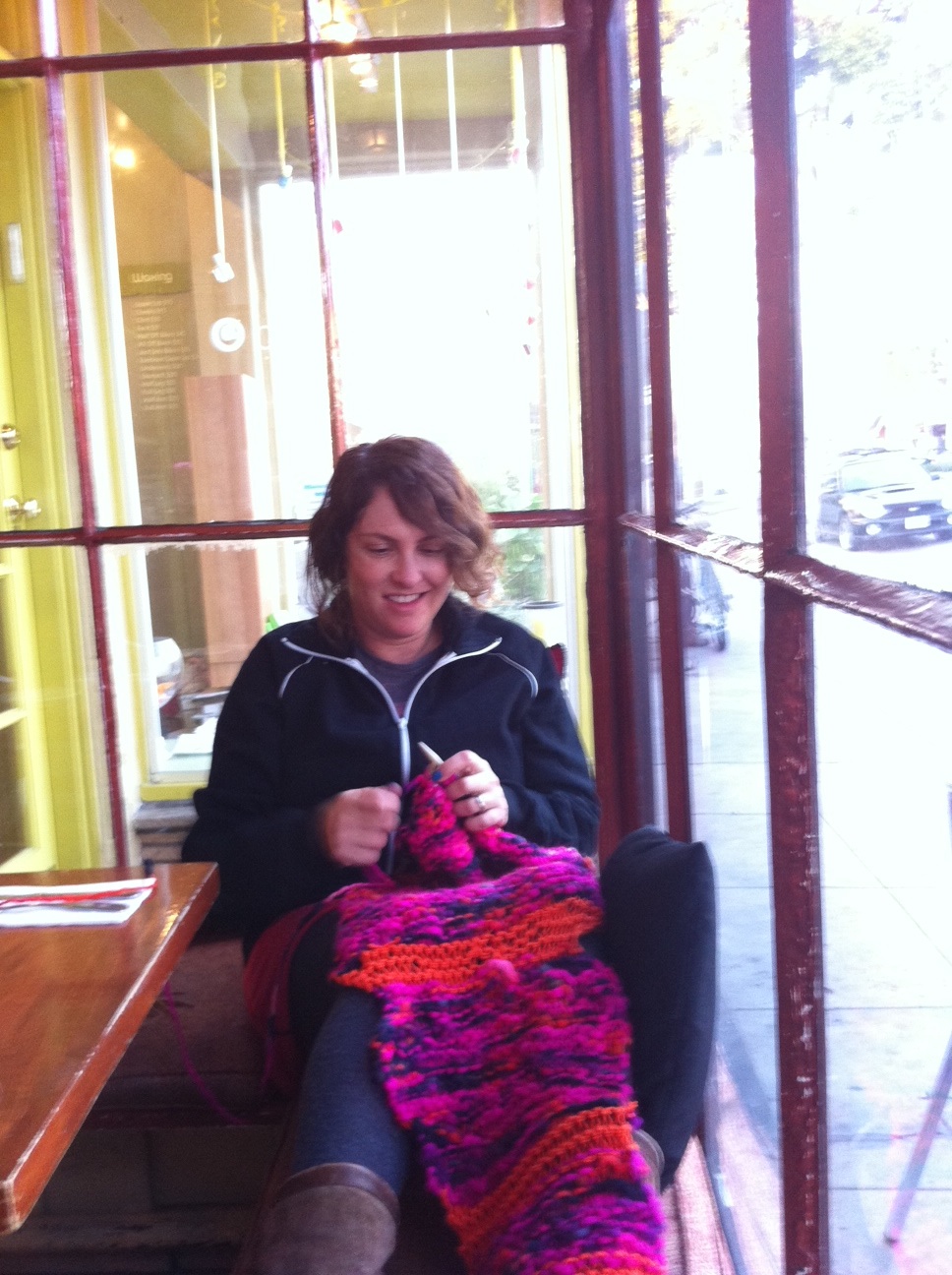 Screw condo space and party invites-- today's lunacy involves weather hellishness. It's been so dry in Park City they were considering changing their main tourism draw to Jazz, but of course tonight, 2-3 feet of snow is predicted. Will I ever get there? Will my kids? My sister? The incense?
By the time you read this it will be Thursday, and you will be able to see the film online as part of the Yahoo Shorts contest (watch it here www.sundance.yahoo.com! Vote for it! Share with your friends!) I will either be on my way or sitting at LAX taking my scarf from 2-3 feet to 20. And if any of you have any idea how to cast off, please look for me on Main Street. I'll be the one with the knitting needle stuck through the bottom of my scarf.
-- Jill Soloway
WATCH a trailer for Soloway's "UNA HORA POR FAVORA" at the film's official site, unahoraporfavora.com.
01/21/2012 12:49 PM EST
Lurching From One Near-Disaster To The Next
At 70 miles an hour the single-digit air allows me about six squirts before the numbness sets in and I fear I'll drop the spray bottle. I roll the window back up as the wiper smears the half-cleaned glass dirtier than it was before. Friggin frozen fluid lines. I think about pulling over, but there's a schedule to keep and dammit, I'm heading to Sundance!
At many times I've counseled friends about the virtues of finding balance, even a dynamic balance. I often think of myself as one of those people who can remain sensible through most of the thick and thin that the world chooses to throw at me. Balance. Sensibility. These from a guy who, on three hours sleep and a half gallon of coffee is hurtling half-blind down an icy highway toward Utah. It would seem the whole balance thing, at least for the time being, has gone out the window. I blame the film festival. Before the festival I blamed our film.
"Dynamic balance." Ha. Fancy wordsmithing for what our co-narrator Warren Miller calls "lurching from one near-disaster to the next." They say getting your film in Sundance is arrival, a pinnacle achievement, unadulterated success. Tell that to the Denver-bound tour bus driver coming at me, wide-eyed at this swerving dervish hurtling down the highway with one tire in his lane.
Our other narrator Robert Redford told us in the recording studio that his attraction to the mountains--and to skiing in particular for "Downhill Racer" (click for photos Bob [Redford] shared with us)--was a combination of "the speed and the thrill and the danger of it." Bob went on to tell us that skiing "takes a certain kind of foolish courage." Our producer and co-director Kurt Miller was there with me in the studio and I bet he was thinking of the sacrifices he'd made so far for the film: significant financial outlays, sleepless nights, and even physical danger as we each lugged 80-pound packs of camera gear to the top of another mountain for filming.
The threat of physical danger resonated for me. I flashed back to just a couple months earlier. It was May, on the side of Aspen's Ajax Mountain. I'd clicked my ill-fitting boots into the very same skis that had last been worn by our movie's main character, Rick, the day he broke his back. There was a fresh coat of snow, a freak summer snowstorm, that had covered the prior day's rocks and stumps to give us an unexpected opportunity to film a recreation of the run that led to Rick's accident.
Unexpected opportunity: that sultry temptress who encourages us to throw caution to the wind. That siren luring us further than we would ordinarily go in our balanced, sensible lives. That day in May I lurched down that ski run, not unlike this drive down Highway 40, on the belief that you just can't pass up an opportunity like this.
As I cross into Utah, the windshield spray lines have unfrozen, providing a better view of the plains and mountains of the American West sliding past me. It was a very conscious decision to locate the Sundance film festival in the mountains. There is something urgent and invigorating about them. For me they are a reminder that underneath this thin crust of hard frozen earth is a raging ball of fire trying to push its way up.
There's also a comical absurdity to dancing down a mountain that parallels the idea of filmmakers and glitterati hobnobbing in an old mining town in the canyons of Utah. I picture Hollywood suede boots, covered in jackrabbit crap, tracking up white polarbear rugs in the resort's 5-star ski lodges. I picture belching, farting, soot-faced miners and cowboys bellied up to the bar next to producers and film agents. Of course I live in Steamboat, a similar western mountain town where just this week working rodeo cowboys raced down the ski mountain wearing their chaps and ten-gallon hats. The gritty humor of these mountains is familiar to me, but the pomp of a film festival? I feel like a marauder.
Racing westward, bleary-eyed and hyper on the knife-edge rush of thermos coffee, I feel like me and my little film are a shipload of vandals too long at sea. Unshaven, unshowered, in a car packed in panic, I imagine I will land in Park City for ten days of pillage and plunder. Of course this could all be my imagination. Films are about imagination, right? Tonight, when we premiere, all that takes a backseat to whatever reality Sundance holds.
In that recording studio, taking a break from reading my script, Bob went on to tell us it wasn't just the danger that lured him to skiing and to the mountains. He said, "there's also something entirely poetic about it."
P.S. People keep asking us how Bob got involved in our movie. He explains in this short slideshow: "Robert Redford talks about THE MOVEMENT."
WATCH a trailer for Hamilton's "The Movement":
01/21/2012 12:48 PM EST
The Pale, Introverted, Half-Blind Mole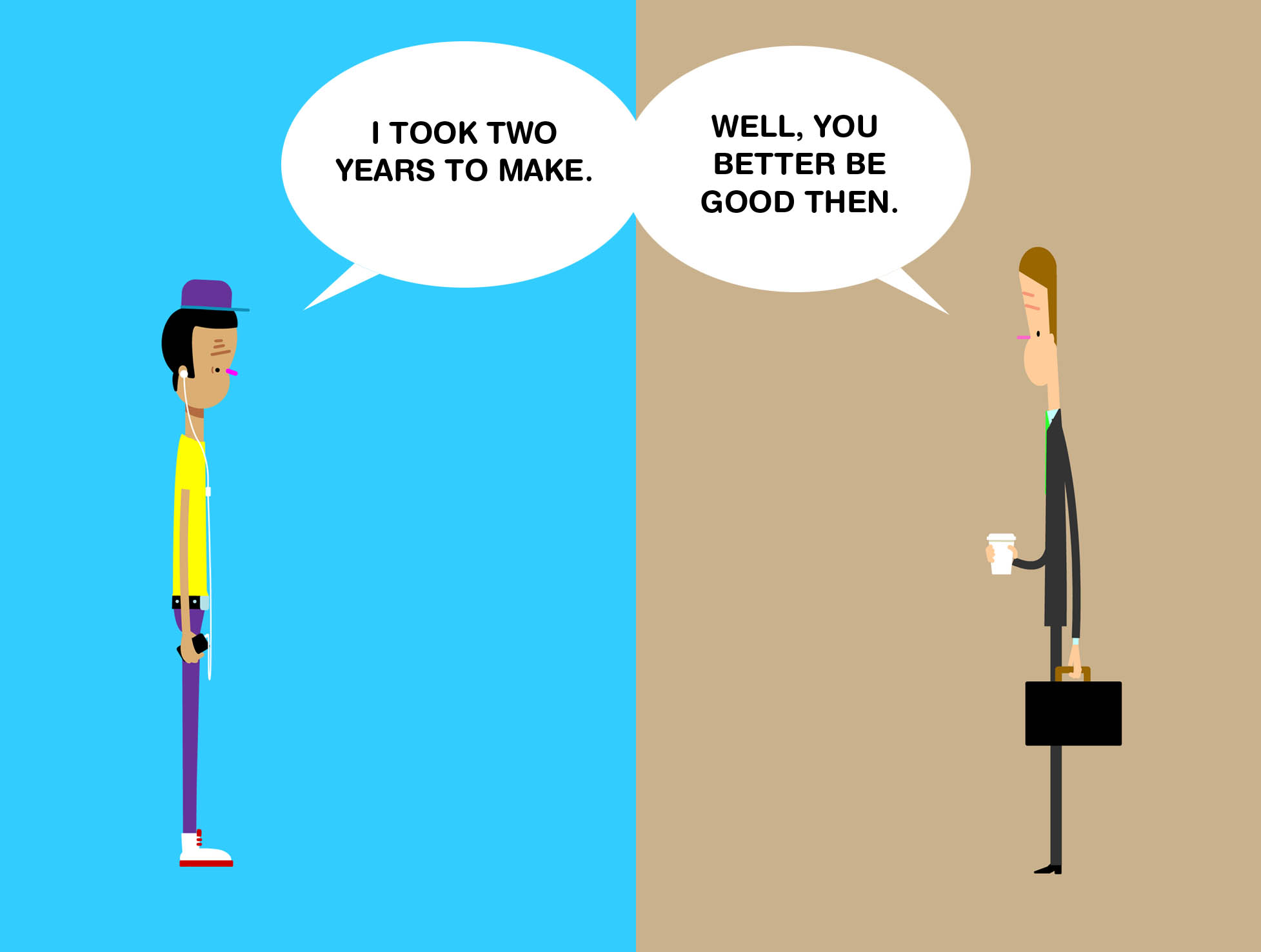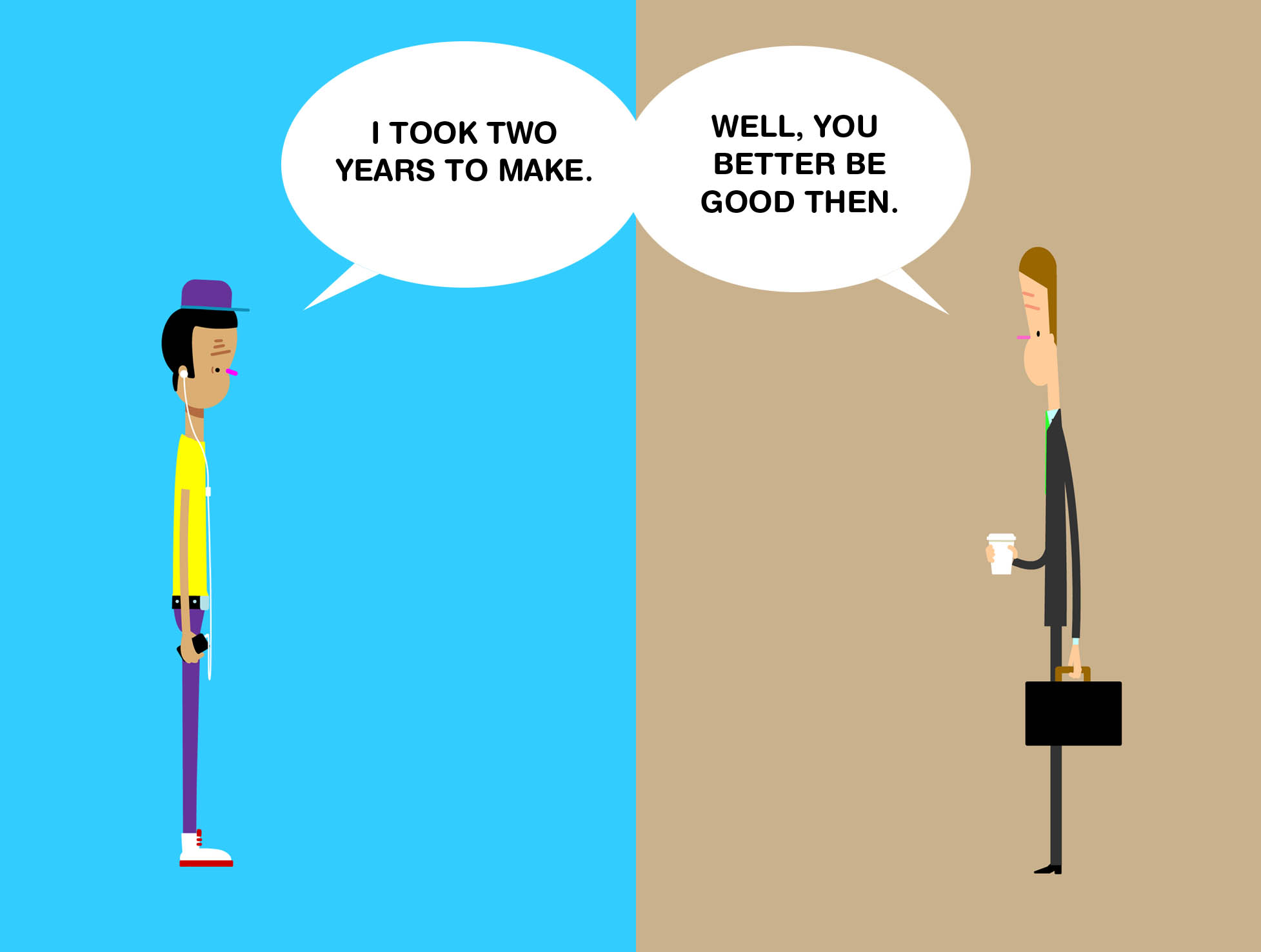 There is a sense of the disposable that is inherent in most things that are brief; that they are slight, or merely diverting. These things might be in some instances true, but not in the instance where you've worked on said thing for two bleeding years!
I can't speak for live action shorts, but the process of animation can be a slow one. New technology has helped, but it's still time consuming. Unlike live action film, an animated film you could do pretty much on your own. Lighting cameraman, set designers, actors. Pah! I can handle that (Although not very well I might say).
This opportunity to go solo on a project is handy; it means the only crew member you have to feed, pay and inspire to greater efforts is yourself. But unlike the joyous union of a live action crew; merry players in a travelling theatre group (that's the vision I have in my head anyway) that work and pull together towards a common artistic purpose over what seems a relatively short space of time. The pale, introverted half blind mole of an animator snails through its shots over a much longer gestation period.
It's hard to get funding to be able to crew up. So yes, we are lucky as animators that we have that solo side corridor to go down that enables us to get something made.
Going solo does come with issues though, and again (boring!) - it's time. Either you can go without money and blast through the film night and day, occasionally going out to pick up the groceries and the odd teaching gig to keep you going. Or you can do your regular job and come back home of an evening and work on that damn film in your spare time.
I've made films this way and loved it. But those days have been somewhat hamstrung by the arrival of, big pause - children. And the time you have to work on your own projects in your own time decreases exponentially the more kids you have.
I couldn't find a diagram or chart that specifically demonstrated this so I've done one myself - hope it helps.
So for my new film, A Morning Stroll, I had to find a new model for making a film. This basically consisted of me begging.
Luckily I work for a very understanding and loving production company that can't bear to see me cry. So when I proposed my idea to STUDIO AKA they amazingly went for it. We still had no budget, but as a collective effort we felt it might not take too long. Commercials are our bread and butter and pay for everything. So Sue Goffe, company Director and my producer set up a system whereby people who were in that limbo period between jobs would jump onto the film and nudge it along a little. Sometimes we had people working on it for a couple of days, sometimes a couple of hours, but incrementally it was getting made. It still took just shy of a couple of years to make. We are a busy company! Also to be fair the length of production wasn't helped by me getting a nasty case of testicular cancer half way through. And mighty inconvenient and itchy it was too. (Luckily the whole treatment only lasted a year as we caught it in good time. Thank you my easily bored and wandering left hand. Remember people- don't just concentrate on the twig, remember those berries too. And if your wife or Mum tells you to get your hands out of there- tell them - 'No! I'm doing important and very thorough self-analysis'.)
Anyway, back to the question of how it feels to take such a long to make such a short film. Well it sucks.
When I've told people how long it's taken to make the film and how short it is; I know they're thinking - 'Well that'd better be a fx~#ing masterpiece.'
Or is that me thinking that? Either way, after a certain period of time there's a weight of expectation that can lead to disappointment. But then, it gets selected into festivals and people enjoy it, and miraculously it does something incredible and gets selected for Sundance.
So I'll try to make another film, and hopefully, if I'm lucky that will get into Sundance. Maybe my children will be old enough then to wheel me round to Bob Redford's filmmakers brunch; where a misty eyed Bob will be sucking gazpacho through a straw while getting wiped down by his breakfast nurse (No disrespect to Mr Redford intended. This is the distant future I'm talking about). Things take a long time in animation, so you have to plan ahead.
WATCH a trailer for Orchard's "A Morning Stroll" below:
REAL LIFE. REAL NEWS. REAL VOICES.
Help us tell more of the stories that matter from voices that too often remain unheard.