This is one in a series of posts for HuffPost Culture's "The Sundance Diaries," a month-long multimedia diary kept by the international filmmakers whose 64 short films were selected for the 2012 Sundance Film Festival.
My name is Kataneh Vahdani. I grew up in Tehran, Iran. My major used to be Mathematics but I always loved to draw.
In my country people have to obey so many rules, especially women. They have to cover themselves but even under those scarves and those rules you can still see how colorful people are.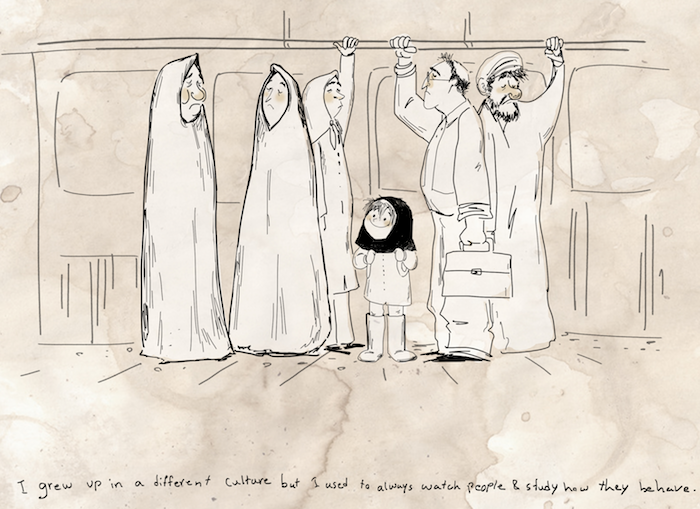 I moved to America in 2000 and changed my major from math to animation. I really wanted to be true to myself and find a career that I can 100 percent be myself and feel free. In 2006, for my Masters degree, I decided to move to Paris, and it was then when I developed the idea behind "Avocados".
I was in metros and trains a lot and I started to study people. I remember all those days in Iran when I used to take a bus and just watch people. I found it amazing how people with different cultures think of one another and judge each other.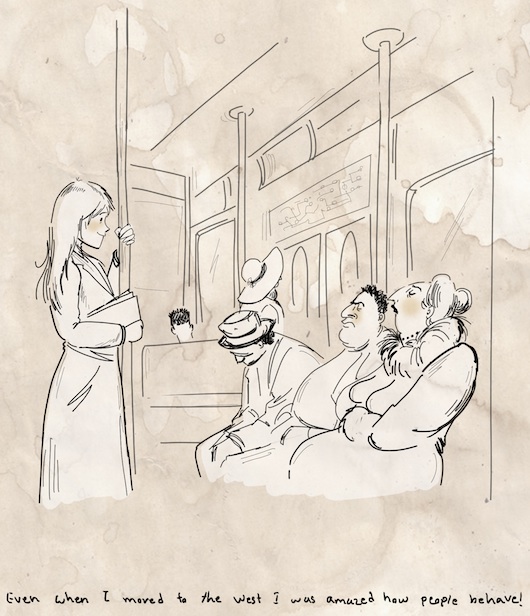 I decided to come up with a story that would allow me to focus on interactions between different cultures without making it look staged. So my journey began.
Every day I would go on many bus rides and metro stations and get on so many metros and taxies and just listen to people. I would sketch them in my sketch book and hear them talk.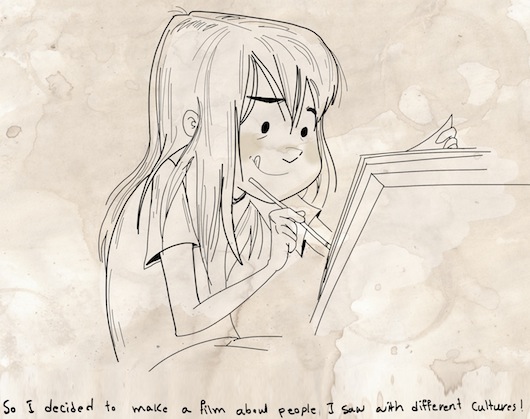 I know Farsi and English and a little German and French, so I was fascinated by how people with different cultures think of one another.
In my film, "Avocados," you see how Persian women talk behind an American tourist or how they think of Koreans, and how a blind German soldier interacts with a young British "Gorilla Girl." This short is all animated by hand frame by frame, so it took me years to do it all by myself. And then the day arrived when I received the phone call.
It was Wednesday night and I was waiting for my friend to go watch "Melancholia." I watched this movie once before and freaked out and so I decided to take my friend there so we could both be depressed.
So while I'm waiting for her I decided to stand up and dance in front of the mirror. I thought, I need to dance, because after the movie I knew I was going to be so depressed. So as I'm dancing, the phone rang. Ring.... Ring..... ring......
-Are you here? -Hello, Can I talk to Kataneh Vahdani? -Yes this is she... -Hi, I am calling from Sundance Film Festival and I want to say congratulations, Your film "Avocados" got accepted! -WooooooOoooooooHoooooooooOooooo
That was the best moment ever -- I still can't believe it! A few years ago, I had to hide behind my scarf, and now I can present my film at Sundance. Life can be amazing sometimes.
CLICK through stills from Vahdani's short "Avocados":
Calling all HuffPost superfans!
Sign up for membership to become a founding member and help shape HuffPost's next chapter