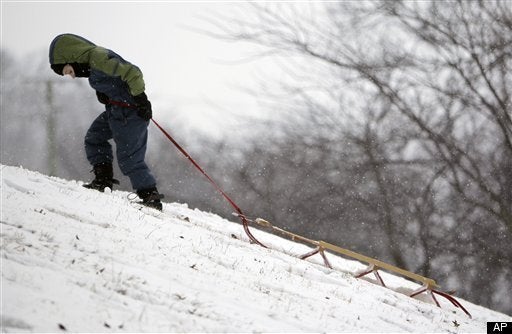 The snow that's expected to blanket much of the eastern United States this weekend provides a perfect palette for some outdoor family fun! Okay, you're still not convinced but consider this: lack of exposure to sunlight during the winter months (particularly January and February) can trigger a severe case of the cold weather blues, also known as Seasonal Affective Disorder or SAD. An estimated 6 percent of the US population suffers from seasonal depression (another 14 percent get a milder version called Sybsyndromal Seasonal Affective Disorder) and - according to the American Academy of Pediatrics - a million of those cases will be in children. Get your cubs out of hibernation and into the happy, healing sun this weekend with these cool snow day activities:
Snowbunny Sports
• Play brrrrroom-ball. Turn your backyard into a hockey arena using brooms for sticks and tennis ball as pucks. Or use the same equipment to create a glacial golf course.
• Go Snowling. With recycled cans as pins and an endless supply of snowballs, little bowlers will be happily striking away.
Arctic Art
• Make snow murals, Spray bottles filled with water and a few splashes of food coloring provide mittened Michelangelos with perfect polar paintbrushes.
• Create a sculpture zoo. Why settle for a standard snowman when you can create a winter menagerie? Your kids will have a wild time sculpting icy animals.
Hide and Snow Seek
• Send out a Search Party. Place a thermos full of hot chocolate, insulated cups, and marshmallows inside a cooler and bury your "treasure chest" in the snow. Lay a path of colored ice cubes (frozen in advance) leading chilly kids to the toasty booty.
• Capture the Flag. Tie a piece of white fabric onto a stick and let friends and family members take turns hiding it. Finder hides the flag for the following round.
Shivery Science
• Be winter wildlife detectives. Scout out animal tracks in the snow. What kind of animal might have left the prints? Check your guesses on an animal/track matching website.
• Examine snowflakes. Catch snowflakes on a piece of black construction paper and observe their intricate patterns using a magnifying glass. (Be sure to work fast because they melt in a flash!)

Icy Architecture
• Construct an Open-Air Igloo. Help your kids make snow-bricks using plastic bowls, pails, buckets for molds. Stack the blocks side-by-side and up and down until voila - it's a perfect spot for chilling out. (Saftey note: Even without a roof, snow structures are far from sturdy, so stay close when children are inside.)
• Build Snowcastles. Who says pails and shovels are only for sand? Break out the beach gear let your kids create their own chilly Camelots. (Note: this is great alternative for less adventurous igloo builders.)
No Snow Required
• Blow frozen bubbles. When the mercury drops below freezing, head outside with bubble solution and wands to create natural crystal balls (it works, really!)
• Make bird feeders. Roll pinecones first in peanut butter then in birdseed, and hang them from a tree limb with brightly colored yarn. Your grateful lunch-guests will begin flocking in no time.
Finally, here's a recipe for some Snowlicious Ice Cream
What you need:
Large mixing bowl of fresh, clean snow
1-2 c. Milk (any type is fine, but whole milk is best)
1-2 tsp. Vanilla extract or other flavoring
1/2 - 1 c. Sugar
What you do:
Stir the snow around to fluff it up. Quickly stir in just enough milk to make the right consistency of ice cream. Start with about 1/2 cup and keep going until you have enough to make the snow creamy. (If the concoction becomes runny, just add some more snow.) Stir in vanilla and sugar, and Viola, homemade snow ice cream.